INTRA

NAV.

RTLS

– Industrial UWB real-time location

The leading Ultra-WideBand (UWB) location tracking system for industrial environments
Exceptional cost efficiency (TOC) for reliable and scalable real-time location tracking
The INTRANAV.RTLS product line for Ultra-Wideband (UWB TDoA) based indoor & outdoor tracking, offers high flexibility and scalability for tracking applications in difficult industrial environments. Reliable and precise with up to ±10cm accuracy. Over 100 industrial customers trust INTRANAV's Real-Time Location System (RTLS).
Precise UWB locating for various applications for the SMART Factory
The INTRANAV Real-time Location System (RTLS) has been designed and developed for various applications in the digital factory. The INTRANAV UWB product portfolio offers a variation of active trackers, the so-called INTRANAV.RTLS AssetTAGs, depending on the application. Different TAGs are available for the precise location of e.g. vehicles, forklifts (MHE), AGVs, load carriers, KLT boxes, pallets, equipment, tools or for personal safety/collision protection.
Convincing Features – Made in Germany
up to ±10 cm accuracy in metallic environments thanks to UWB-INS technology

Up to 10 years battery life with standard batteries @ 1Hz update rate

Integrierte Sensoren für Shock/Motion, Temperatur, Feuchtigkeit, Luftdruck, Lagewinkel und Orientierung

Integrated sensors for shock/motion, temperature, humidity, air pressure, attitude angle and orientation

Flexible communication thanks to integrated WLAN module and PoE Ethenert. 5G ready!

INTRANAV Ultra-Beam Omnidirectional integrated antenna for up to 200m range
Enabler for industrial multi-technology real-time location systems
INTRANAV.RTLS – Hardware Solutions Portfolio
INTRA

NAV UWB RTLS based real-time location:
more cost efficient, precise and robust than Bluetooth (BLE)
and WiFi-Slam
Industry decides for
INTRA

NAV Ultra-Wideband based indoor location

Independent comparisons and competitions (two times #1 place Microsoft Research, IPSN) have already confirmed the advantages and the lead of the INTRANAV technology in the past. The INTRANAV real-time positioning system was developed from the very beginning to meet the challenges of industrial environments. Metallic objects, walls, EMC fields, and cranes cause interference and signal reflections.

Thanks to the latest ultra-wideband radio technology and the Ai-based INTRANAV positioning engine and signal error correction algorithms, unwanted interferences are successfully eliminated. Nothing stands in the way of a precise and reliable positioning with up to 10cm accuracy and process reliability. The INTRANAV.RTLS system has been developed for applications in intralogistics and production. It is much more cost-efficient than Bluetooth and WiFi-based solutions, offers higher battery life, and requires less infrastructure.

Not all UWBs are the same. The intelligence and processing algorithms are crucial. INTRANAV has developed FusionEngine™ over the years. The Ai based RTLS stack of INTRANAV which calculates perfect positions from raw UWB radio signals. Many customers from process engineering, automation, and manufacturing rely on INTRANAV.RTLS.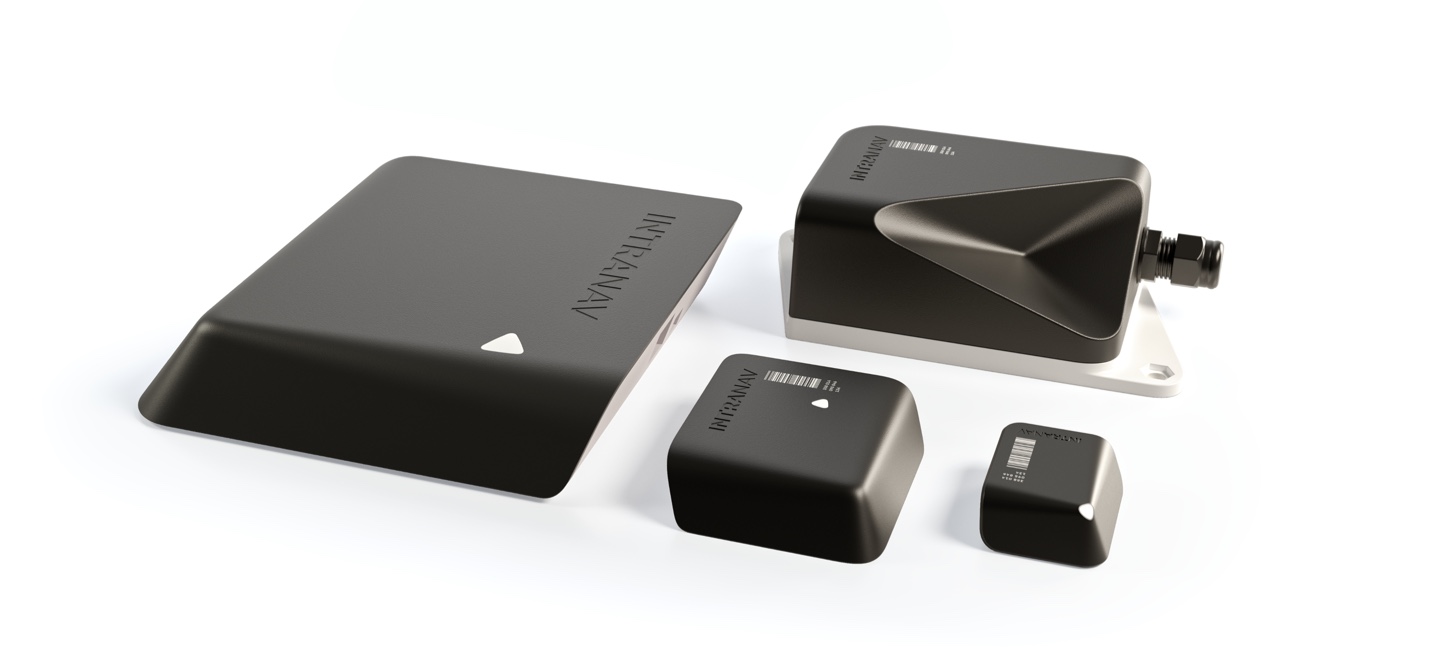 Locating technologies in comparison.
Go for
INTRA

NAV UWB!

INTRANAV offers you the best performance on the future-oriented Ultra-Wideband (UWB) standard, which is becoming more and more widespread and is the de facto standard for industrial real-time positioning. [ download technology comparison as info graphic ]
Technology

Accuracy

Reach

Terms of use

Applications

Duration
Wi-Fi

Accuracy

<20 m

Reach

<150 m

Terms of use

2D Area location

Applications

Duration

medium
Bluetooth (BLE)

Accuracy

<6 m

Reach

<50 m

Terms of use

2D Area location

Applications

Duration

medium
UWB

Accuracy

<20 cm

Reach

<100 m

Terms of use

2D/3D Area location

Applications

Duration

high with TDoA
RFID/NFC

Accuracy

<20 cm für RFID Gate

Reach

<1 cm

Terms of use

Spot Identification, No 2D area location

Applications

Duration

(passive RFID TAG)
INTRA

NAV Ultra-Wideband RTLS Advantages
High and robust locating accuracy
Very low energy consumption and long battery life
Does not interfere with Bluetooth and Wlan
Scalable thanks to cost-efficient infrastructure (TOC))
Open architecture and platform
Industrial interfaces such as SAP, MQTT and OPC-UA
The
INTRA

NAV Starter-Kit
Begin with the starter kit
You want to develop your own applications based on the INTRANAV.RTLS product family and create added value? You get access to SDK resources, downloads and documentation. Use the existing interfaces like MQTT, OPC-UA and the REST-API for a fast implementation.
Request Starter-Kit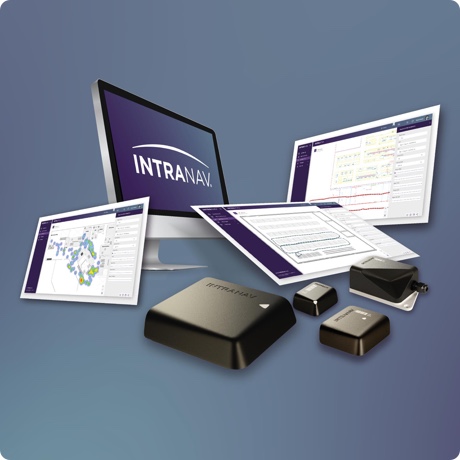 INTRA

NAV
Location-Tracking Excellence
High-availability, industrial real-time indoor & outdoor positioning
Seamless interaction with the

INTRA

NAV.

IO

DigitalTwin platform
Technology agnostic open platform with standard interfaces
Fast implementation and high cost effectiveness
Extensive

INTRA

LYTICS Suite for data analysis
Robust and maintenance free
Request now!
Added value through automation and process optimization
with
INTRA

NAV products