INTRA

NAV.

RTLS

– Multimodal industrial real-time location

The leading multi-technology Real-Time Locating System (RTLS) for industrial applications.
Seamless tracking – indoor, outdoor and global.
Reliable, scalable real-time location (RTLS) for digital transformation in logistics and production
The INTRANAV.RTLS product portfolio is based on our successful multi-RTLS technology layer with which demanding industrial applications and processes can be implemented. In industrial automation, flexibility and reliability are of utmost relevance. Each technology has its strengths and weaknesses. For example, this is an important aspect to consider in the planning process as well as in the conception phase. It is only possible to map processes using one technology in the simplest application scenarios. However, if complex factors prevail, such as changing environments, interference from metal, harsh environments and high demands on positioning accuracy and stability, only the use of multimodal RTLS systems such as RFID, Ultra-Wideband (UWB) and Wirepas or BLE will bring success.
This is where INTRANAV.RTLS and INTRANAV.IO play the decisive factor. Thanks to the multi-technology product portfolio and the uniform user interface, you do not have to deal with the orchestration of different IDENT and Track & Trace technologies. Thanks to the INTRANAV.RTLS Hub and the unified flexible data model, you manage your digitization project highly efficiently and reliably.
Together with you and the extensive INTRANAV.RTLS product portfolio, we support you in composing the technology components to suit your process – always with a view to cost efficiency, reliability and investment security.
INTRA

NAV.

RTLS

– Hardware solutions portfolio:
Multimodal real-time location system technology
The industry chooses indoor / outdoor real-time location from
INTRA

NAV!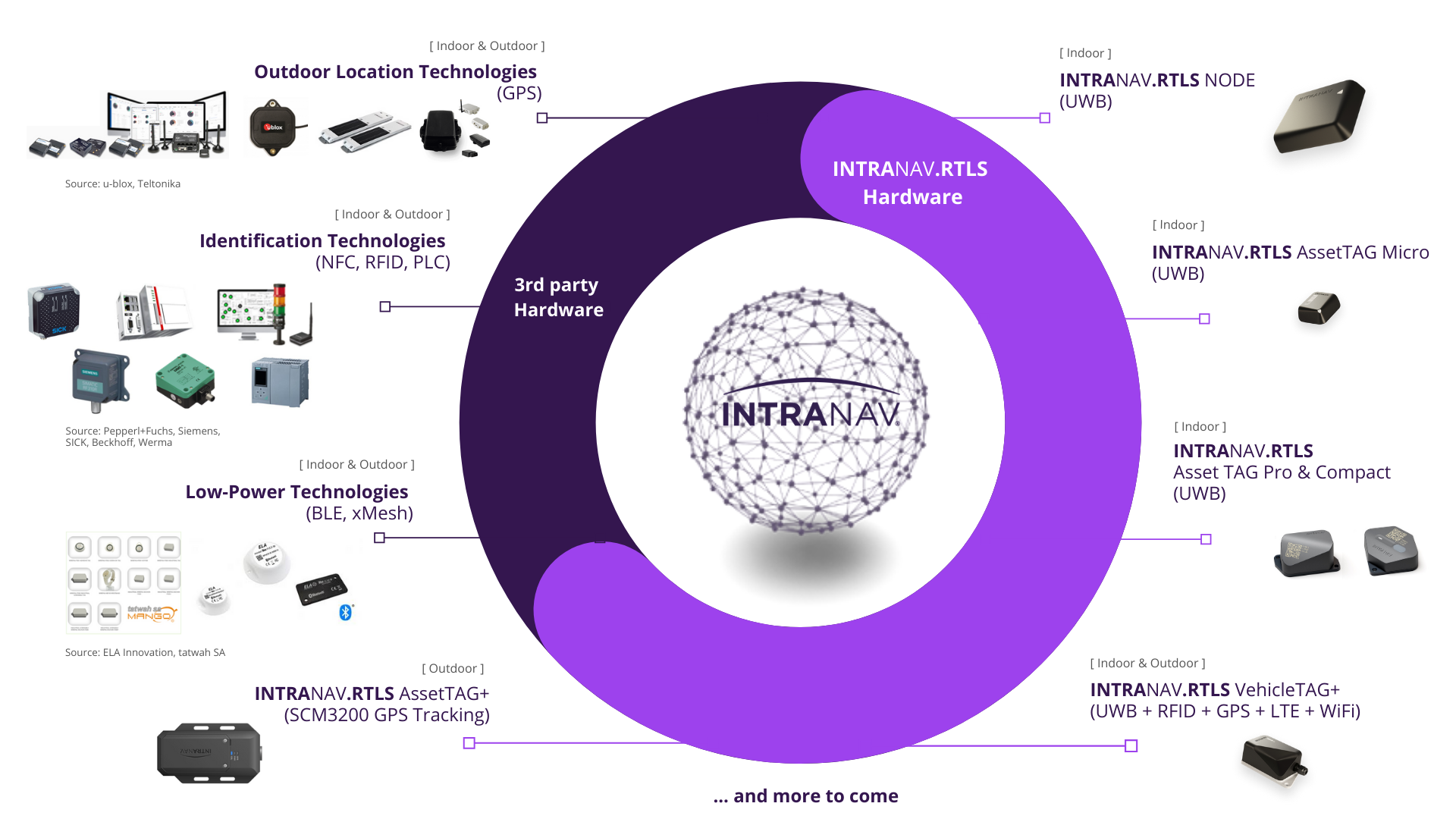 The
INTRA

NAV.

RTLS

product portfolio includes the following technologies

➜ Market-leading and multiple award-winning Ultra-Wideband (UWB) RTLS. Fully developed and manufactured by INTRANAV. Highest location accuracy (+/-10cm), high scaling, ideal in challenging environments, and already an industry standard.

➜ BLE Wirepas Massive powered by Wirepas. From our product partners Tatwah, ELA, BlueUp and many more. High flexibility, 2D location accuracy of 3-5m. Infrastructure can be completely battery powered. Ideal for equipment & load carrier tracking.

➜ RFID (UHF, HF) from our partners SICK, Pepperl+Fuchs, Deister, Kathrein and many more. Standard IDENT product for complementary use with real-time location systems such as UWB or BLE.

➜ WIFI Slam and Bluetooth Beacons from our partners Tatwah, Ela, Kontakt.io, Estimote uvm. Ideal for entry or simple application fields such as room occupancy, indoor navigation, map navigation and retail.

➜ Lidar-based navigation for centimeter-accurate tracking of vehicles such as forklifts or automated guided vehicles (AGVs).

➜ GNSS/GPS in combination with mobile radio for global outdoor tracking technologies together with our partners Queclink, Tive, Orbcomm, and Digital Matter.

INTRANAV pays attention to the optimal fulfillment of your use case requirements, such as positioning accuracy, range, mode of use, runtime, and applicable laws, during system selection. The automated INTRANAV.RTLS Selection-Guide supports this process. The INTRANAV.RTLS is reliable and precise with up to ±10cm tracking accuracy. Over 100 industrial customers trust INTRANAV's Real-Time Location System (RTLS) in productive use.
INTRA

NAV.

RTLS

product news

INTRANAV.RTLS VehicleTAG+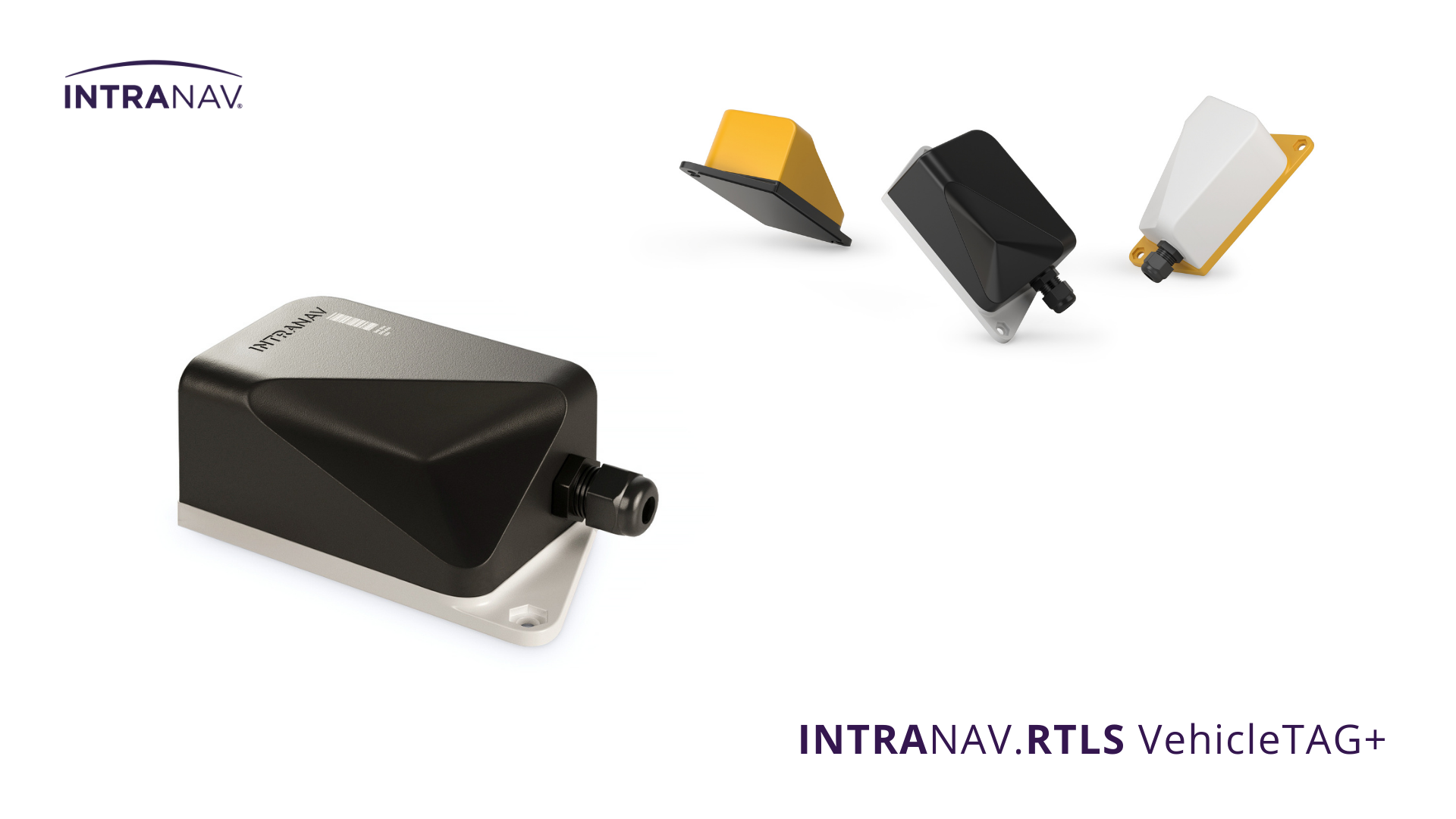 [ Precise transport vehicle location for indoor and outdoor tracking based on
UWB + RFID + GPS + LTE + WIFI technology ]

The new INTRANAV.RTLS VehicleTAG+ is dedicated to optimize efficiency (OEE), as well as to increase quality and flexibility in production & warehouse intralogistics.The VehicleTAG+ gets easily mounted on material transport vehicles such as forklifts and automated guided vehicles (AGV). With its precise and industrial proven real-time location Ultra-Wideband (UWB) sensor technology and Auto-Ident Technology based on RFID, the VehicleTAG+ enables the real-time Digital-Twin of your fleet in order to automate, optimize and simplify your material handling processes. Reduce manual barcode scanning and material identification to zero. Manage your mixed fleets and start to introduce a standardized layer for generating true values and benefits by using INTRANAVs prebuilt SMART Warehouse and SMART Production Solutions.
NEXT LEVEL production & warehouse intralogistics
with VehicleTAG+ as a digitization building block
Transport optimization through digitalization of the forklift fleet
Route optimization through navigation and route utilization reports
Digital yard management; transport flow management through precise indoor and outdoor positioning
Cost reduction through AutoIDent with integrated UWB & RFID RTLS technology
Safety management enables collision avoidance and social distance management
INTRANAV.IO: Automatic order processing from the central system (ERP, WMS, MES)
NEXT LEVEL IoT RTLS Technology
Precise tracking of industrial trucks, forklifts and autonomous vehicles, suitable for indoor and outdoor use
VehicleTAG+ is based on a multimodal technology layer with UWB, D-GPS RTK, Wifi and LTE
Fast deployment through use of standardized technologies
Sensor Hub for multiple RFID readers, height and weight sensors
Fork sensor: Detect and record loading status and fork height
Alignment: Detect vehicle direction for process reliability
UWB location: RTLS optimization for process areas and safety zones
Precise RFID scanners: Scanner-less goods transport (including "virtual pallets")
Open API: Readout and use of vehicle data for process automation
INTRANAV.RTLS AssetTAG+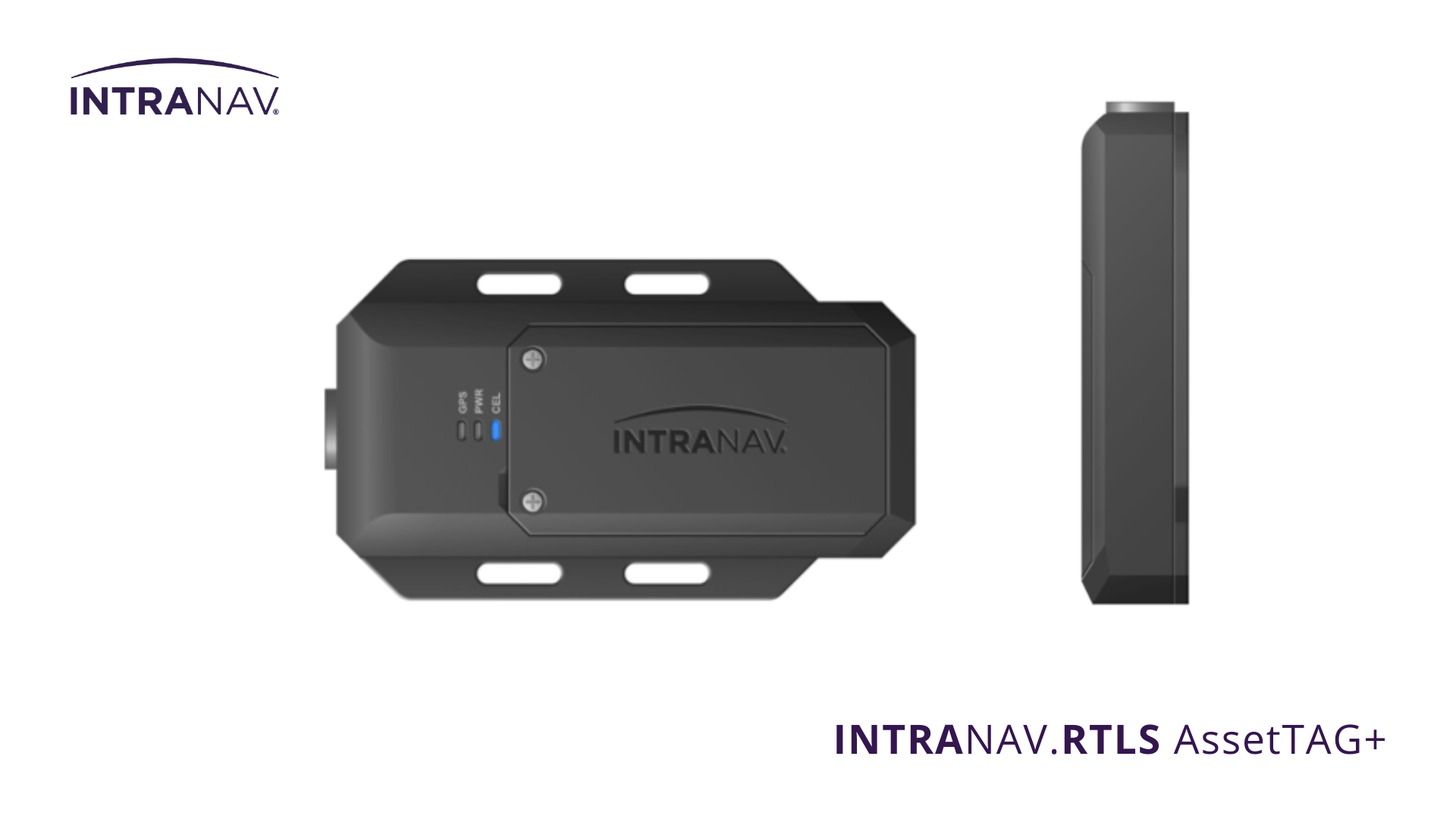 [ Supply chain asset TAG for indoor & global tracking and condition monitoring based on GPS + Bluetooth + WIFI technology ]
The high-performance supply chain TAG has been developed for the seamless transition from indoor to outdoor tracking of load carriers. Thanks to its multimodal location technology based on GPS, Bluetooth and WiFi, it enables global supply chain tracking. With INTRANAV Condition Monitoring you continuously monitor the condition of sensitive and dangerous goods. Important threshold values ​​such as temperature, humidity, acceleration and shock are monitored globally using the latest INTRANAV SMART sensor technology so that you are informed immediately via push notification in the event of a leak, unauthorized opening of containers, leaks or vibrations, temperature deviations or gas leakage.
Specifications
5G ready, 2G, 4G, NB-IoT, LTE-CAT M1
Up to 3500 positions per battery charge
External sensor interface
SMART sensors for condition monitoring: temperature, humidity, acceleration and shock
Certified airplane mode
INTRA

NAV SMART Sensors

Use INTRANAV Sensor Data Monitoring via the INTRANAV.IO IoT platform to verify in real time or via reports whether transport limit values such as temperature, humidity, acceleration (vibration) have been complied with. Receive alerts via push notifications in case of deviation from predefined limits or process interruptions.
Temperature sensor
Humidity sensor
Acceleration sensor
Shock Sensor
Certified Airplane Mode
INTRA

NAV.

RTLS

E-Ink TAGs
for paperless logistics and production

E-Ink TAGs can reduce logistic and manufacturing processes dramatically. In combination with our INTRANAV.IO Platform, customers can now send location based information and instructions to the e-Ink display in order to automate and optimize processes on the shopfloor or warehouse. Create workflows, rules and generate content depending on real-time information.
[ The E-Ink TAG is an INTRANAV.RTLS partner product. ]

Our INTRANAV Software Suite features a broad portfolio
in pre-build E-Ink Applications:
Dynamic information to control the warehouse inventory & asset flow
Assembly line & shop floor management in real-time.
Dynamic Picking and Item lists which are updating by events and order information
ERP / WMS / MES interfaces to visualize important information on changes to gain maximum flexibility
E-Kanban by utilizing the integrated Buttons
Real-Time Track & Trace with additional information and work flow instructions
Pick-by-Light for faster commissioning in warehouses and assembly lines
Machine information and order progress
Specifications
E-Ink full graphic display are available in 10 different sizes
Dimension from 1.6″ inches (36.7 x 45.0 x 13.1mm) up to 11.6″ inches (192.0 x 268.0 x 21.9mm)
Small to extra large active ESL displays
Up to 7 pages scrollable
Battery life up to 10 years
Contact us
Real-time radio positioning system technology
for indoor and outdoor positioning
Precise Industrial Indoor Real-Time Location Tracking with Ultra-Wideband

 

Ultra-Wideband (also Ultra-Wideband or UWB) is a radio communication technology for short distances, perfectly suited for real-time location tracking applications in industrial environments, where a very high position accuracy of up to (±) 10 cm has to be achieved. The latency time is extremely low, thus a stable and very fast data transmission is possible for an accurate position determination. X, Y and also Z coordinates, i.e. also height differences can be determined with additional sensors. With the Ai based INTRANAV positioning engine and signal error correction algorithms, unwanted interferences caused by metallic objects, walls, EMC fields or cranes are successfully eliminated. In addition, UWB can be used in parallel with other radio transmission technologies, such as WLAN or Bluetooth, since it does not interfere with their frequencies.

 
How it works 

➜ Time-difference of arrival (TDoA)

In the time-difference-of-arrival (TDoA) method, TAGs (transmitters) send short blink messages at regular update rates. The signals are processed by the NODEs (anchors) and all time stamps are sent to the INTRANAV.IO RTLS platform, regardless of the status of the synchronization. Using the time differences, the server calculates the real-time position of the sensor.

Advantage: Lowest possible energy consumption, for large-area tracking with a high number of assets.

➜ Two-Way Ranging (TWR)

From the radio signal transmission time between TAG and NODE, the distance to each other is calculated and evaluated as real-time position.

Advantage: Highest possible positioning precision and position stability with UWB, no time synchronization between the UWB devices required.


Radio Frequency Identification (RFID) Technology for Industrial Indoor Real-Time Tracking

 

RFID is based on electromagnetic radio wave transmission and is mainly used for automatic and contactless identification processes of assets, tools or persons in material flow tracking of logistics or production. The radio technology is suitable for point location, as the range is rather limited with up to one meter. RFID is the RTLS solution where identification and tagging of assets, for fast and reliable data collection is used. The system is particularly economical, allows complex acquisition of many objects at the same time as bulk reading and does not require line of sight for data acquisition, so it can also be identified through packaging. In addition, INTRANAV offers a wide range of RFID transponders, from print to mini-size suitable for any application. The data stored on the RFID tag can be rewritten and modified at any time.

 
How it works 

The transponders send the positioning signal to the receiver NODEs, via the so-called triangulation procedure the real-time position is calculated.


For massive IoT Rollouts


 

Wirepas Massive is a wireless connectivity technology for massive IoT. Wirepas Massive runs on the RTLS TAGs and enables a scalable, reliable and cost-effective IoT solution. The network provides a horizontal connectivity layer for all IoT use cases: collecting sensor data to an IoT application in the cloud, controlling remote devices, communicating from device to device in the network with and without the cloud as well as for location tracking of moving assets. All of the network intelligence is included in the Wirepas Massive software stack to form a resilient, wide-area wireless massive network.

 
How it works 

With Wirepas Massive, all devices can function as routers for other devices. The self-healing network is optimized by local decision-making to reach unlimited scalability, coverage and density whilst using the available radio spectrum as efficiently as possible.

Source: wirepas


Industrial indoor tracking with Bluetooth Low Energy technology (BLE Beacons).

 

Bluetooth Low Energy (BLE) radio technology allows assets to be networked together within approximately 10 meters via BLE Beacons and tracked with up to 6 meter location accuracy. BLE Beacons are particularly suitable for applications where long-term deployment is planned, as the radio standard is extremely power efficient and cost-effective.

 
How it works

Positioning with Bluetooth Low Energy is done by interpreting the outgoing signal strength of the BLE beacon, this method is known as RSSI. The constant signal emission from the beacon transmits an ID that can be used to identify each transmitter within a network.
In the Angle of Arrival (AoA) method, the angle of the signals is integrated into the position calculation, which allows a much more accurate position determination in the sub-meter range.


Indoor Tracking with Wireless Local Area Network Technology

 

Positioning with WiFi/WLAN is suitable for applications where a low localization accuracy of 5-15 meters is sufficient. The practical thing about WiFi/WLAN positioning is that it can be integrated into an existing access point infrastructure. Another advantage of this technology is that the existing WiFi structure can be used with changes to the firmware, saving time in deyploment for the time being.

 
How it works

Using differential time-of-arrival techniques and received signal strength (RSSI), the receivers locate the TAGs.

Global Positioning System Technology for Supply Chain Tracking

 

GPS technology enables you to track transport vehicles, goods and load carriers in the yard, field, city and international routes with a positioning accuracy of between 5 and 20 meters. Alerts ensure quick supply chain corrections in case of deviations from target values, for example. Route anomalies can be preemptively avoided and better planned. Theft risks or incorrect loading are prevented by push messages, and routes traveled can be analyzed and optimized. In addition, GPS tracking increases the risk of accidents for employees in outdoor areas, as warning notifications can also be issued if unauthorized areas are entered or there is a risk of collision.

 
How it works

Satellites transmit microwave carrier signals that convey the position of the satellites as well as the timing of the signals sent. Ground-based radar stations track the position of the GPS satellites and provide the information to align each satellite's atomic clock with Earth time. The GPS TAGs evaluate the GPS signal sent by satellites and use trilateration to calculate the exact location.
INTRA

NAV.

RTLS

– Technology for every area of application
in the supply chain.
Industrial
INTRA

NAV tracking technologies compared.
Rely on

INTRA

NAV.

RTLS

multi-stack technology!

INTRANAV offers you the best performance on the future-oriented IoT RTLS technology standard.
[ Technology comparisson Download ]
Technology

Accuracy

Reach

Usage

Applications

Running time
Wi-Fi

Accuracy

<20 m

Reach

<150 m

Usage

2D area location

Applications

Running time

medium
Bluetooth (BLE)

Accuracy

<6 m

Reach

<50 m

Usage

2D area location

Applications

Running time

medium
UWB

Accuracy

<20 cm

Reach

<100 m

Usage

2D/3D area location

Applications

Running time

high with TDoA
RFID/NFC

Accuracy

<20 cm for RFID Gate

Reach

<1 cm

Usage

Spot Identification No 2D area location

Applications

Running time

(passive RFID TAG)
INTRA

NAV.

RTLS

location tracking excellence
Reliable RTLS Tracking-Performance

➜ High and robust locating accuracy up to (±) 10 cm

➜ Very low power consumption and long battery life

➜ Does not interfere with Bluetooth and wifi (UWB)

➜ Standardized data transmission

➜ Robust and maintenance-free

➜ Long battery life

Integration in

INTRA

NAV.

IO

➜ Open architecture and platform

➜ Industrial interfaces such as SAP, MQTT, and OPC-UA

➜ Easy and fast implementation/installation

➜ Seamless interaction with the INTRANAV.IO Digital Twin Platform and the INTRALYTICS Suite for real-time analytics data evaluation

Cost-efficient & scalable over large areas

➜ Lowest infrastructure costs for coverage (0.05ct per m2) (with xMesh)

➜ High scalability and cost-effectiveness

➜ Scalable thanks to cost-efficient infrastructure (TCO)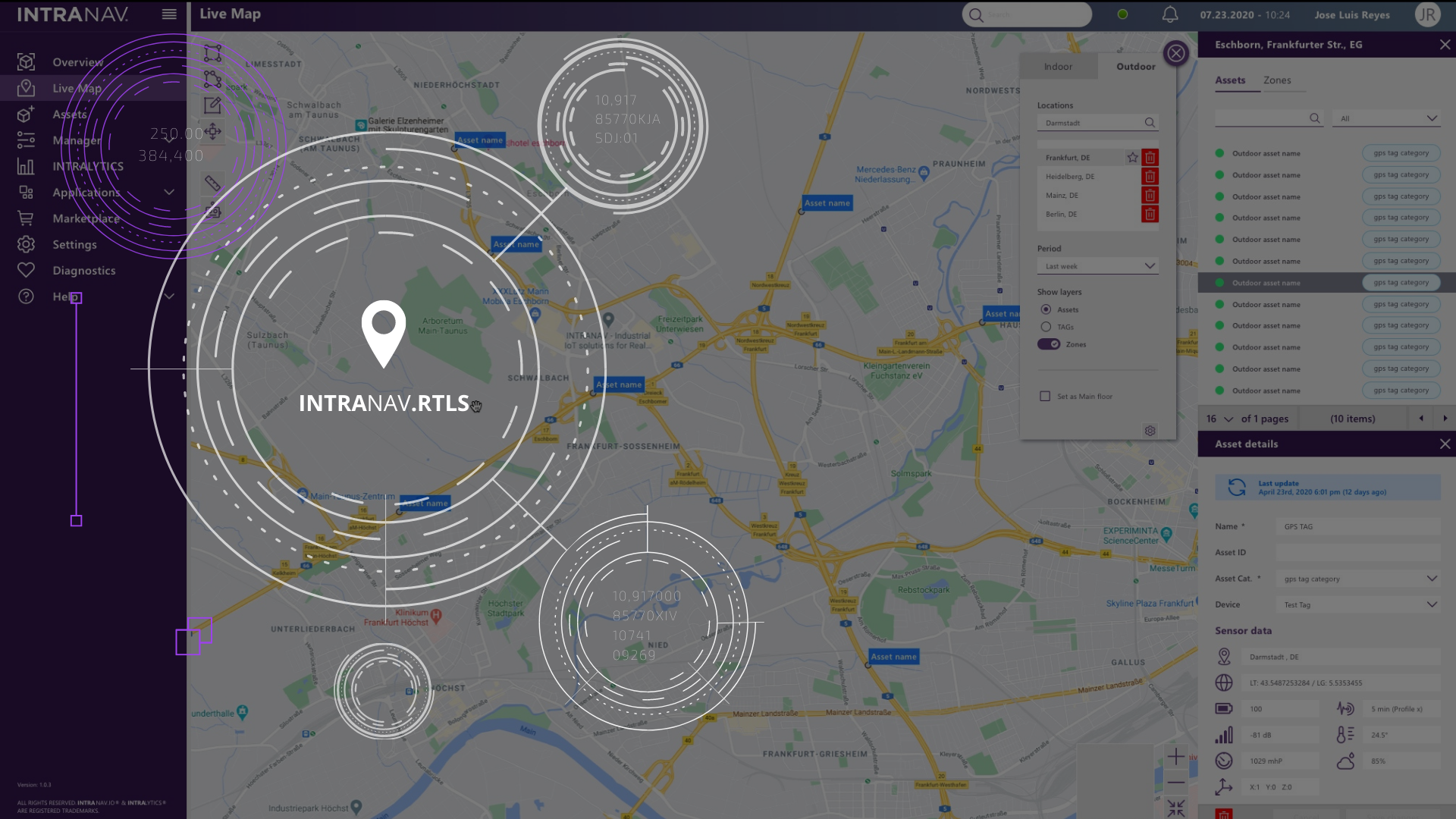 Advantages of using
INTRA

NAV.

RTLS

and

INTRA

NAV.

IO

➜ Uniform RTLS technology management gives you standardized access to sensor information and diagnostic data.

➜ Uniform map management that masters all common coordinate systems. (WGS84, Cartesian)

➜ A central system and process dashboard as RTLS control station.

➜ Industrial interfaces and API for implementing the RTLS data in your applications.

➜ Pre-built templates for your RTLS processes.

➜ Global asset & device management view for a quick overview of all cross-technology location sensors (TAG`s).

➜ Implemented storage and backup system.

➜ Integrated multi-stack location engine with numerous setting options for filters and data preprocessing.

Learn more about

INTRA

NAV

.IO
The
INTRA

NAV Starter Kit
Begin with the starter kit
You want to develop your own applications based on the INTRANAV.RTLS product family and create added value? Get access to SDK resources, downloads and documentation. Use the existing interfaces like MQTT, OPC-UA and the REST API for a fast implementation.
Request Starter-Kit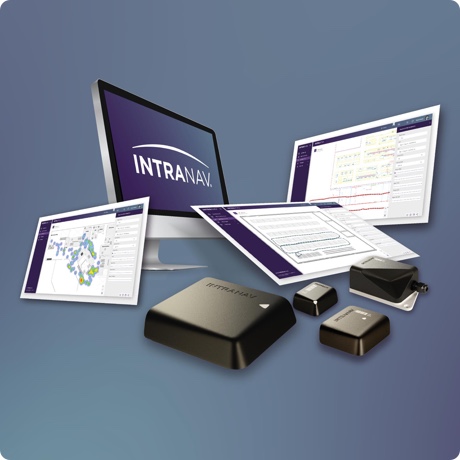 Contact us for more information
Our team will be happy to advise you with comprehensive know-how from the RTLS world!