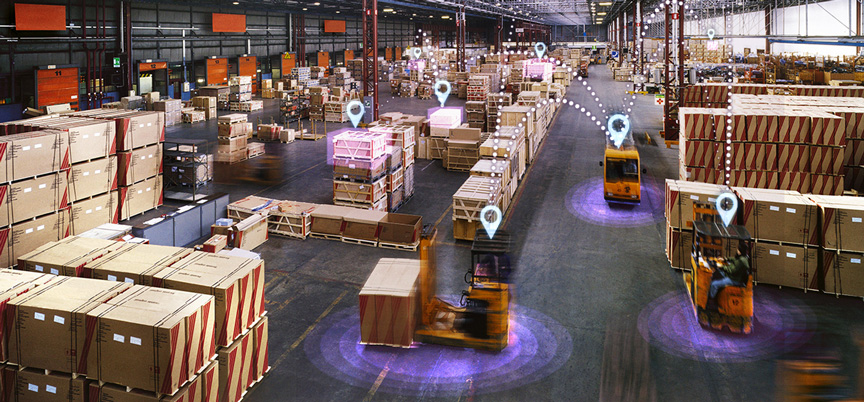 Real-Time Location and Sensor Data for the Digital Twin and Automation
in the Industry
INTRANAV Real-Time Location & IIoT Platform for
Digital Supply Chain, Smart Factory & Warehouse.
INTRA

NAV

RTLS & IIoT Platform –


Digitization and automation of industrial processes

Get a holistic overview of your production processes as well as logistics and material flows with INTRANAV.IO to digitize, to track and to automate processes based on location information. The system also supports the analysis and continuous optimization of industrial processes.

Integrate status, identification and process information into ERP, WMS, production or supply chain systems.

The award-winning multi-stack INTRANAV.RTLS technology enables you to use the sensor and location technologies that best suit your needs.
Scalable real-time location & RTLS solutions for intralogistics & production
INTRANAV is a comprehensive real-time IoT platform for the implementation of industrial RTLS (Track & Trace) applications for Indoor & Outdoor areas such as vehicle localisation, production tracking, yard management, gate allocation, forklift location (MHE), real-time route optimisation or the automatic identification and booking of goods and material flows (AutoID).
Learn more
Current Industry 4.0 & Digital Supply Chain Solutions:

1. Smart Warehouse – 2. AutoID & -Booking – 3. Smart Forklift – 4. Fleet Manager – 5. Safety Manager – 6. Smart Production – 7. Material flow control – 8. Equipment Manager – 9. Yard Manager – 10. Shipment Manager

↓
1

Smart Warehouse

The Digital Twin digitize all warehouse assets (pallets, boxes, containers) 1:1 as a virtual warehouse, you get a digital real-time inventory overview. The automatic identification enables bookings of incoming and outgoing goods with recording in the ERP. With INTRANAV the most efficient warehouse and transport route utilization is achieved with optimal storage space allocation.

2

Auto-ID & Booking

Automatic identification and goods booking (AutoID) of production goods, assembly racks and production parts by the intelligent sensors. Bundle and store packages as "virtual pallets". Further elimination of barcode scans by defining scan zones.

3

Smart Forklift

With the help of the real-time location data of the transport vehicles, routes can be optimized and congestion and dangerous situations can be proactively avoided. In addition, scanner-less transport of individual goods or "virtual pallets" for storage and retrieval takes place.

4

Fleet Manager

Precise indoor positioning and a heterogeneous AGV/FTS fleet allow for more efficient resource utilization and more flexible processes.

Assistance Guiding for AGVs as well as adaptive AGV routing support collision avoidance and reduction of blind flights when used in autonomous or mixed fleets, for a fluid and safe transport flow.

5

Safety Manager

Collision Avoidance issues collision warnings, and an adaptive routing system predictively and automatically suggests a new route to drivers in the event of traffic jams or high route utilization. With social distance management, employees maintain the minimum distance in the event of a pandemic, and infection chains can also be traced. Workforce Safety increases employee safety so that immediate safety measures are initiated in the event of incidents.

6

Smart Production

End-to-end tracking of manufacturing orders (FAUF) and virtualization of accompanying documents through the Digital Twin. Geo-Fence triggered events check errors, start follow-up steps and trigger automatic operation feedback in ERP/MES systems.

7

Material flow control

The real-time data supports you with additional process transparency. The integrated analysis tools give you information about errors in the material flow, which enables you to set up optimization measures.

8

Equipment Manager

Real-time localization for fast location, process control, safeguarding, and efficient utilization (OEE). Availability query of special tools as well as predictive maintenance through automated maintenance messages.

9

Yard Manager

Real-time overview of location information of assets, vehicles and people in the yard, field or city – digitized as a virtual parking lot. Vehicles can be navigated to the correct dock or gate manually or by linking to transport guiding systems. Get control security during the loading of vehicles and automatic alerts in case of delays in the process.

10

Shipment Manager

Monitor the conditions of goods and deliveries by measuring temperature, humidity and shock. Check loading conditions, be immediately informed in case of supply deviation from target values and KPIs. Control of container fleet utilization, compliance with routes, acting in case of route anomalies, theft protection through SMART sensor technology and trigger order processes through geofencing.
Smart Warehouse

The Digital Twin digitize all warehouse assets (pallets, boxes, containers) 1:1 as a virtual warehouse, you get a digital real-time inventory overview. The automatic identification enables bookings of incoming and outgoing goods with recording in the ERP. With INTRANAV the most efficient warehouse and transport route utilization is achieved with optimal storage space allocation.

1

Auto-ID & Booking

Automatic identification and goods booking (AutoID) of production goods, assembly racks and production parts by the intelligent sensors. Bundle and store packages as "virtual pallets". Further elimination of barcode scans by defining scan zones.

2

Smart Forklift

With the help of the real-time location data of the transport vehicles, routes can be optimized and congestion and dangerous situations can be proactively avoided. In addition, scanner-less transport of individual goods or "virtual pallets" for storage and retrieval takes place.

3

Fleet Manager

Precise indoor positioning and a heterogeneous AGV/FTS fleet allow for more efficient resource utilization and more flexible processes.
Assistance Guiding for AGVs as well as adaptive AGV routing support collision avoidance and reduction of blind flights when used in autonomous or mixed fleets, for a fluid and safe transport flow.

4

Safety Manager

Collision Avoidance issues collision warnings, and an adaptive routing system predictively and automatically suggests a new route to drivers in the event of traffic jams or high route utilization. With social distance management, employees maintain the minimum distance in the event of a pandemic, and infection chains can also be traced. Workforce Safety increases employee safety so that immediate safety measures are initiated in the event of incidents.

5

Smart Production

End-to-end tracking of manufacturing orders (FAUF) and virtualization of accompanying documents through the Digital Twin. Geo-Fence triggered events check errors, start follow-up steps and trigger automatic operation feedback in ERP/MES systems.

6

Material flow control

The real-time data supports you with additional process transparency. The integrated analysis tools give you information about errors in the material flow, which enables you to set up optimization measures.

7

Equipment Manager

Real-time localization for fast location, process control, safeguarding, and efficient utilization (OEE). Availability query of special tools as well as predictive maintenance through automated maintenance messages.

8

Yard Manager

Real-time overview of location information of assets, vehicles and people in the yard, field or city – digitized as a virtual parking lot. Vehicles can be navigated to the correct dock or gate manually or by linking to transport guiding systems. Get control security during the loading of vehicles and automatic alerts in case of delays in the process.

9

Shipment Manager

Monitor the conditions of goods and deliveries by measuring temperature, humidity and shock. Check loading conditions, be immediately informed in case of supply deviation from target values and KPIs. Control of container fleet utilization, compliance with routes, acting in case of route anomalies, theft protection through SMART sensor technology and trigger order processes through geofencing.

10