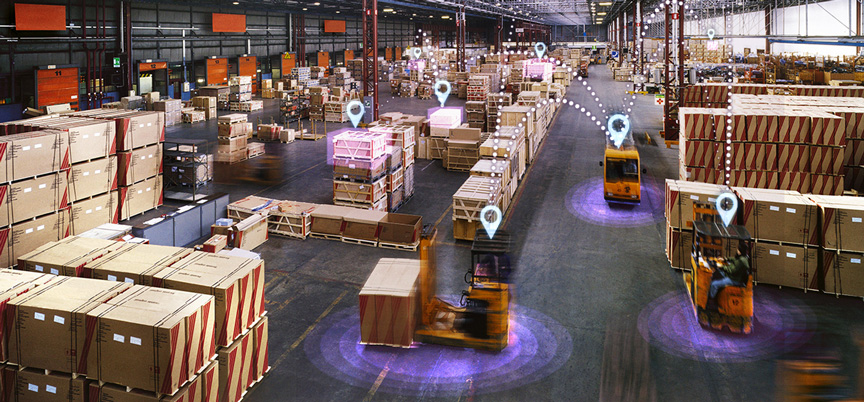 Independent Real-Time Location & Sensor Data Service Provider
for the Digital Twin
Enabling DIGITAL Supply Chain, SMART Factory & Warehouse
Precise real-time localization & sensor data as a premise for intelligent and safe networking of industrial processes
The complexity within logistics and production is increasing rapidly. Therefore, we at INTRANAV understand the necessity of digital networking of all industrial business processes in order to be able to track, analyze and continuously optimize processes on the shop floor as well as on a global level.
Our mission is for companies to implement the Artificial Digital Twin in RTLS IIoT platforms in order to use INTRANAV Real-Time Location & Sensor Data to meet the challenges of industrial digitalization within intralogistics, SMART Factory and DIGITAL Supply Chain.
Scalable real-time location & RTLS solutions for intralogistics & production
INTRANAV is a comprehensive real-time IoT platform for the implementation of industrial RTLS (Track & Trace) applications for Indoor & Outdoor areas such as vehicle localisation, production tracking, yard management, gate allocation, forklift location (MHE), real-time route optimisation or the automatic identification and booking of goods and material flows (AutoID).
1

Production Tracking

Continuous tracking of production orders (FAUF) and virtualisation of accompanying documents by the digital TAG. Geo-fence triggered events check errors, start subsequent steps and trigger an automatic process confirmation in ERP/PES systems.

2

Transport Vehicle Management

Routes can be optimized with the help of real-time location data from transport vehicles such as forklifts and AGVs/FTSs. Traffic jams and dangerous situations can be avoided proactively.

3

AGV/FTS Management

The precise indoor location and orchestration of the AGV/ AGV fleet enables more efficient resource utilisation and more flexible processes.

4

Sensor Data Monitoring

Monitor the status of goods and deliveries.  Measure and monitor temperature, humidity and shock. Monitor the loading conditions and be informed immediately in case of deviations from target values and KPIs.

5

RTLS Auto-ID

Automatic identification and posting of goods (AutoID) of production goods, assembly racks and parts by the intelligent sensors unlike RFID, no GATE is necessary here. Define scan zones and eliminate barcode scans.

6

Equipment & Tool Management

Echtzeitortung für schnelles Real-time location for fast discovery, process control, process assurance, and efficient utilization (OEE). Availability query of special tools as well as predictive maintenance through automated maintenance messages.

7

Material Flow Management

The real-time location data supports you with additional process transparency. The integrated analysis tools provide you with information about errors in the material flow. Receive optimization recommendations.
Production Tracking

Continuous tracking of production orders (FAUF) and virtualisation of accompanying documents by the digital TAG. Geo-fence triggered events check errors, start subsequent steps and trigger an automatic process confirmation in ERP/PES systems.

1

Transport Vehicle Management

Routes can be optimized with the help of real-time location data from transport vehicles such as forklifts and AGVs/FTSs. Traffic jams and dangerous situations can be avoided proactively.

2

AGV/FTS Management

The precise indoor location and orchestration of the AGV/ AGV fleet enables more efficient resource utilisation and more flexible processes.

3

Sensor Data Monitoring

Monitor the status of goods and deliveries.  Measure and monitor temperature, humidity and shock. Monitor the loading conditions and be informed immediately in case of deviations from target values and KPIs.

4

RTLS Auto-ID

Automatic identification and posting of goods (AutoID) of production goods, assembly racks and parts by the intelligent sensors unlike RFID, no GATE is necessary here. Define scan zones and eliminate barcode scans.

5

Equipment & Tool Management

Real-time location for fast discovery, process control, process assurance, and efficient utilization (OEE). Availability query of special tools as well as predictive maintenance through automated maintenance messages.

6

Material Flow Management

The real-time location data supports you with additional process transparency. The integrated analysis tools provide you with information about errors in the material flow. Receive optimization recommendations.

7