INTRA

LYTICS

Real-Time Location Analytics
Reports That Help You Make the Right Decisions
Synchronize your material flow via the INTRANAV.IO platform and analyze your processes in real-time to be able to react in time in case of deviations, traffic jams, downtimes, or bottlenecks. Real-time analyses from INTRALYTICS enable you to achieve high reaction times and flexibility that would otherwise only be possible in part through retrograde perspectives. This enables you to optimize your resources in real-time and thus to save significantly on operating costs.
Real-Time and Historical Reports of Transport and Material Flow Help You Evaluate and Optimize Your Logistics and Production Processes
With the TRAIL Indoor Report (Spaghetti Diagram), you can analyze the period of assets and vehicles in motion within your plant in real-time or in any defined period. Analyze whether your fleet of vehicles is following predefined and efficient routes. This analysis is essential for the optimization of your production layout in order to uncover ineffective times of your work processes.

With TRAIL Outdoor (Spaghetti Diagram), you receive a report on the routes covered by your (transport) vehicles and objects over a period of time that you can define at will. Track and analyze transport routes along the supply chain, on international routes, overseas or in the yard. Get a holistic overview of where they have been moved to and how long they have stayed in parking or loading areas to increase efficiency and secure processes. TRAILs offers you the opportunity to optimize your transport routes.

With ZONE Reports you can analyse the time period during which a zone of your shop floor was occupied. For example, you can identify the period of time your forklift trucks were in the battery zone and check whether prescribed zones were actually used and how long they were in them.

With HEATMAPs you visualize the temporal frequency of your transport and material flows. Identify highly frequented interfaces and duration of stay of your transport vehicles and materials, as well as where traffic jams, waiting and control times occur particularly frequently.

The Material Flow Report allows you to analyze the process and material flows within your plant in real time or over a period of time defined by you. With INTRANAV real-time location data you can identify weak points within your store floor and thus react to deviations (of your predefined KPI's) and improve these processes immediately or afterwards. Receive fully automated notifications via SMS or email in case of deviations from your predefined processes.

Through the connection to third party providers INTRALYTICS offers the possibility to visualize your valuable INTRANAV Real-Time Location & Sensor data over an unlimited number of analysis dashboards (see example charts in the screenshot). Use reports that meet your needs to ensure long-term optimization success for secure processes and a resilient supply chain.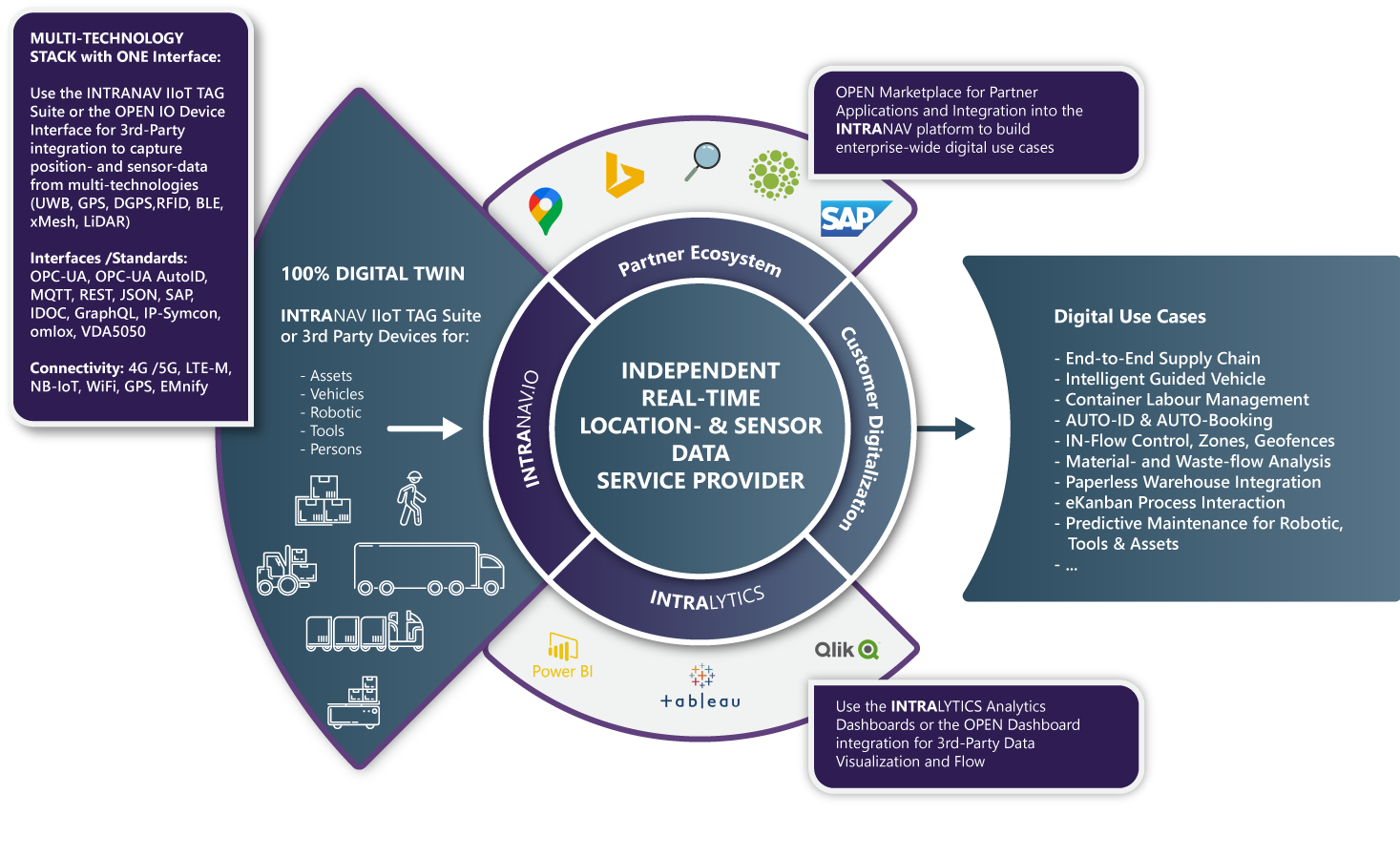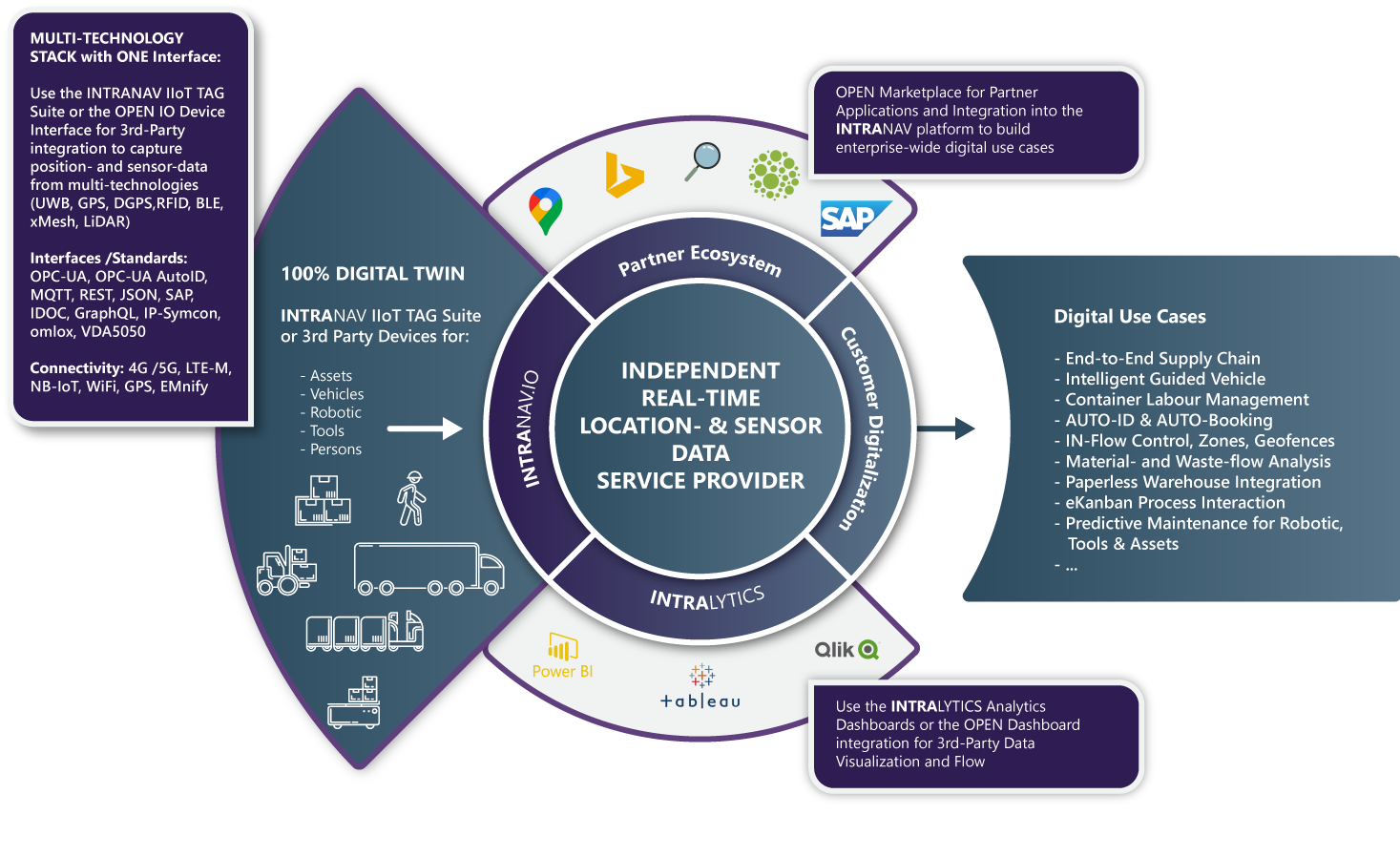 Measurable advantages through INTRALYTICS process analyses
Reduction of idle times, optimization of throughput times
Route and route analyses in combination with our real-time mapping enable direct evaluation of empty runs, inefficiencies and detours. You can detect these in real time and thus significantly increase throughput times through efficient route selection.
Increase in transport fleet and resource utilisation
With INTRALYTICS you get a clear and redundant real-time overview of which transport vehicles are occupied with which transport orders. This enables you to allocate orders more efficiently at a glance.
Increase in productivity through valid data collection
Dwell time, zone utilization and other productivity indicators of your shop floor are automated and thus reliably recorded, which almost eliminates incorrect measurements. This allows you to deploy your staff much more efficiently, e.g. for the evaluation of these data, thus saving significant working time resources.
Industry leading RTLS features
Overall Equipment Effectiveness (OEE)

Route utilization analysis

Route (path) analysis

Zone utilization

Incorrect deliveries

Process Effectiveness &
Service Life Analysis
INTRA

NAV.

IO

Suite

Highest process transparency, security and redundancy through manufacturer-independent, highly available real-time indoor & outdoor location.
Highest process transparency, security and redundancy through manufacturer-independent, highly available real-time indoor & outdoor location
Enables resource management, real-time planning of transport vehicle capacities, route optimization and navigation (with transport control systems)
Enormous time savings through

INTRA

NAV Auto-ID & identification solutions
Triggering of fully automatic, zone-triggered events

INTRA

NAV Big Data Analyses by

INTRA

LYTICS (route utilization, route analysis, zone utilisation, material flow analysis and much more)
24/7 condition monitoring and control
Request now!
You want to know how you can make your processes more efficient with real-time tracking?
Our team is happy to advise you with comprehensive know-how from the RTLS world!