INTRA

NAV RTLS Intelligence
for Use with SAP® Management Products
Location Intelligence for Reliable Industrial Processes
With INTRANAV RTLS Intelligence, your industrial objects (For example, handling units and other components of a customer order) or transport vehicles are digitally connected to SAP® management products, such as SAP® Extended Warehouse Management (EWM), SAP® Manufacturing Execution (ME), SAP® S/4HANA or SAP® Supply Chain Management (SCM). The real-time location and process data is generated by the INTRANAV.IO platform and INTRANAV Multi-RTLS technology and consistently synchronized with the SAP® management products.
Location Intelligence for integration into SAP systems:
➜ Process mapping of the inventory in the warehouse, on the production line or in the yard as a digital twin
➜ Process monitoring through track and trace of production, transport and material flows
➜ Location-based process automation of relevant workflows on the store and production floor
➜ Process analysis based on real-time location data
Benefit from dynamic transfer order management and control, scan-free operations, synchronization between physical inventory and SAP® management systems, plausibility at the production line, status alerts, and error-free operations.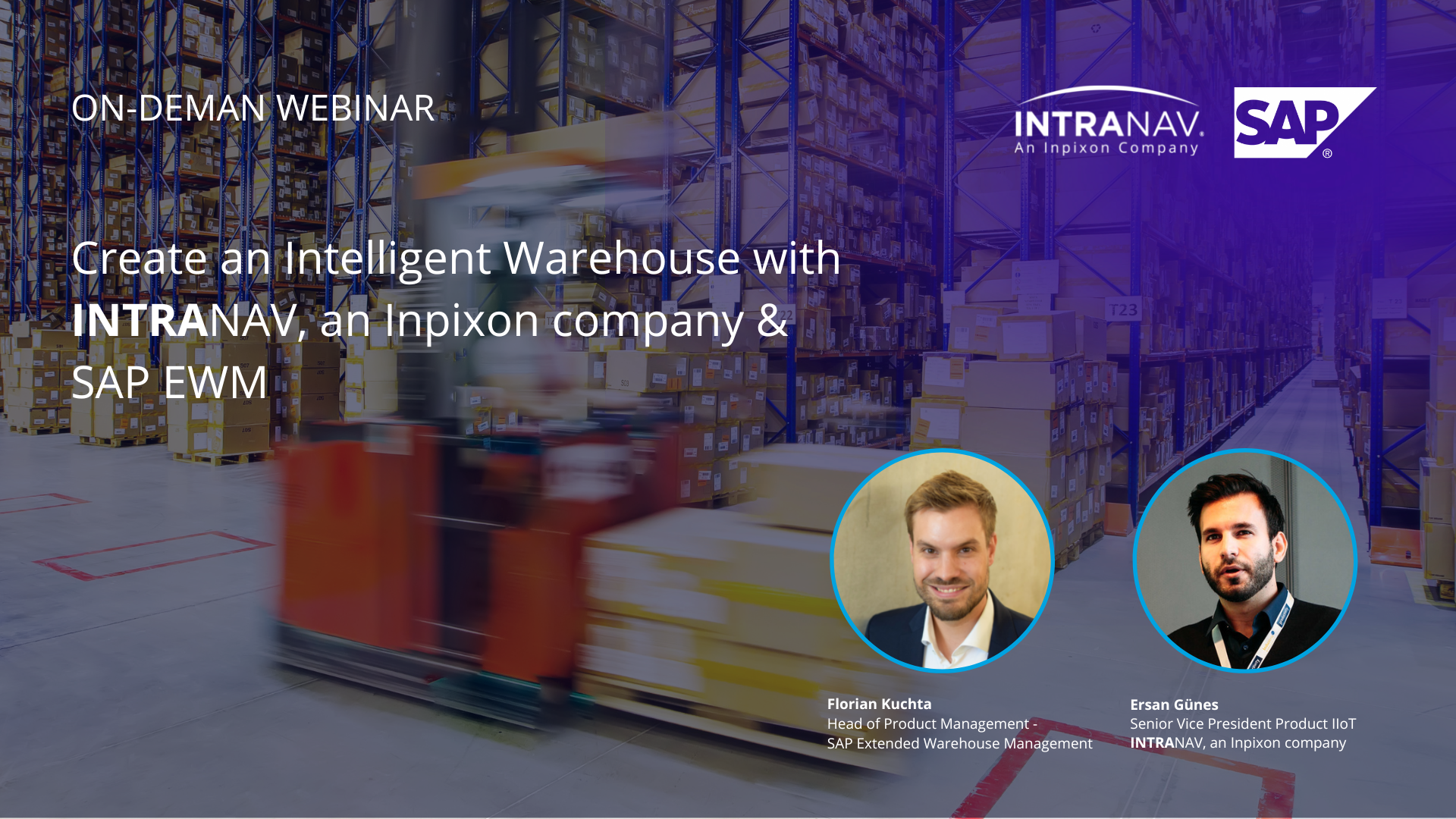 Advantages of
INTRA

NAV RTLS Intelligence
in Use with SAP® Management Products
1

Optimization of material flow utilization

Through intelligent linking of location & sensor data of MHE & material as well as the dynamic assignment of transport orders together with modern ERP and WMS management systems.

2

Reduction of idle and throughput times as well as idle cycles

Through real-time optimization of transport orders, resources, intelligent routing and the elimination of barcode scanning through AUTO-ID and recognition systems.

3

Reduction of booking efforts and errors

Through virtual zones, all cycle-related production feedback is automatically posted to SAP® in real-time.

4

Reduction of material merging errors

Thanks to the continuous real-time tracking of load carriers, the entire manufacturing process is mapped transparently as a digital twin. System comparisons with SAP check the plausibility of the components for the further assembly process.

5

Reduction of inefficiencies and errors in workflows

Through real-time process interlock, digitized workflows, machine learning-based plausibility checks, predictive analytics, and alerts.

6

Reduced material delivery times through automated replenishment control

Through real-time data-driven production line feeding by route train or the digitized forklift fleet.
Process Optimization Key Figures of our Customer with
INTRA

NAV RTLS Intelligence when used with SAP® EWM
The Main Functions at a Glance
Auto Identification with RTLS

Dynamic transport
order management
and control

Digital & visual
pallet capture
(inbound to outbound)

Scannerless goods transport

Autonomous
plausibility check
in variant production

Automatic cycle feedback
on the assembly line

Paperless manufacturing &
initiating workflows

Dynamic material
Replenishment

Display of sequence- & order-related
information (assembly line)
Location Intelligence Solutions for Use with SAP® Management Systems
SAP "Win Through Logistics" – Intelligent Warehouses with
INTRA

NAV, an Inpixon Company

Manuel Flurbacher, SAP and Ersan Günes, INTRANAV, an Inpixon company
INTRA

NAV RTLS Intelligence for Use with
SAP® EWM and SAP® MES
Success Stories of our Customers
Optimized Industrial Processes through INTRANAV RTLS Intelligence and the use with SAP® Management Products
Read now
INTRANAV Supports RTLS Data Integration
into the Following SAP® Products
Logistics and Supply Chain:

SAP® Extended Warehouse Management
SAP® Logistics Business Network
SAP® Yard Logistics
SAP® Transportation Resource Planning
SAP® Supply Chain Management
Manufacturing:

SAP® Manufacturing Execution
SAP® S/4HANA Manufacturing
SAP® Manufacturing Integration and Intelligence
SAP® Digital Manufacturing Cloud

Optimization of the Asset Performance:
SAP® Asset Intelligence Network (AIN)

SAP® is a registered trademark of SAP® SE or its affiliates in Germany and in several other countries.
Industry 4.0 Starts with
INTRA

NAV RTLS Intelligence

Experience INTRANAV RTLS Intelligence Live at the SAP Innovation Hub Germany!

Visit showroom site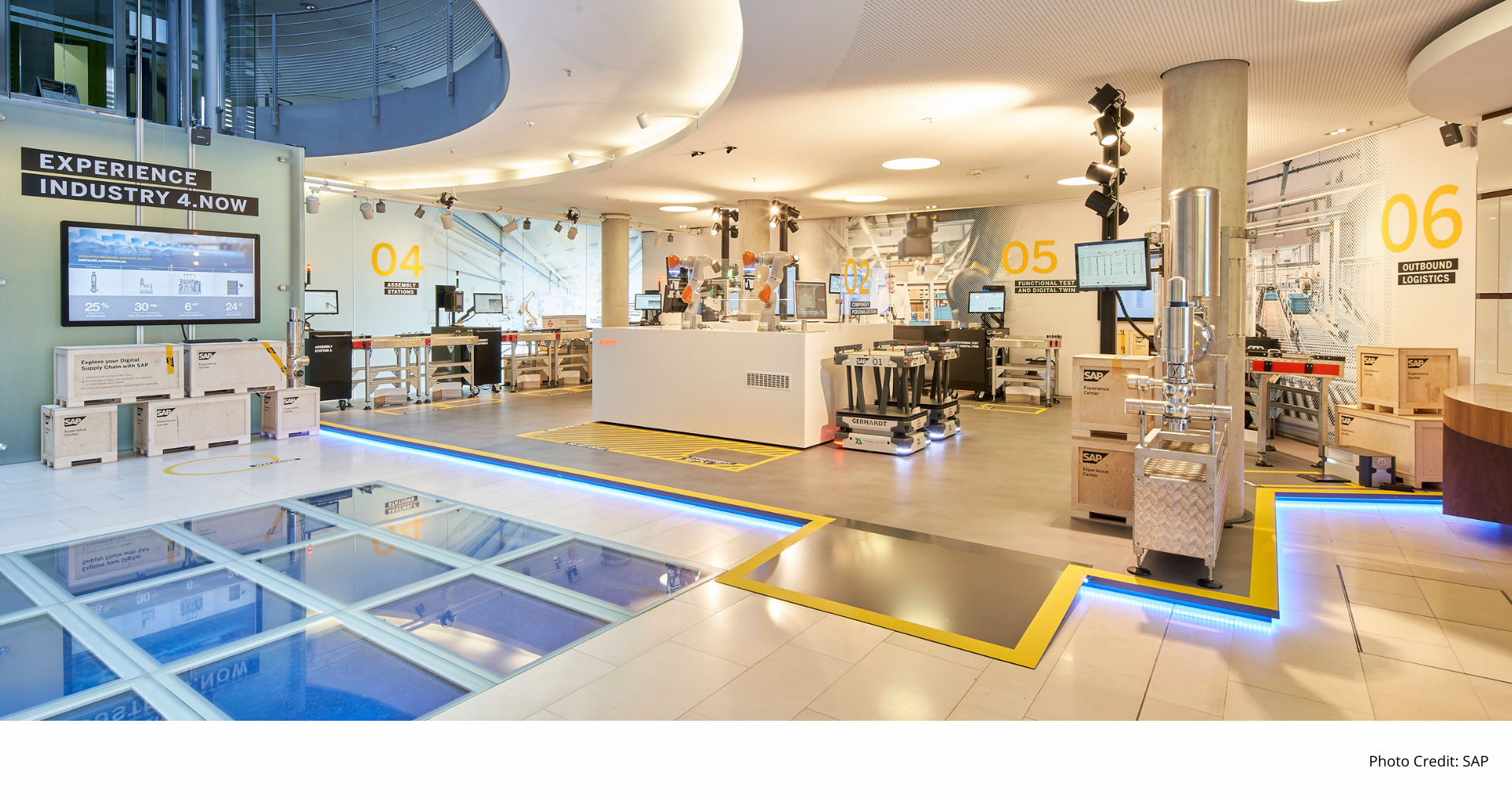 Highest Process Transparency
through
INTRA

NAV Real-Time Location Data
INTRA

LYTICS Learn more

Industrie 4.0 Solutions

Learn more

Applications for real-time location for the SMART Factory & Warehouse

Learn more
Contact Us for More Information
Our team looks forward to advising you with comprehensive know-how from the RTLS world!