Become part of an excellent team –
innovation needs smart people!
INTRANAV – The digital IoT RTLS platform for the DIGITAL Supply Chain & SMART Factory
Our values
Together is better. We are a team. We know that people want to join a company and be part of a team because they share a common vision, mission and opportunity. Our mission to apply the best and latest in IoT, data analytics and artificial intelligence (AI) to everyday interiors drives our work. The people we work with are what bring us together every day.
Together, we make it happen. We make it work. We're all rowing in lockstep, in the same direction, toward group success and individual advancement. Everyone at Inpixon is committed to what we do, who we do it with, and why we do it.
Courage is contagious. We have the courage to innovate. We are willing to take risks, try new things, fail fast and learn from our mistakes. Accountability and responsiveness define the way we work with each other and our customers.
Balancing tensions. We prioritize competing concepts to scale and grow. We are a publicly traded company with a multinational focus that fosters a growth mindset. We measure results, not time, and are guided by the principle of being present and achieving goals, which allows for a balanced life outside of work.
If you feel like you have 70% of the qualifications we are looking for and Inpixon sounds like something you want to be a part of, apply now. We can't promise you'll be a good fit, but we do promise to consider your experience.
At Inpixon, we value diversity and strive to create an inclusive environment for all employees. We believe that diversity and inclusion among our employees are critical to our success, and we strive to recruit, promote and retain employees from a diverse candidate pool. We welcome and encourage applications from people with diverse skills.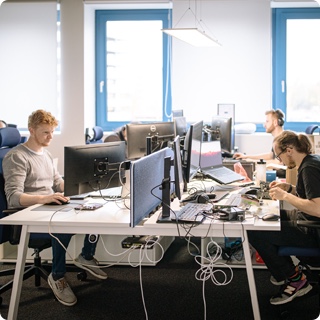 Job vacancies
Senior Sales Account Manager, Industrial IoT – RTLS for Manufacturing and Logistics (Industry 4.0) DACH (m/w/d)

Germany

Project Engineer (m/w/d)

Germany

Senior Full-Stack Developer (m/w/d)

Germany

Backend Developer (m/f/d)

Germany

React.js Developer (m/w/d)

Germany

Field Application Engineer

Germany

Field Delivery Engineer

Germany
We offer you
We appreciate your effort, so we'll do everything we can to make you feel at home:
Flexible working hours
Average 30 days holiday
Coffee, espresso, tea & mate as much as you like
Annual Company Off-Site, sometimes with lots of action or relaxation. In the foreground for us is a good time together!
Brand new and highly modern equipped office with top location in Frankfurt-Eschborn
Look forward to various events in a professional and private context
Locations: Eschborn/Frankfurt am Main or Berlin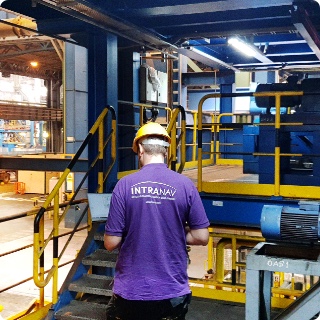 Our success factor:
INTRA

NAV Team Spirit
Pleasant company culture and a family atmosphere in which respect is the first priority.
Professional work with a clear vision.
We communicate at eye level. You have ideas and arguments that convince? Then express yourself, whether you are a boss or an intern.
We live fast decision-making processes and agility.
Can-DO Spirit.
Short communication channels thanks to flat hierarchies.
Teamspirit & good mood is free of charge with us. Our cohesion stands
always in the foreground.
We remain flexible and respond to individual needs.
We live and love diversity of all genders, nationalities and cultures.
Office Location
IntraNav GmbH, Frankfurter Str. 27, 65760 Eschborn, Germany