INTRA

NAV.

APP

INTRANAV.IO RTLS Platform Applications for Industry 4.0
Intuitive & simple – supply chain solutions for logistics & production optimization with industrial IoT apps from INTRANAV.
To keep track of the constant interactions of the supply chain, including transport, warehouse logistics as well as materials handling and production, you need reliable and precise real-time data in an RTLS Enterprise Software to make branched transport flows as well as hidden information and material flows transparent, predictable and plannable. With the INTRANAV.APP portfolio, based on the INTRANAV.IO Digital Twin platform, you succeed in optimizing and ensuring the optimal supply of your transport flows holistically. End-to-end supply chain process and planning transparency as well as partial automation based on reliable real-time data are the solution to uncover transport flow bottlenecks, to obtain planning and execution reliability and to be able to analyze and understand detailed correlations of historical data through real-time reports.
INTRANAV IIoT Applications for intelligent and
predictive material flow processes
The INTRANAV.APP Virtual Pallets is part of the SMART Warehouse Solution and supports logistics staff in loading pallets according to type, which means that they can then be entered in the ERP & INTRANAV system as a pallet bundle via bulk reading. Hardware-based device matching eliminates manual identification booking steps such as recording and confirmation (scanning), reduces the error rate of the goods receipt booking process and saves employees time.

Click to read more

Each delivered carton is equipped with an RFID label for tracking and goods ID recording. In order to be able to load the pallets according to type, an HMI display shows the responsible employee how many cartons need to be packed onto which pallet. In the exchange between ERP and INTRANAV, the number of packages to be loaded onto a pallet is clear in order to obtain a single-sort pallet. Automatic feedback is shown to the employee on the display as soon as the pallet "full status" is reached and the real number of packages matches the system number. By registering the single NVEs / single packages, during the loading of the pallets, INTRANAV counts up until the maximum number of packages per pallet, package type, and sort is reached. Systemically, the numerical count creates the formation of a variety bundle (Virtual Palette). In the ERP, a pallet is thus booked as single-variety, INTRANAV also recognizes the real-time position of the pallet, with which the further material flow can be tracked via INTRANAV.IO and further automatic warehouse triggers, such as transport order orders for goods storage for forklifts, can be issued with geofences.

If the transport vehicle is equipped with the INTRANAV.RTLS VehicleTAG+ (UWB) (digitized forklift fleet), the last storage location (endpoint) of the goods/pallet is systemically recorded in ERP/EWM and INTRANAV.IO. Touchpoint matching with the endpoint eliminates the need to tag individual pallets or totes, giving you significant savings in RTLS hardware.

The INTRANAV.APP Order Matching associates order numbers and associated accompanying documents, such as production orders, bills of lading, delivery bills, parcel labels, and loading bills via scanning with the INTRANAV.RTLS TAG.
In the INTRANAV.IO and SAP system, the package (or other asset) is married to the associated order number and its accompanying documents and can be tracked in real-time via the Digital Twin.

Click to read more

The packages can now be automatically captured at all nodes in the warehouse or production (buffer area, shipping area, etc.) by automatic capture upon entry into the workstation via a geofence (virtual zone), without manual scanning.
If further information (production order numbers) needs to be stored on the individual packages at further material flow stations, this can again be done via the INTRANAV.APP. With the INTRANAV.APP the employees scan, exactly these two, whereby in the INTRANAV.IO platform a new asset is created, which can then be tracked. A call to the real-time position and associated documents can be made from any device via the INTRANAV.IO platform.

Here, too, software-based identification (tagging) can take place through virtual end-point matching when packages are deposited in one location by a digitized fleet of forklifts. This means that thousands of objects no longer have to be necessarily equipped with TAGs, enabling you to achieve significant savings in the RTLS hardware area.

With INTRANAV.APP Flow Status all digitized real-time data about the completed material flows are available in a database/Excel. With INTRANAV.APP Flow Status, all individual material flows and material flow relationships can be analyzed in real time or retrograde. The app stores the exact time stamp (day / hour : minute : second) from the input and output of the respective zone and calculates the dwell time to the second in the respective zone. The final status indicates the total time of the transit time of all zones and intermediate transit times per asset / package / material flow relationship.

Click to read more

Based on the historical data of the completed transports as well as the dwell times of the goods at the passed nodes, you can carry out comprehensive process optimizations of your material flow. The data can be transferred to any system, such as MES, ERP or other planning software for in-depth analyses.

INTRANAV.APP Shipment enables early response to supply bottlenecks and anticipatory adjustment of logistics capacities through global end-to-end supply chain tracking and monitoring of carriers and assets (vehicles, ships, drones, aircraft, containers, totes).

Click to read more

INTRANAV tracks all destinations of the transport in real-time, including the planned stopovers of the shipments. The INTRANAV.APP Shipment calculates the planned arrival time (time of arrival) for each stopover on the respective route and compares it with the actual arrival time in the event of delays. Delays are thus immediately recorded by Shipments and calculated through to the final arrival point. In the event of delivery delays, logistics planners can react immediately and reschedule to meet delivery deadlines.

Powerful condition monitoring continuously tracks the condition of sensitive and hazardous goods. Important threshold values, such as temperature, humidity, acceleration, and shock are monitored using state-of-the-art INTRANAV SMART sensor technology. In case of KPI deviations, immediate real-time alerts are issued via push notification, which protects against hazards such as leakage, opening of a container, shock, change in temperature or gas leakage, especially during the transport of safety containers or tanks, against accidents and, for example, prevents the further processing and use of defective goods in time. At this point, logisticians can already trigger replacement order requests so that the required deliveries still arrive on time.

Continuous data processing provides you and third parties with up-to-date insights and representations as a basis for strategic decisions. INTRANAV.APP Shipment provides a complete tracking history with detailed journey and dwell time visualization for your analyses. With this real-time data, you can consider important detailed aspects for further supply planning and execution.

INTRANAV.APP Shipment provides real-time localization of your goods throughout the supply chain, protecting your valuable assets from loss, theft and damage at the same time.

With the Inventory Manager APP, long search times, whether in the warehouse, on the production line or in the yard, are a thing of the past!

The new inventory archiving & registration system helps to quickly and specifically find components, equipment, load carriers, tools (etc.) in the warehouse and to add new items to the system. The location data of the items are virtualized and mapped as a "digital twin" via the live map and managed as a database. In the real-time overview or via the search function in the search mask, you can see at a glance where your inventory is actually located.

Click to read more

The integrative and independent INTRANAV RTLS platform enables real-time inventory management of all items, including retrievability of the respective internal identification of each individual inventory item, which provides further information on condition, type and specification.

Alerts support you in inventory handling, should items be located at the wrong place or be discarded. Reminders associated with the item can be used to remember important actions.
In the inventory history you can see where the items were moved and who took them. With the analysis of the historical location data, you can make the necessary optimizations for the organization of the storage location capacities. So that inventory that is used frequently is stored in such a way that employees only have to walk short distances for regularly used objects.

Existing inventory items can also be assigned in the database at the same time.

Further helpful features are; the entry of additional information (meta data, flags) and file attachments per inventory object, as well as notes and flags such as "scrapping" or "object borrowed". In addition, customer-specific rights and role models enable simple user management. Own groups can be created very flexibly or parameters and number ranges can be added. A very fast findability and expandable search function is possible through the search bar.

The INTRANAV IoT system uses "Single-Sign-On" (SSO) for maximum comfort, while users log in with their existing data.

With the highly scalable and flexible INTRANAV IoT system, you can manage tens of thousands to millions of parts and objects.

The Asset Manager creates the digital twin of an asset and helps to connect process relevant information to the asset. It provides the data as a virtual-endpoint via the INTRANAV Rest-API service or by using MQTT.

The typical use-case is to create an asset e.g., forklift or pallet, and associate a physical device such as UWB RTLS Sensor TAG with it. It shows the real-time location and sensor data and the device-related information such as diagnostic data, battery level, and data fields associated with that digital twin asset.

Click to read more

It is possible to tailor the asset system exactly to the customer needs in order to match number and numeric schemes e.g., order-number, serial-number and other ID fields.
The asset data is stored to the big-data storage of INTRANAV.IO to perform historical data and time-series analytics such as material flow inspections, heatmaps, trail diagrams, and custom reports.

Benefits and Features

Create and modify asset categories to your process needs
• All assets and relevant device information in one centralized view
• Digital twin data accessible through the Rest-API
• Create asset categories with custom fields
• Add your number and numeric scheme e.g. SAP order numbers
• Show the asset information on E-Ink / E-Paper displays
• Overview about device errors, battery level and of course real-time location / last location update
• Asset Pairing App for mobile devices and desktop clients
Advantages through real-time data driven material flows
System-based display and visualization of single-variety pallet loading for correct and accelerated goods receipt postings through the "Virtual Pallets" app

With INTRANAV.APP Virtual Pallets, incorrect bookings and faulty pallet loading are avoided. From the status display via an HMI display, pallets can be loaded quickly and according to type. The employee can see at a glance how many and which packages need to be loaded on which pallets, the information is transferred from the ERP/MES. Real-time statuses indicate when pallets are loaded incorrectly or correctly and as soon as the respective full status of the packages on the pallet from the goods delivery is reached.

Pulk capture and automatic warehouse triggers through the "Virtual Pallets" app

Bulk reading enables single-variety pallet entry into the ERP system, eliminating the need for time-consuming manual scanning of each individual package.

Warehouse Triggers trigger automated transport order requests when the goods receipt process is completed, allowing logistics staff and forklift drivers to use their working time much more efficiently.

Endpoint tagging of goods through the Virtual Pallets app and

INTRA

NAV SMART Warehouse Solution

Bulk reading of goods on a pallet creates a single-variety "virtual pallet" and records it in ERP/EWM and INTRANAV.IO. Through the digitized forklift fleet, equipped with INTRANAV.RTLS VehicleTAGs+, software-based end-point position detection is possible, eliminating the need for thousands of individual objects to rely on RTLS hardware devices, eliminating pallet conversion costs and saving significantly on RTLS hardware devices.

Digital, paperless material flow through the "Order Matching" app

The asset and associated order numbers as well as its accompanying documents are digitally linked to each other in the INTRANAV.IO and ERP system. Unhandy paper handling and loss of accompanying documents are now a thing of the past, as the documents and the asset itself can be retrieved immediately via the Digital Twin. Capture of input and output in respective workstations can be automated by geofences, avoiding scan times and scan errors.

Real-time location data supported material flow planning through the "Flow Status" app

INTRANAV.APP Flow Status serves as the basis for material flow analysis as well as the creation of further resource planning, such as process and time modules, parts data, shift schedules, and production data. With INTRANAV.APP Material flow you master the industrial complexity by precise real-time recording of process times, process times can be digitalized and stored for thousands of assets and vehicles at once. You can reliably perform line-back calculations, as these are evaluated automatically and data-based by INTRANAV.IO, thus significantly minimizing the extensive planning effort of your material flow.

End-to-end real-time monitoring of load carriers throughout the supply chain through the "Shipment" app

In the INTRANAV.APP Shipment all global transport localization and sensor data converge, you get a structured overview of your assets and vehicles as well as their condition. INTRANAV enables end-to-end integration for a real-time ecosystem, such as logistics and distribution partners. The transparent supply chain shipping processes enable you and your stakeholders to improve agile actions, process security and optimized performance management in e.g. freight forwarding planning, through data-driven efficiency optimization.
High-performance
INTRA

NAV IoT applications for large-scale, industrial use cases.
INTRA

NAV.

IO

– Dynamic process automation with a unique technology stack for the Digital Twin and virtual objects.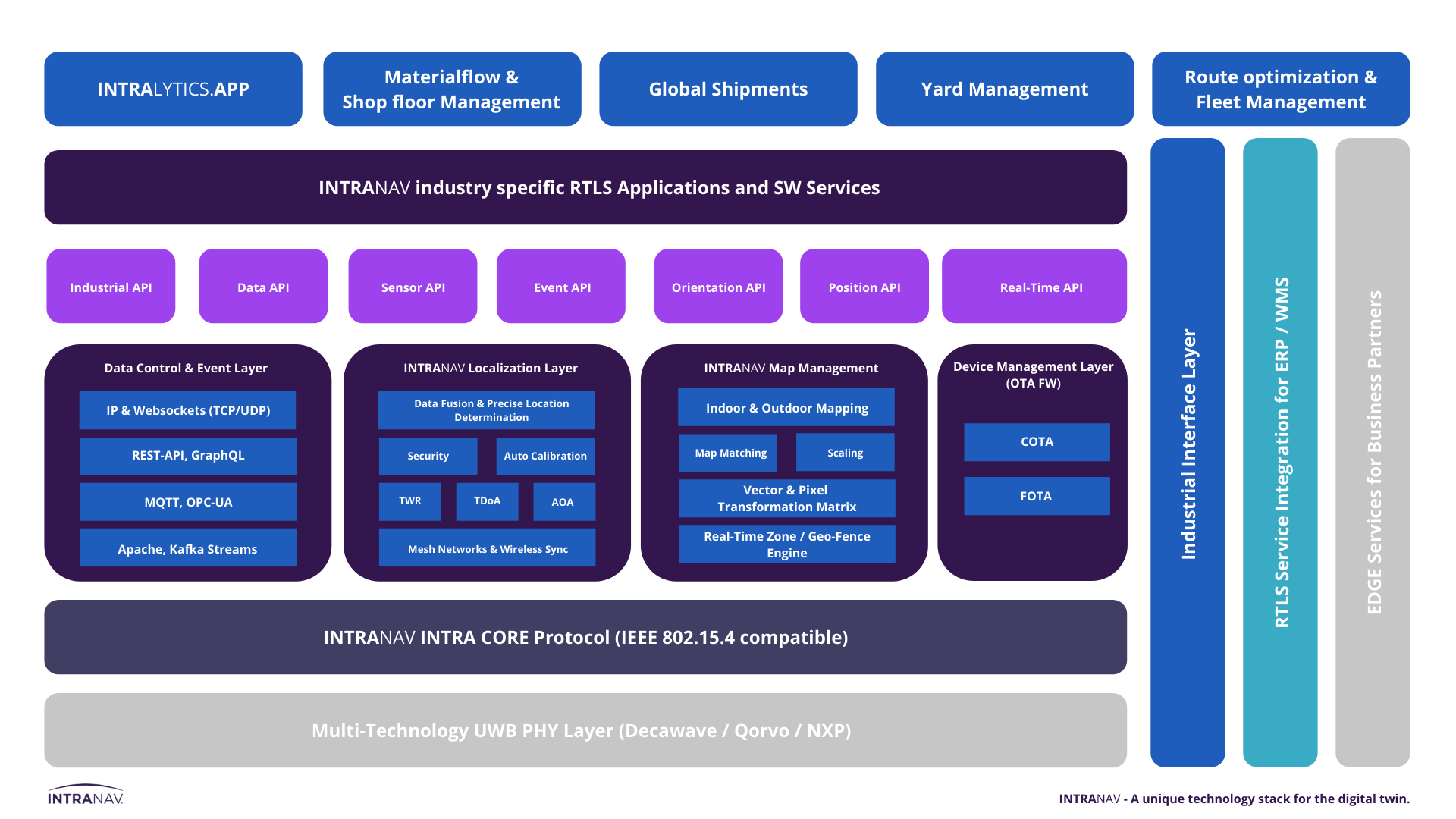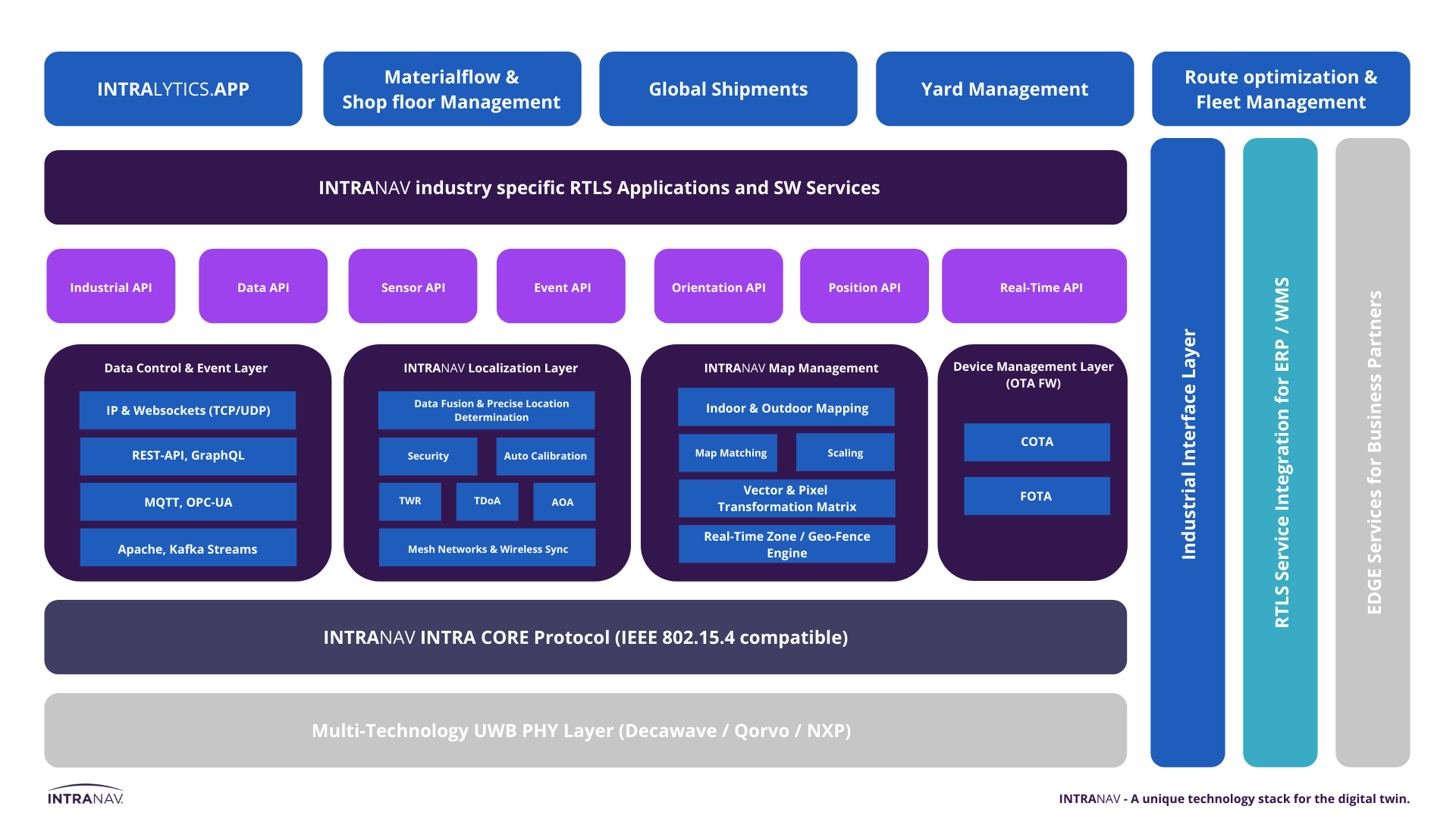 Key Benefits of
INTRA

NAV Industry 4.0 App Applications
INTRA
NAV

.APPs
Visualization & digitization
of incoming / outgoing goods recording

Bulk posting /
Bulk reading

Automatic
warehouse trigger:
transfer order order.

Paperless Solutions:
Device-Order-Matching

End-to-End Supply Chain
Tracking and Monitoring

Predicted
Time of Arrival

Condition monitoring to monitor
sensor thresholds.

Real-time alerts via
push notification

Material flow analysis:
Determination of throughput times

Optimization and simplification of complex
supply chain processes through advanced RTLS apps
● All industrial use cases are digitized in an enterprise RTLS platform and provided with the multiple IoT applications application-specific for end-to-end real-time location and automation solutions, for an intelligent control of the supply, logistics and production network
● The visualizations, whether as a map view or in the Paletts app, provide an immediate overview and understanding of the current state, making it easier to control growing material flow data streams
● Suitable for all devices: Desktop, tablet and smartphone
● Open architecture and platform
● Industrial interfaces such as SAP, MQTT and OPC-UA
● Seamless interaction with the INTRANAV.IO Digital Twin platform and the INTRALYTICS suite for real-time analytics data evaluation.
● Interlocking of other solutions, such as the INTRANAV SMART Warehouse Solution (Virtual Paletts, digitized transport fleet, warehouse order automation, warehouse trigger, virtual order orchestration).
● Easy and intuitive operation of the apps as well as the INTRANAV.IO RTLS platform.
● Vertical and horizontal flexibility allow high scalability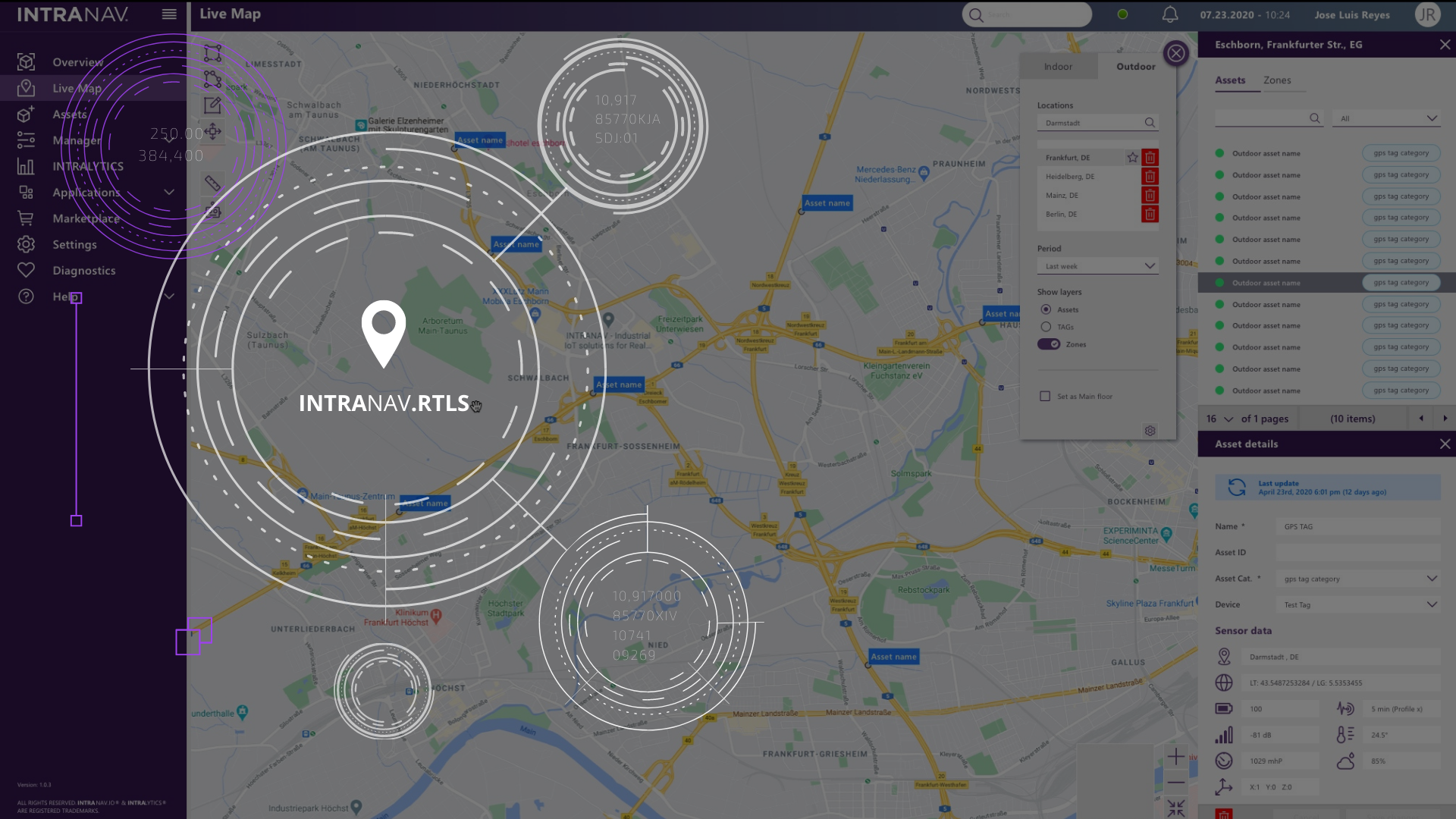 Advantages of using
INTRA

NAV.

RTLS

and

INTRA

NAV.

IO

➜ Uniform RTLS technology management gives you standardized access to sensor information and diagnostic data.

➜ Uniform map management that masters all common coordinate systems. (WGS84, Cartesian)

➜ A central system and process dashboard as RTLS control station.

➜ Industrial interfaces and API for implementing the RTLS data in your applications.

➜ Pre-built templates for your RTLS processes.

➜ Global asset & device management view for a quick overview of all cross-technology location sensors (TAG`s).

➜ Implemented storage and backup system.

➜ Integrated multi-stack location engine with numerous setting options for filters and data preprocessing.

Learn more about INTRANAV.IO
Process transparency at last with

INTRA

NAV.

IO

Suite.
You want to know how you can make your processes more efficient with real-time tracking?
Our team will be happy to advise you with comprehensive know-how out of the RTLS world!