INTRA

NAV Yard Management Solution
Intelligent control of goods and transport flows for efficient and transparent yard logistics
INTRANAV Yard Management solution ensures efficient handling of your yard logistics.
What does digital Yard Management mean? With the help of INTRANAV's IIoT platform and its digital twin, your previous process flows and interactions with existing WMS/ERP systems such as SAP are brought to a "virtualized level" and intelligently automated there with the help of this new data level.
With INTRANAV, you monitor, control and manage the entire clearance process, from goods receipt to goods issue, including the complex loading and unloading traffic at the loading bays, via the INTRANAV RTLS IoT platform. Authorization steps that were previously performed manually, e.g. via physical logistics terminals on site, as well as the entire yard communication, ramp access control including ramp allocation, take place with INTRANAV through virtual networking and location tracking of the vehicles as a digitized and interlocking plant logistics process.
INTRANAV Yard Management solution coordinates and controls all movements of internal transport vehicles and ensures efficient and resource-optimized plant logistics thanks to real-time optimized handling processes and parking space information on the plant premises. With INTRANAV, you benefit from shorter throughput and waiting times as well as increased transport and goods throughput, thereby reducing costs and increasing the productivity of the entire logistics operation.
The key facts at a glance
Visual tracking of the transport and goods in real time via the yard map (digital twin)
Leveled and efficient ramp distribution
Automated control of plant logistics through virtual zones
Digital truck handling
(Automated entry/exit clearance as well as gate control for authorized vehicles)
Digital safety information of truck drivers, driver instructions and quality management
Coordinated truck access control (digital navigation)
Safety management
Efficient and fast truck loading through virtual outbound goods control
Automated yard communication about the real-time status of the process to responsible logistics staff
Digital checklist for drivers to review all necessary checkpoints
Pallet-based goods tracking (Virtual Pallets)
Location-based transport and material flow analyses: zone-based recording of throughput times (e.g. arrival, waiting, loading/unloading time, etc.)
Additional reports: trail (spagghetti diagram), zone dwell times and heat maps as well as archiving of plant logistics movements
Optimization potentials of your yard logistics
Digital access control at gates

Acceleration of truck handling at check-in and check-out

Authorized access/exit through outdoor location technology or camera / sensor-based systems

Reduction of dwell times in the yard

Traffic jams and queues avoidance

The digital navigation to the correct ramp or to the buffer stations avoids misdirection within yard handling

Efficient yard logistics planning

Yard traffic and parking space utilization optimization in terms of lean logistics

Integration of historical site data into yard infrastructure data in order to identify and optimize weak points. Tracking of throughput times in the individual stages and archiving the digitized yard processes enables resource-efficient planning of yard logistics

Quality assurance goods outbound: goods delivery to the right ramp

Avoidance of incorrect truck loading and high cost returns

INTRANAV.IO checks by SAP system matching if the goods have been delivered to the correct ramp

Leveled and efficient ramp handling

Increased transport throughput

Virtual real-time control station of ramp occupancy enables flexible and consistent ramp dispatching

Digital control up to the ramp

Simplified yard supply process through the digitization of instructions

Digital safety instruction, digital driver instruction, and digital quality management reduce the workload of gatekeepers
Digital Yard Management –


Efficient control of processes in yard traffic
Virtual Yard & Dock:

The INTRANAV.IO RTLS platform maps the real-time status based on real-time location data of vehicles in the yard, including ramp and parking lot occupancy as a digital twin. The location of the transport vehicles is tracked in real-time from entry to exit, via INTRANAV.RTLS outdoor tracking technology (GPS, GPS precise, RFID) or integrated telematics modules in the vehicles.

Virtualization of the entire transport flows in the yard enables efficient, transparent monitoring and control of delivery traffic, including compliance with all delivery windows as well as safety and quality standards.

Through the connection to higher-level logistics terminal systems, enabling a time-controlled occupancy of the respective ramp slots. The gatekeeper manages the entrance and truck parking areas of the plant site via the digital twin of the yard.

Virtual zones (geofences) trigger processing steps as soon as a vehicle enters a defined zone thus enabling the automatic control of many manual workflows based on the real-time location of the vehicles or goods at the ramp. These include, for example, Authorized gate opening, information communication via SMS to the truck driver for yard entry authorization, notification for truck dispatch in logistics, email notification to the shipping company informing them that the goods are leaving the yard, and much more.

Entry processing:
Automatic check-in, check-out, and gate opening for authorized vehicles

The registration of the vehicle is made in advance by the shipping company via plant logistics systems. As soon as the truck arrives at the yard, INTRANAV.IO identifies the authorized vehicle with the reserved ramp slot via outdoor positioning technology or camera/sensor-based technology. The usual manual registration steps, such as registration at physical logistics terminals on-site, are no longer necessary. The gate opens as soon as the authorized vehicle enters the gate zone.

➜ All relevant departments are informed simultaneously about the arrival at the yard, allowing preparing actions to be taken in advance
➜ Relief for personnel at the terminal
➜ Enables and promotes autonomous yard operation

Safety instruction
Safety instruction is provided, for example, through a video sent to the driver via email link. This also involves site-specific traffic rules.

Driver instructions
Via INTRANAV.IO, the driver receives information about the intended handling steps in the yard via smart device.

Quality management
In case the driver is leaving the predefined steps or traffic zones, the driver, as well as the responsible personnel, are informed, which allows quick correction of false actions and avoids delays.

Leveled and efficient ramp distribution:

The INTRANAV.IO RTLS platform virtualizes in real time all tracking information of the transport vehicles and load carriers on the yard. As a yard manager, you use the INTRANAV real-time control station to track all transport movements and, in the event of time or logistical deviations, you can coordinate ramp allocation using the available ramp spaces, while considering the shortest routes for logistics. Also, parking spaces can be flexibly coordinated depending on the utilization situation.

The VIRTUAL Yard Manager supports you in the coordinated handling of the storage and retrieval processes, avoiding long truck dwell times and enabling fast and efficient handling of goods and transport.

➜ Avoidance and reduction of traffic jams, as well as long waiting and dwell times for trucks.
➜ Fast, time-efficient yard handling
➜ Increase in transport and goods throughput
➜ Flexible ramp handling in case of deviations

Notification of plant entry and control to the right ramp:

Approval for yard entry
The driver receives an SMS notification as soon as the authorization to enter the plant has been issued.

Steering to the correct ramp
To ensure the correct routing to the ramps, INTRANAV supports quick navigation of the driver by displaying the position of the truck via the INTRANAV live map of the yard via tablet or mobile device. By linking to SAP, the designated ramp is assigned to the driver, who navigates on the shortest route.

➜ Fast yard navigation
➜ Collision avoidance through real-time indication of all vehicles in the yard

Goods outbound control in the warehouse in interaction with loading and unloading of trucks:

Virtual goods outbound control
Through virtual zones (geofences) at the ramp, the last warehousing step is checked to ensure the goods have been transported to the correct gate. If this is not the case, alerts are triggered via the INTRANAV.IO platform so that the incorrect provision of goods can be corrected before the goods leave the warehouse.

➜ Ensures correct operation allocation
➜ Incorrect loading and costly returns avoidance


Loading and unloading
The real-time location information of the truck is provided to responsible logistics staff to control the handling on site.

As soon as the truck leaves the ramp/loading station, further processing steps such as navigation to the exit are activated.

The shipping company receives an email notification as soon as the truck leaves the loading zone for further freight tracking.

Loading and unloading beginning and end are recorded via time stamp in ERP/INTRANAV.IO.

➜ Fast loading and unloading times, due to timely staging of the goods at the ramp.
➜ Improved throughput time
➜ Quality compliance (goods to the correct ramp)
➜ Real-time data capture enables data-driven analyses to optimize ramp utilization planning

Checkout handling:

Final check of the relevant points via digital checklist:
Check possibility for driver – Has the documentation been completed (delivery bill, customs documents, etc.)? Has the load been secured? And further optionally editable checkpoints.

Notification for permission to leave the yard
The driver receives an SMS notification after completion of the documentation, giving the approval to leave the site.

Automatic gate activation at departure
INTRANAV receives the process clearance of the respective truck from the SAP system, which approves drivers for the check-out. Once the vehicle has been authorized for its departure, no waiting time is required at the exit gate. The gate opens automatically when the vehicle enters the departure zone.

➜ Avoidance of congestion and waiting times
➜ Virtual documentation with timestamp of departure from the plant
➜ Only authorized vehicles leave the yard
➜ Relief of the gatekeeper personnel
Seamless RTLS IoT integration into existing industrial logistics systems
By the integration of INTRANAV into industrial logistics systems, you will continuously work with one logistics system. Our seamless integration approach allows your company to seamlessly integrate INTRANAV, eliminating the need to jump between multiple software systems.
Industrial communication in supply chain and logistics systems
IoT transmission infrastructure
● Industrial standard REST API
● Integrates with all industrial ERP, EWM, CRM systems and databases
● Integrates with data visualization and analysis software
● Connectivity to SQL Server
● Integration to transport management systems, transport control systems, warehouse management systems
Hardware connecting options
● Video and transponder systems, barriers, and OCR technologies
● Technical devices, such as display boards, traffic lights, registration terminals, e-ink displays, pagers, smartphones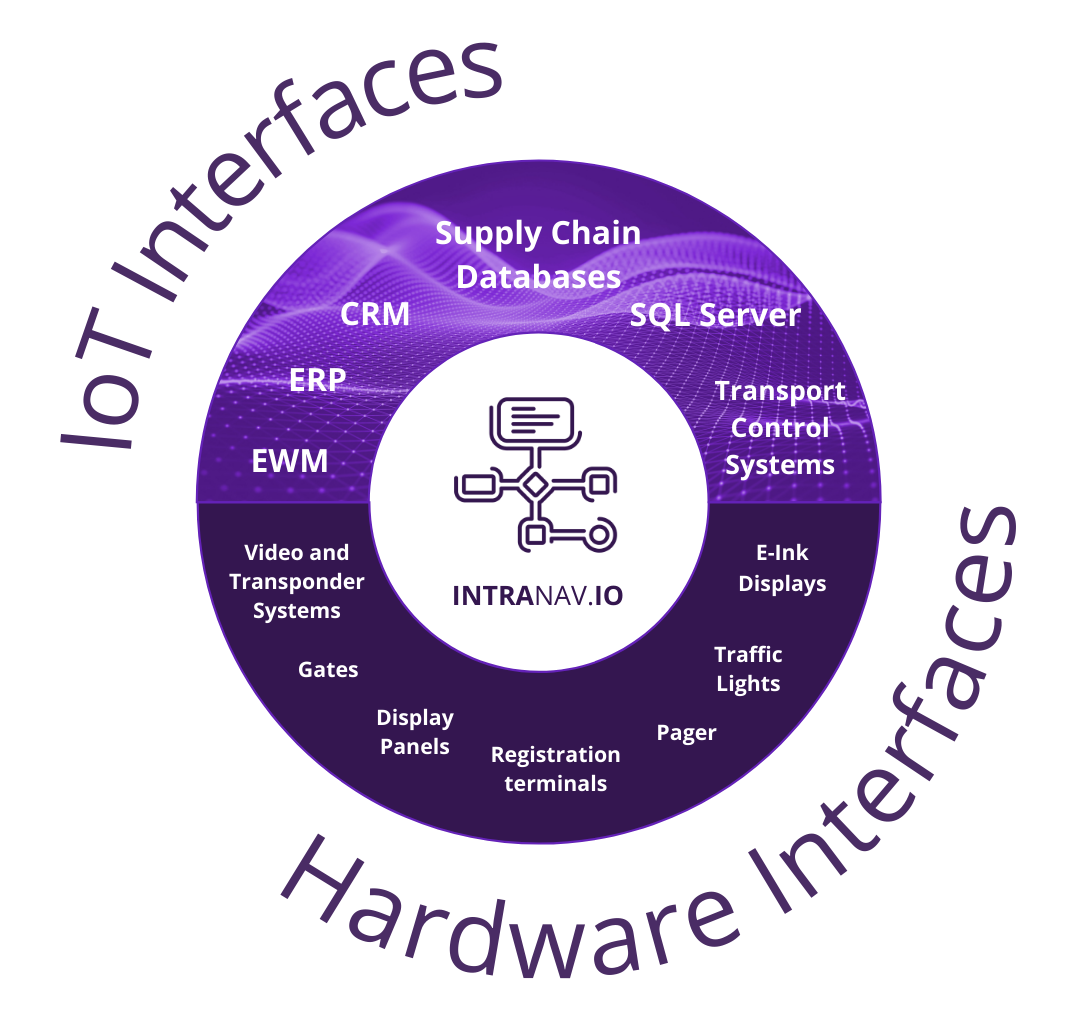 The INTRANAV.RTLS VehicleTAG+
INTRANAV.RTLS VehicleTAG+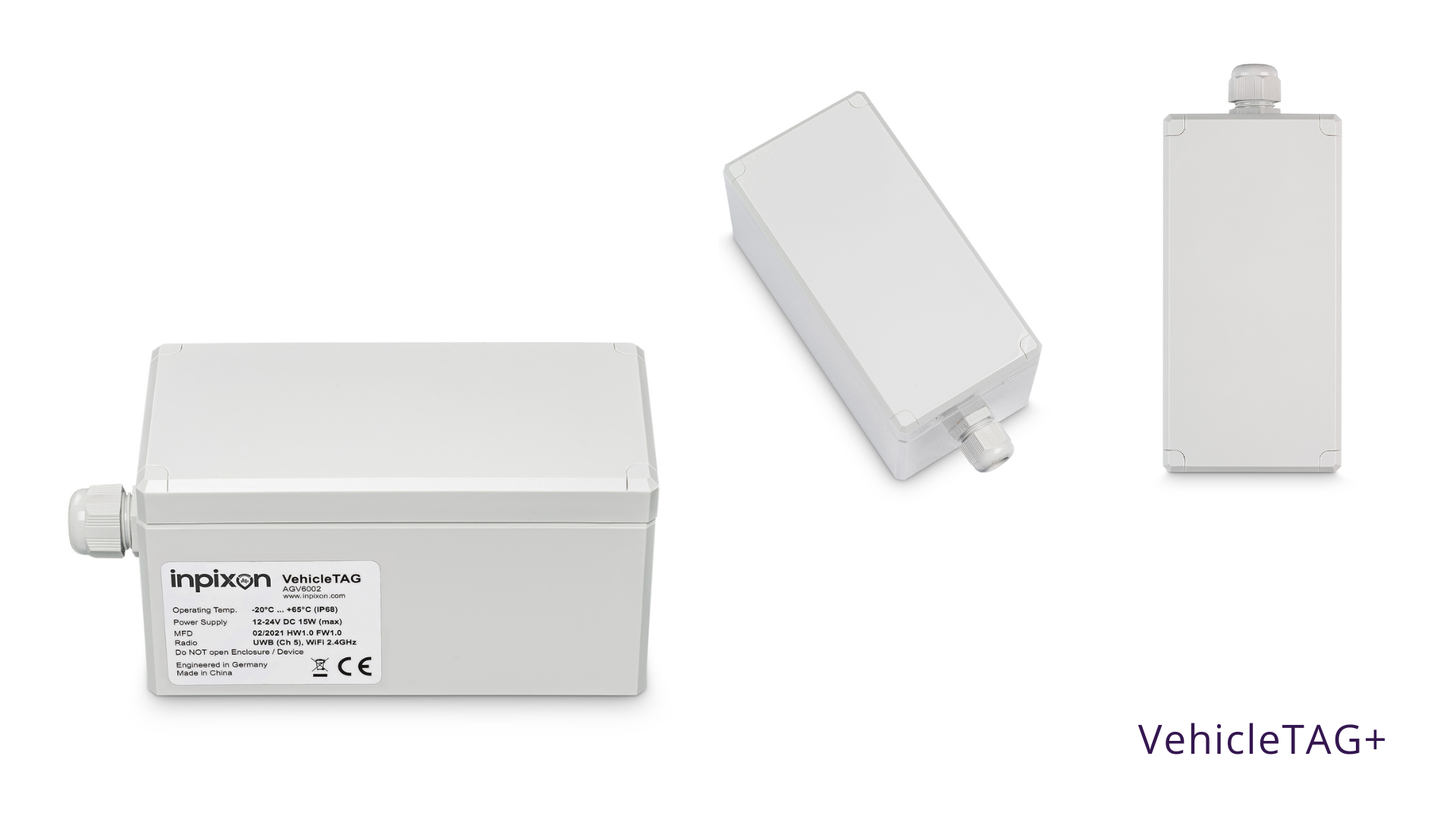 [ Precise transport vehicle location for indoor and outdoor tracking based on
UWB + RFID + GPS + LTE + WIFI technology ]

The new INTRANAV.RTLS VehicleTAG+ is dedicated to optimize efficiency (OEE), as well as to increase quality and flexibility in production & warehouse intralogistics.The VehicleTAG+ gets easily mounted on material transport vehicles such as forklifts and automated guided vehicles (AGV). With its precise and industrial proven real-time location Ultra-Wideband (UWB) sensor technology and Auto-Ident Technology based on RFID, the VehicleTAG+ enables the real-time Digital-Twin of your fleet in order to automate, optimize and simplify your material handling processes. Reduce manual barcode scanning and material identification to zero. Manage your mixed fleets and start to introduce a standardized layer for generating true values and benefits by using INTRANAVs prebuilt SMART Warehouse and SMART Production Solutions.
NEXT LEVEL production & warehouse intralogistics
with VehicleTAG+ as a digitization building block
Transport optimization through digitalization of the forklift fleet
Route optimization through navigation and route utilization reports
Digital yard management; transport flow management through precise indoor and outdoor positioning
Cost reduction through AutoIDent with integrated UWB & RFID RTLS technology
Safety management enables collision avoidance and social distance management
INTRANAV.IO: Automatic order processing from the central system (ERP, WMS, MES)
NEXT LEVEL IoT RTLS Technology
Precise tracking of industrial trucks, forklifts and autonomous vehicles, suitable for indoor and outdoor use
VehicleTAG+ is based on a multimodal technology layer with UWB, D-GPS RTK, Wifi and LTE
Fast deployment through use of standardized technologies
Sensor Hub for multiple RFID readers, height and weight sensors
Fork sensor: Detect and record loading status and fork height
Alignment: Detect vehicle direction for process reliability
UWB location: RTLS optimization for process areas and safety zones
Precise RFID scanners: Scanner-less goods transport (including "virtual pallets")
Open API: Readout and use of vehicle data for process automation
INTRANAV.RTLS AssetTAG+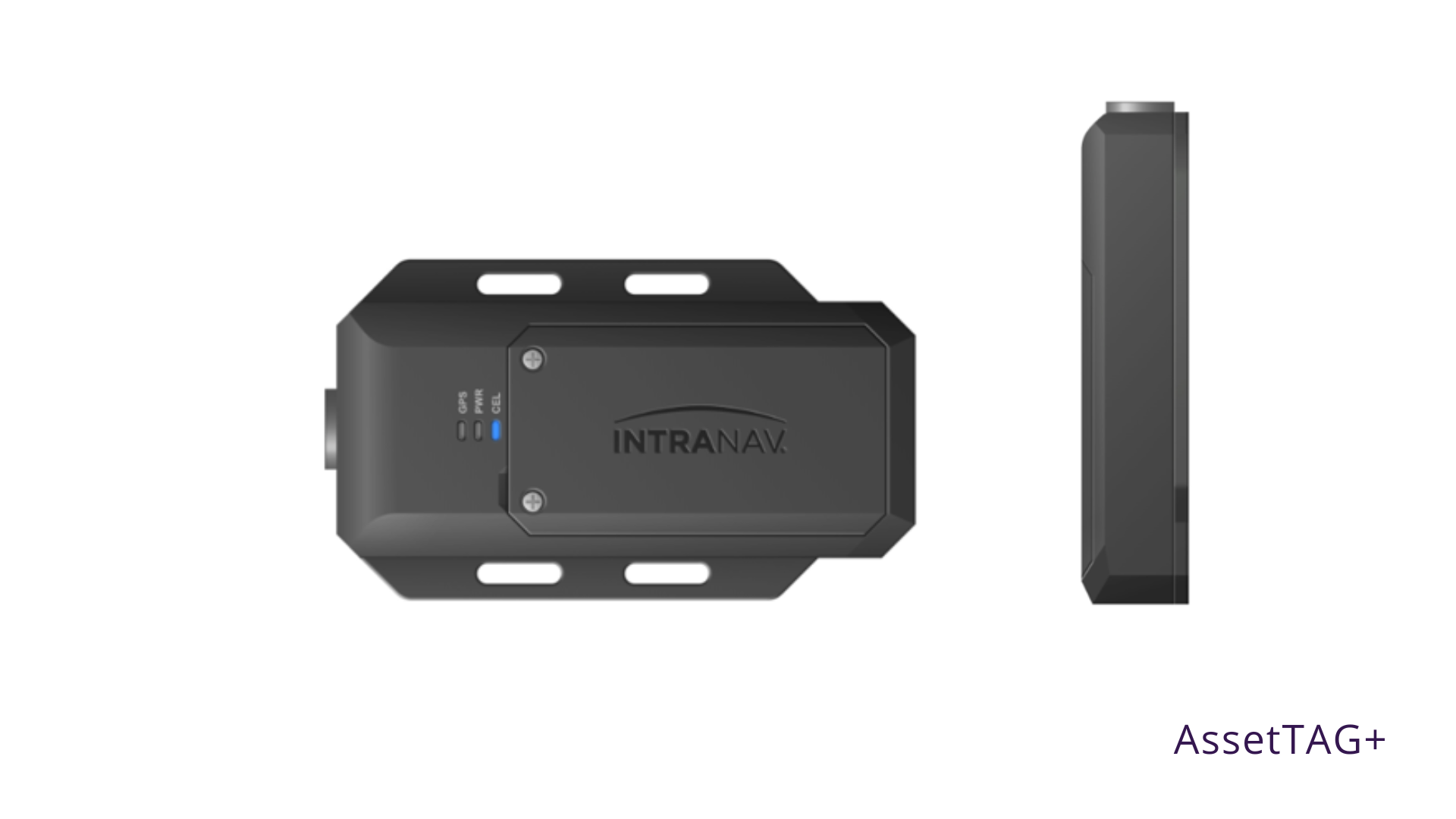 [ Supply chain asset TAG for indoor & global tracking and condition monitoring based on GPS + Bluetooth + WIFI technology ]
The high-performance supply chain TAG has been developed for the seamless transition from indoor to outdoor tracking of load carriers. Thanks to its multimodal location technology based on GPS, Bluetooth and WiFi, it enables global supply chain tracking. With INTRANAV Condition Monitoring you continuously monitor the condition of sensitive and dangerous goods. Important threshold values such as temperature, humidity, acceleration and shock are monitored globally using the latest INTRANAV SMART sensor technology so that you are informed immediately via push notification in the event of a leak, unauthorized opening of containers, leaks or vibrations, temperature deviations or gas leakage.
Specifications
5G ready, 2G, 4G, NB-IoT, LTE-CAT M1
Up to 3500 positions per battery charge
External sensor interface
SMART sensors for condition monitoring: temperature, humidity, acceleration and shock
Certified airplane mode
Special RTLS components for outdoor use
GPS technology allows you to track transport vehicles, goods and load carriers in the yard, field, city and international routes with a positioning accuracy of between 5 and 20 meters. Alerts ensure quick supply chain corrections, e.g. in case of deviations from target values. Route deviations can be prevented and better planned. Theft risks or incorrect loading are prevented by alerts, and traveled routes can be analyzed and optimized. In addition, GPS tracking increases the risk of accidents for employees in outdoor areas, providing warning notifications when unauthorized areas are entered or if collision risks arise.

The combination of global navigation satellite systems (GNSS) such as BeiDou, Galileo, GLONASS and GPS allows high-precision position determination in outdoor areas using real-time kinematics (RTK) technology. With RTK technology, the receiver measures the phase of the carrier wave of the satellite signal. The carrier interference that occurs in the process, must be corrected using base stations for precise measurements, which in field applications is associated with very high costs.

➜ INTRANAV offers the next level of scalable GNSS high precision technology with "GPS Precise". With " GPS Precise", outdoor location in the range of centimeters is possible. The key scaling factor is that INTRANAV does not need a base station for the measurement, instead, the necessary correction data is determined by the INTRANAV.IO platform from the mobile network.

Telematics modules are often already installed in transport vehicles. The positioning data is received via the global localization standard GPS

INTRANAV enables the connection of the telematics modules to the INTRANAV RTLS platform, whereby the location data is digitized and can be monitored and managed via the digital real-time control panel (Digital Twin).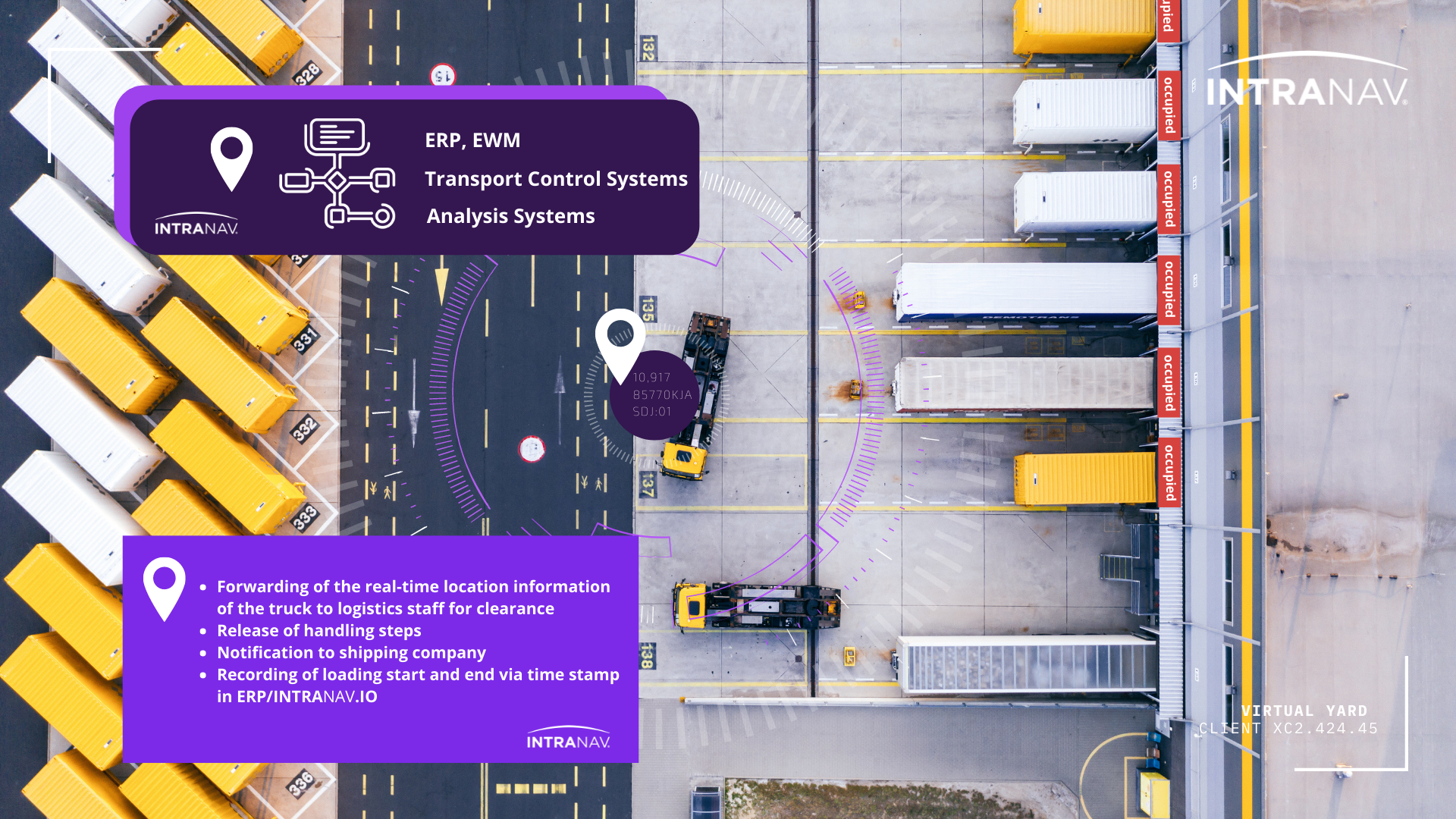 Your benefits from using the

INTRA

NAV Yard Management Solution

➜ Lean logistics planning for yard logistics: Optimized ramp occupancy and capacity utilization

➜ Comprehensive transparency and digitization of the entire flow of goods and transport in the yard through real-time vehicle and container tracking

➜ Flexibility in ramp scheduling, e.g. in case of process delays

➜ Reduction of idle, standing, and throughput times

➜ Increase of the transport throughput

➜ Relief of gatekeeper and truck personnel

➜ Plant logistics process optimization and planning is based on real-time location data

➜ Easy integration into third-party systems (ERP, EWM, CRM, freight carrier, etc.)

Contact us!
Process Transparency with the

INTRA

NAV.

IO

Suite
You want to know how you can make your processes more efficient with real-time tracking?
Our team will be happy to advise you with comprehensive know-how from the RTLS world!