INTRA

NAV Paperless Factory

Increasing productivity, quality and sustainability through the digitized factory
Digital manufacturing information for intelligent production control
INTRANAV E-Ink displays in combination with RTLS TAGs combine the highest level of digitization expertise in one solution. On the E-Ink displays, production-relevant information such as consignment bills or production orders are made available interactively, adaptably and in real-time. The respective production status can be called up on the display depending on the location and production cycle. Requirements or status feedback are transmitted to the MES, ERP and PP at the push of a button. The real-time availability of data ensures short distances and clear instructions, increasing employee productivity and speeding up manufacturing processes.
Key facts at a glance
Dynamic information to control inventory & asset
Plant flow through e-ink live updates and status transmission
Real-time localization and traceability to the centimeter
Real-time assembly line & manufacturing management
Dynamic picking and item lists updated by events and order information
ERP / WMS / MES interfaces to visualize critical information
in case of changes to achieve maximum flexibility
E-Kanban by using the integrated buttons
Additional information and work instructions
Pick-by-Light for faster picking in the warehouse and on the assembly line
Machine information and order progress
Seamless and continuous documentation
Optimization potentials
through the paperless factory
INTRANAV Paperless Factory
Fast and accurate work instructions in real-time

Shortened processes and quality assurance through digital production support

Increased productivity through live interaction and real-time updates

Manual, non-value-added steps are replaced by dynamic workflows

Continuously digitized manufacturing

Reduction of throughput time and increase of production throughput
Up to date in every production step:
With
E-Ink Displays

from

INTRA

NAV
Centimeter-accurate location localization and process tracking through ultra-wideband based INTRANAV RTLS TAGs, enable digital mapping of the production process.

The INTRANAV platform combines the location information of the RTLS TAG with the E-Ink display in the system into one asset. The interaction between RTLS and E-Ink Labels enables the transition to the paperless factory, eliminating all manual data entry efforts and eliminating manual updates. Batch/status updates to the E-Ink are automatic via the real-time location of the bin.

Real-time status updates via E-Ink TAGs include: Status, Material Number, Batch Number, Batch Barcode, Quantity, SAP Material Number, Number of Reuses, Powder Container, Container Type.

Real-time location and status updates enable platform-based notifications as soon as predefined processes deviate from target values. Real-time alerts, e.g. if the containers have been transferred to the wrong zone or an indication of a manually required interaction, enable fast intervention in case of process deviations in order to avoid longer waiting times in the production flow.

Event triggers trigger, for example, process blocking, process release or notification for internal transport. Indications of a manually required interaction enable fast intervention in case of process deviations in order to avoid longer waiting times in the production flow.

Through the interface into the ERP, MES or PP, location-based information can be used to block or release processes. Automated workflows trigger further follow-up processes, such as blocking of safety zones (so-called quality blocking or release) or trigger pick-up orders.

INTRALYTICS enables the analysis of all movement and location data to be able to optimize the workflow between processes. Such as: Dwell times, idle times, throughput times, trails as structured data export via CSV.

Material flow and resource utilization analyses by INTRALYTICS, the INTRANAV.APP "Flow Status" or the structured data export via CSV and the associated integration in analysis tools such as Power-BI, enable the determination of downtimes, idle times, throughput times or zone occupancy periods as well as their utilization. For this purpose, INTRANAV stores the exact time stamp (day / hour : minute : second) of the input and output of the respective zones and calculates, for example, the dwell time in the respective zone to the second. The final status indicates the total time of the transit time of all zones and intermediate transit times per asset/package/material flow relationship. Based on the historical data of the completed transports as well as the dwell times of the containers at the passed nodes, extensive process optimizations can be made in the production flow.

The structure of the e-ink display can be flexibly created and customized as a content template. Afterwards, the data fields can be directly connected to the INTRANAV.IO Device Manager.
Seamless RTLS IoT integration into existing industrial production systems
By easily integrating INTRANAV with existing industrial systems, you continue to work with one production system. Our seamless integration approach allows your company to seamlessly incorporate INTRANAV, eliminating the need to jump between multiple software systems.
Virtual production monitoring and control with real-time location and E-Ink displays
Digitization Success Story
One of the world's leading sustainable energy companies uses the INTRANAV SMART Factory Suite for paperless processing in its production line to control and monitor powder processing. Our customer's goal is the digitalization of the individual production steps and the most efficient use of resources while maintaining quality and safety standards.
Read more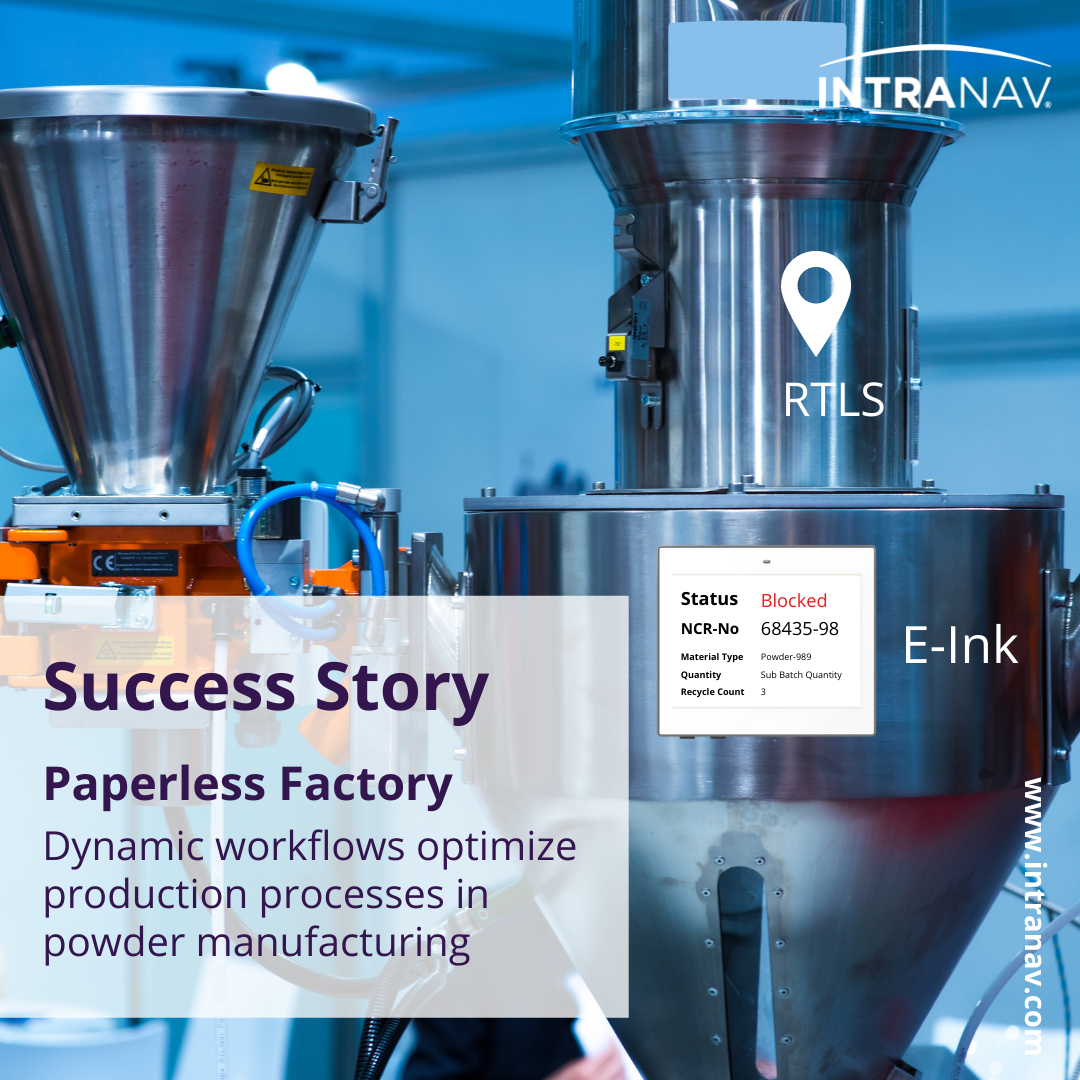 INTRA

NAV.

RTLS

E-Ink TAGs
for paperless logistics & production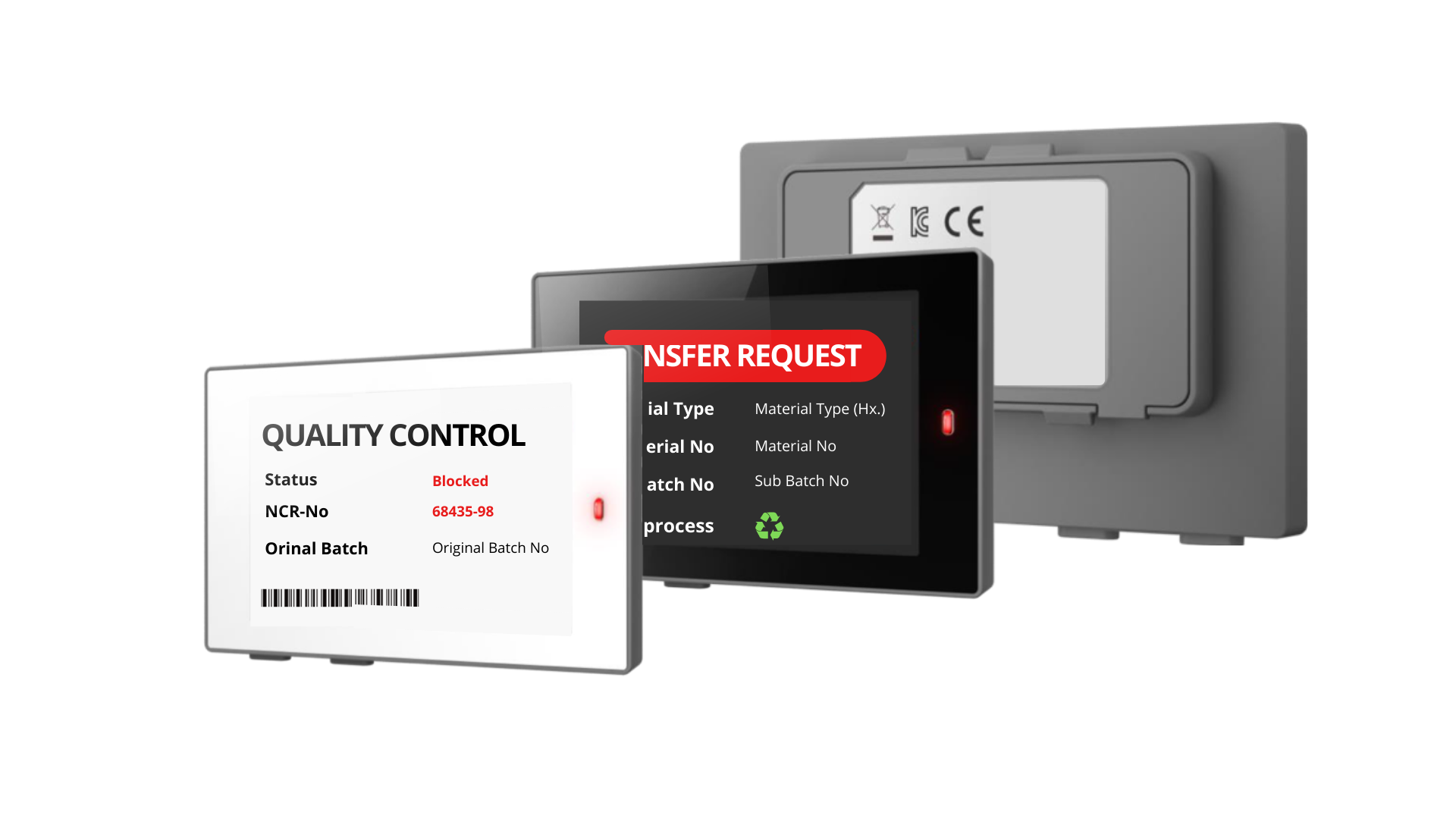 E-Ink TAGs can drastically reduce logistics and manufacturing processes. In combination with our INTRANAV.IO platform, customers can now send location-based information and instructions to the E-Ink display to automate and optimize processes on the shop floor or in the warehouse. Create workflows, rules and generate content depending on real-time information.
[ The E-Ink TAGs are an INTRANAV.RTLS partner product. ]
Specifications
E-Ink full graphic display are available in 10 different sizes
Dimension from 1.6″ inches (36.7 x 45.0 x 13.1mm) up to 11.6″ inches (192.0 x 268.0 x 21.9mm)
Small to extra large active ESL displays
Up to 7 pages scrollable
Battery life up to 10 years
Contact us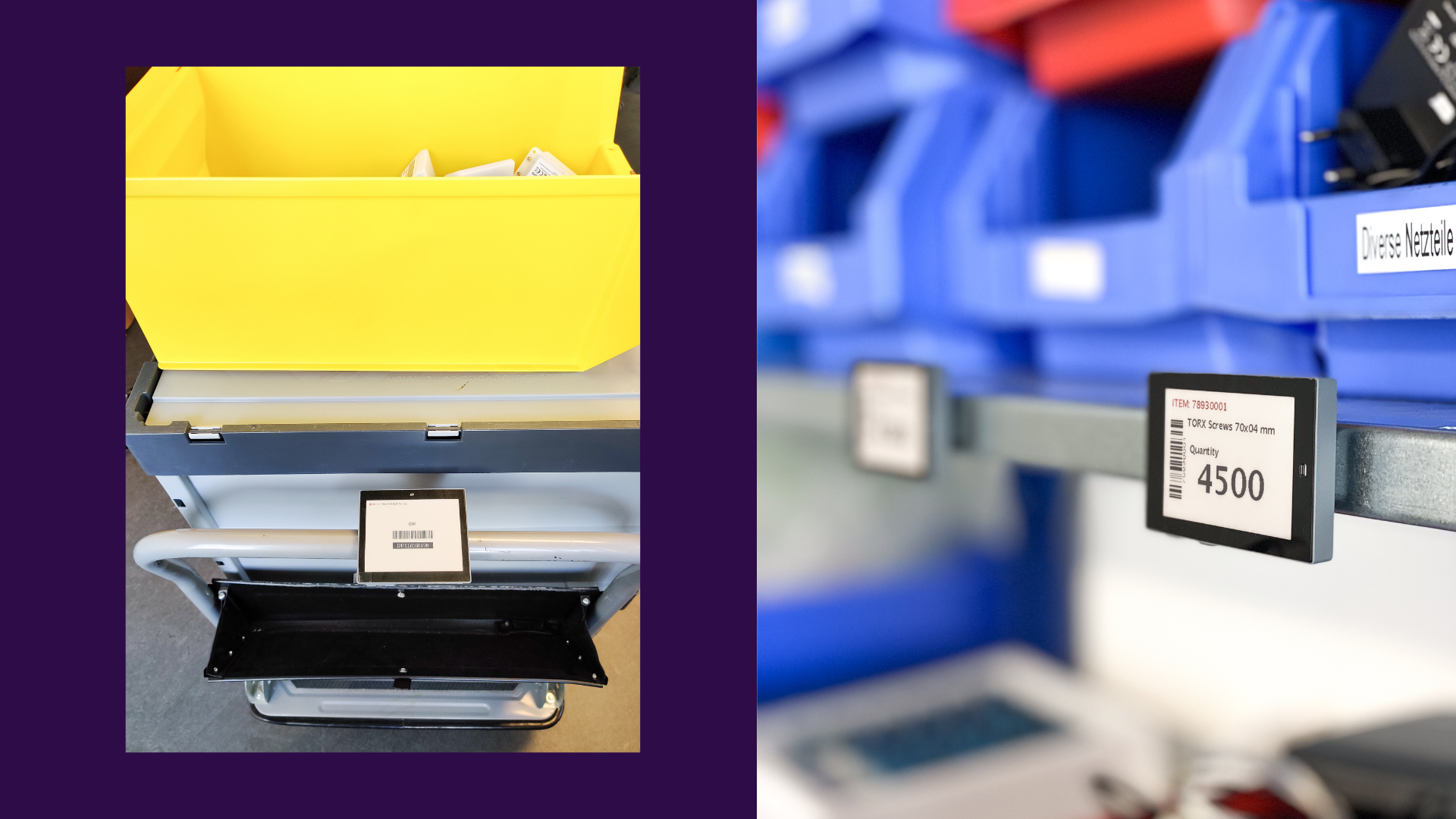 Your advantages through the paperless factory
➜ 100% process transparency through the digitization and monitoring of the manufacturing process.
➜ Increased flexibility through automated, paperless data transfer
➜ Eliminates manual data entry efforts, freed-up working time can be invested in value-added work
➜ Increased process reliability through KPI monitoring, warning messages, and automatic process blocking and release
➜ Real-time process triggers reduce manual effort and ensure timely adherence to processes
➜ Connection between production plants, machines, and their respective central management and control systems
➜ Improvement of production processes through control mechanisms
➜ Quality defects in batches and process steps can be quickly detected, recalled, and the defects rectified
➜ Optimization of resources and capacity utilization in terms of lean production: reduction of downtimes, throughput times, detours, and waste.
Contact us
Process transparency and automated worklows with the

INTRA

NAV.

IO

Suite
You want to know how you can make your processes more efficient with real-time tracking?
Our team will be happy to advise you with comprehensive know-how out of the RTLS world!