Awards
Awards for most precise location accuracy and IIoT innovations
Proud awardee of renowned industry awards
Our high-performance Real-Time Location System has already been honored three times, we received the Microsoft Research Award for the highest UWB indoor location accuracy in 2016 & 2017, and in 2017 & 2019 we were honored by Volkswagen as the winner of the Top Innovator Award. Join us and learn more about our awards.
Top-Innovator awarded by Volkswagen
Innovative Logistics Solution Day
2017 & 2019 in Wolfsburg
With around 300 decision-makers from Volkswagen Group Logistics and more than 200 participants from leading positions, the Day of Innovative Logistics Solutions in Wolfsburg is one of the most important conferences in the field of "innovative logistics".
As part of a two-year scouting process, the best solutions for logistics processes are presented to the logistics managers of the Volkswagen Group and the ISB. The 10 top innovators can look forward to possible pilot projects in the Volkswagen plants.
2017
INTRANAV presented its Real-Time Location System for the intralogistics application area and was awarded as Top Innovator by Volkswagen for the first time.
2019
INTRANAV presented the intelligent transport control system INTRANAV.iTLS, which enables "networked intelligence for the factory of the future":
Levelling of the traffic situation
Real-time position information of all road users and assets
Avoidance of manufacturer dependencies and development of an own, learning transport intelligence (indoor & outdoor)
Relief of high-frequency traffic routes, crossings and corridors
INTRANAV awarded as Top Innovator by Volkswagen for the second time. This resulted in our project order for Milkrun indoor Real-Time Tracking for SEAT at the Martorell site in Spain.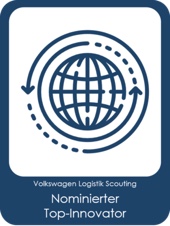 Could you be more precise? Sure!
Microsoft Indoor Localization Competition – IPSN Ultra-Wideband award winner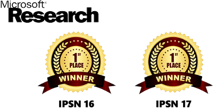 ±8,4 cm
Microsoft Research Award with the highest
3D indoor accuracy
2016 & 2017
Accurate indoor localization has the potential to change outdoor navigation like GPS. Over the past 15 years, various technologies for indoor localization have been proposed and tested by both science and industry, but no large-scale deployment has yet been achieved. The aim of this competition was to bring together real-time or near real-time indoor localization technologies and compare their performance in the same room.
INTRANAV was awarded in the category 3D real-time positioning with ultra-wideband technology with the highest indoor real-time positioning accuracy of ±8.4 cm in two consecutive years.
You want to know how you can make your processes more efficient with real-time tracking?
Our team will be happy to advise you with comprehensive know-how out of the RTLS world!!