Industrial IoT Real-Time Platform Suite
for the 100% Digital Twin
Enabling DIGITAL Supply Chain, SMART Factory & Warehouse
With
INTRA

NAV you master the challenges of digitization in real time

The INTRANAV real-time location and sensor data platform suite digitizes and automates your transport & material flows. With centimeter-precise position data you increase the efficiency and productivity of your logistics & production processes, reduce errors, eliminate search times and generate the highest process transparency within your company.
Digital Supply Chain

Intralogistics

Manufacturing
INTRA

NAV

.IO

With our INTRANAV.IO RTLS platform we enable companies to map all processes as a digital twin. Localization and status information of your assets can be viewed at any time. In addition, INTRALYTICS allows you to measure, analyze and optimize your workflows. The hardware-independent architecture and user-friendly interface are the prerequisites for your Smart Factory – on-premise or in the cloud.

Discover INTRA

NAV

.IO

INTRA

LYTICS

INTRALYTICS is a powerful analysis tool, generate fully automated reports to optimize and harmonize business processes in the long run. Gain a holistic insight into your supply chain and improve your workflows. The insights gained provide the basis for your digitization strategy. Generate measurable added value and make data-based decisions.

Discover INTRA

LYTICS

INTRA

NAV

.RTLS

Our INTRANAV.RTLS is the enabler technology for live tracking of assets and transport vehicles. Based on our Ultra-Wideband technology (UWB) your industrial processes can be measured with highest precision even in challenging environments. The easy handling, as well as a variety of sensor variants and fast implementation possibilities, guarantee an efficient scaling of your business processes.

Discover INTRA

NAV

.RTLS
INTRA

NAV is the primary market player with solutions for precise location and use of
multi-technology on an open RTLS IoT platform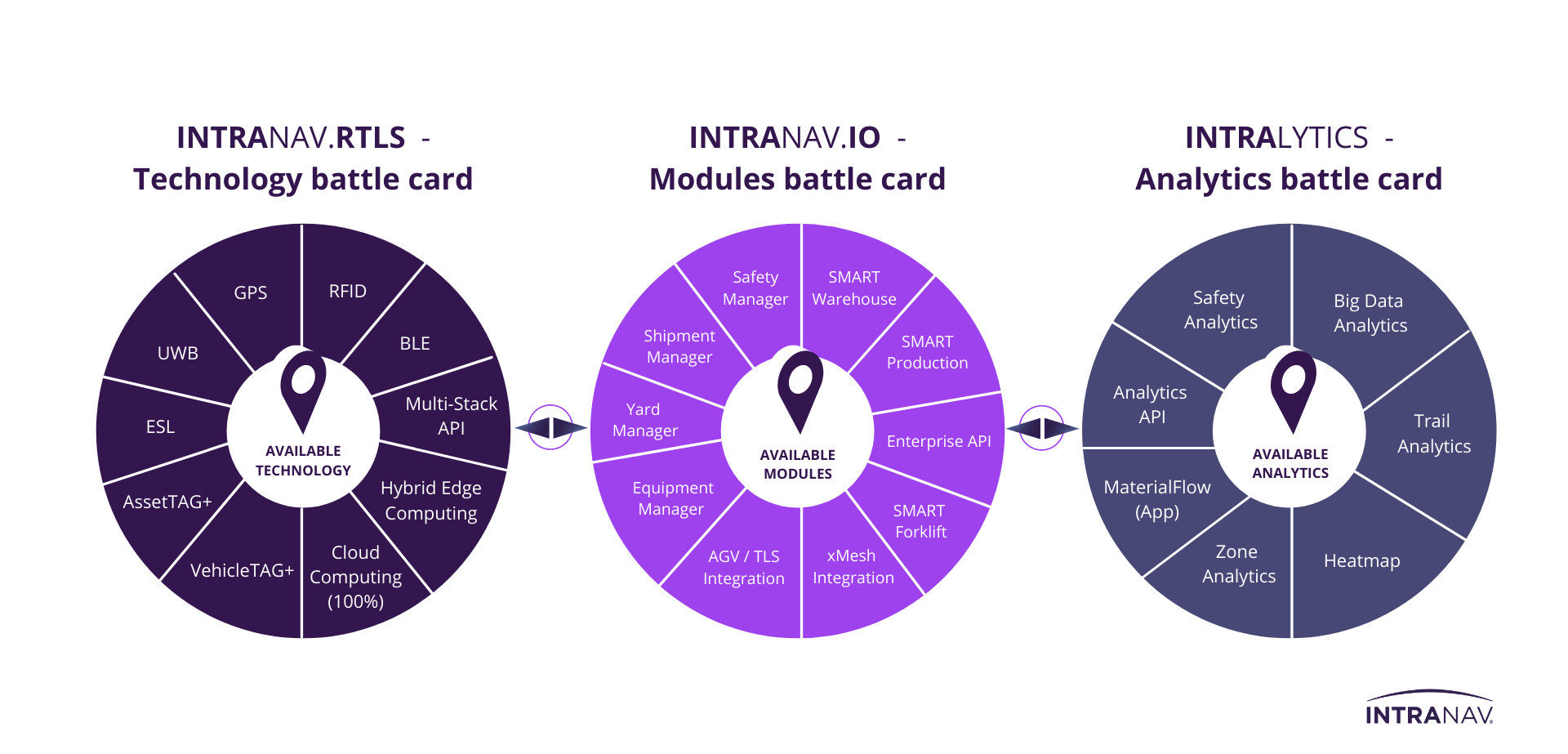 Real-time positioning, networking & system integration as a premise for industry 4.0
More than just RTLS technology. With the three components INTRANAV.IO, INTRALYTICS and INTRANAV.RTLS DigitalTwin Suite you get all the tools you need to get started with the digitization of your business. Thanks to a multitude of interfaces and functions, INTRANAV offers extensive integration possibilities. The robust and precise UWB-based RTLS technology is optimized for the toughest industrial environments.
Indoor location with centimetre accuracy

INTRANAV provides you with location data of objects, equipment, vehicles and persons in the interior with an accuracy of up to ± 10 cm. For our precision we have already been awarded twice in a row by Microsoft with the highest measurement accuracy.

Global tracking

We expand your value creation through end-to-end supply chain tracking. Thanks to precise indoor & outdoor tracking, you can locate and monitor your goods along the supply chain. Integrated sensors give you insight into temperature, shock, acceleration, IMU and humidity.

Interactive live map

Der Digitale Zwilling Ihrer Unternehmensprozesse wird zuverlässig und übersichtlich auf der INTRANAV.IO Plattform abgebildet. Einfache Handhabung und eine Vielzahl von Funktionen wie Kartenverwaltung, Zonen-Alarme, Nummernkreise (u.v.m.) steigern Ihre Produktivität.

On-Premise or in the Cloud

INTRANAV.IO and INTRALYTICS are integrative and web-based solutions. The RTLS platform is available for your cloud or local (on-premise).
Trust in multiple award-winning real-time positioning
Volkswagen Logistics Scouting Top Innovator 2017 & 2019

Winner of Microsoft's indoor positioning competition
for 3D-Accuracy UWB, 2016 & 2017
You want to know how you can make your processes more efficient with real-time tracking?
Our team will be happy to advise you with comprehensive know-how out of the RTLS world!