INTRA

NAV Social Distance Management

Health Safety Environment
Digital COVID-19 protection: Free for new and existing customers.
Digital distance control: SDM ensures increased employee safety and continuous operational processes
Precise, data protection-compliant distance control enables the COVID-19 virus to be contained and rapid countermeasures to be initiated in the event of new infections. An efficient COVID-19 management according to the legal requirements is now possible with our Social Distance Management App! Largely scalable, quickly available SMART Distance RTLS technology ensures the safety of your employees and prevents shutdowns due to infection.

Help your employees to keep their distance and secure your business processes in the long term through contact tracing
Digital distance protection zone

SDM enables your employees to maintain the legally required minimum distance of 1.5 m by means of optical and acoustic warnings. If this distance is undercut for more than 5 seconds, a warning signal sounds. The distance tracking is called up to 10 cm accuracy up to once per second.
The real-time location data is generated anonymously, no personal data is collected.

Contact us

Trace chains of infection

Areas where COVID-19 patients are present and contact zones can be traced, identified and immediately blocked. Employees who have had contact with the sick person's living areas can be notified immediately to take subsequent protective measures. In an emergency, SDM enables you to make data-based decisions and assess the situation quickly and clearly, depending on the intensity of contact within the company.

Contact us
Anticyclic people flow

01

Anticyclic people flow

Avoidance of crowd accumulation through anti-cyclical control of personnel routes. Additional warning area traffic lights help employees to recognize the danger level of the respective area.

Organize highly frequented areas

01

Organize highly frequented areas

Avoidance of staff accumulation by specifying and/or proposing individual routes.

Avoid & protect risk groups

01

Avoid & protect risk groups

(Health) risk groups can be actively circulated or separated if necessary to avoid unnecessary contact. Immediate quarantine zones help to isolate ill persons in worst-case situations and keep healthy persons at a distance.

Detection of contaminated materials

01

Detection of contaminated materials

Tools and working materials of infected employees can be detected and blocked by a protective radius.

Keyless Entry

01

Keyless Entry

INTRANAV.IO (RTLS IoT platform) can be coupled to opening systems to open, adjust or convert doors, gates and workstation equipment automatically and contact-free.

Comply with hygiene regulations

01

Comply with hygiene regulations

If desired, INTRANAV.SDM can also provide information on compliance with hygiene guidelines within the company.
Reliable SMART Distance RTLS technology
Data protection compliant

INTRA

NAV.

SDM

Location data is generated anonymously and has no reference to persons or personal data. Only the end user decides how and for what purpose the data is to be further used; third parties have no access.

Largely scalable

Due to the fast and flexible scalability we offer companies an implementation for up to 400,000 employees per location.

Awarded measuring accuracy

Our RTLS system was awarded first place by Microsoft in 2016, and then in 2017 in a row, for the highest real-time location accuracy, which is of utmost importance for current security measures.
Reliable IoT security
below the highest data protection level
The ultra-wideband based INTRANAV RTLS technology already has a clear advantage over other positioning technologies (such as WLAN or Bluetooth), because the signal does not interfere with other technologies and delivers position data accurate to ±10cm.
Technology on the latest data protection level
No personal data is collected!
Precise Ultra-Wideband RTLS Technology
Compared to WLAN or GPS, the positioning accuracy with INTRANAV UWB is up to 150 x more accurate (15m to 10cm).
Instant protection through Plug & Play system
SDM App can be used immediately after installation, no maintenance effort.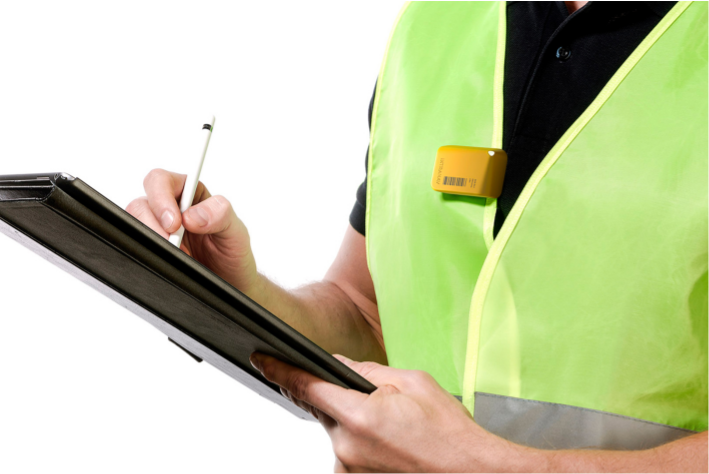 Free of charge for new and existing customers

Healthy employees are your most valuable asset
Compliance with legal hygiene requirements & recommendations

Prevention of operational shutdowns

Continuous, secure operating processes

Immediate notification on risk contact

Containment of the risk of infection

Prevention and responsibility towards your employeesr
Plug & Play –
INTRA

NAV.

SDM

App can be used immediately
Installation of the INTRANAV.RTLS NODEs in the areas to be monitored. Similar to access points, these are operated either with power or via Power-over-Ethernet (PoE).

Your employees will be equipped with INTRANAV UWB-TAGs, the tiny battery operated TAGs are available in the form of a badge or bracelet.

Set up an INTRANAV.IO account in the cloud or locally on-premises. The Social Distance Management add-on is
available on the integrated RTLS Marketplace.

Using an additional app on the smartphone, further alarms can be activated via vibration or warning tones.
With INTRANAV, this client already contributes to increased employee safety:
Highest process transparency through

INTRA

NAV real-time location data
You want to know how you can make your processes more efficient with real-time tracking?
Our team will be happy to advise you with comprehensive know-how out of the RTLS world!