02.02.2021
Global Transport Process Safety: tracking, monitoring,
warning system & control of transport conditions
Our automotive customer manages a complex, worldwide supply chain network based on a multi-level distribution concept. Global supply chain visibility is a prerequisite for a secure and time-efficient logistics process structure. The international shipping of safety battery boxes is an important part of this. The lithium-ion batteries to be transported, as in this case, are declared as dangerous goods, so these safety transport containers are subject to strict official transport safety regulations due to their loading. The company needed a reliable, real-time tracking solution to ensure global and permanent transport monitoring, with all features such as sensor-based alerts for deviations from regulations or, for example, prediction of the arrival time, for all stakeholders in the supply chain.
For one of the largest,
international automobile manufacturers
Our client is one of the leading, internationally active, listed vehicle manufacturers based in Germany. The supplier is one of the largest premium passenger car and commercial vehicle manufacturers worldwide.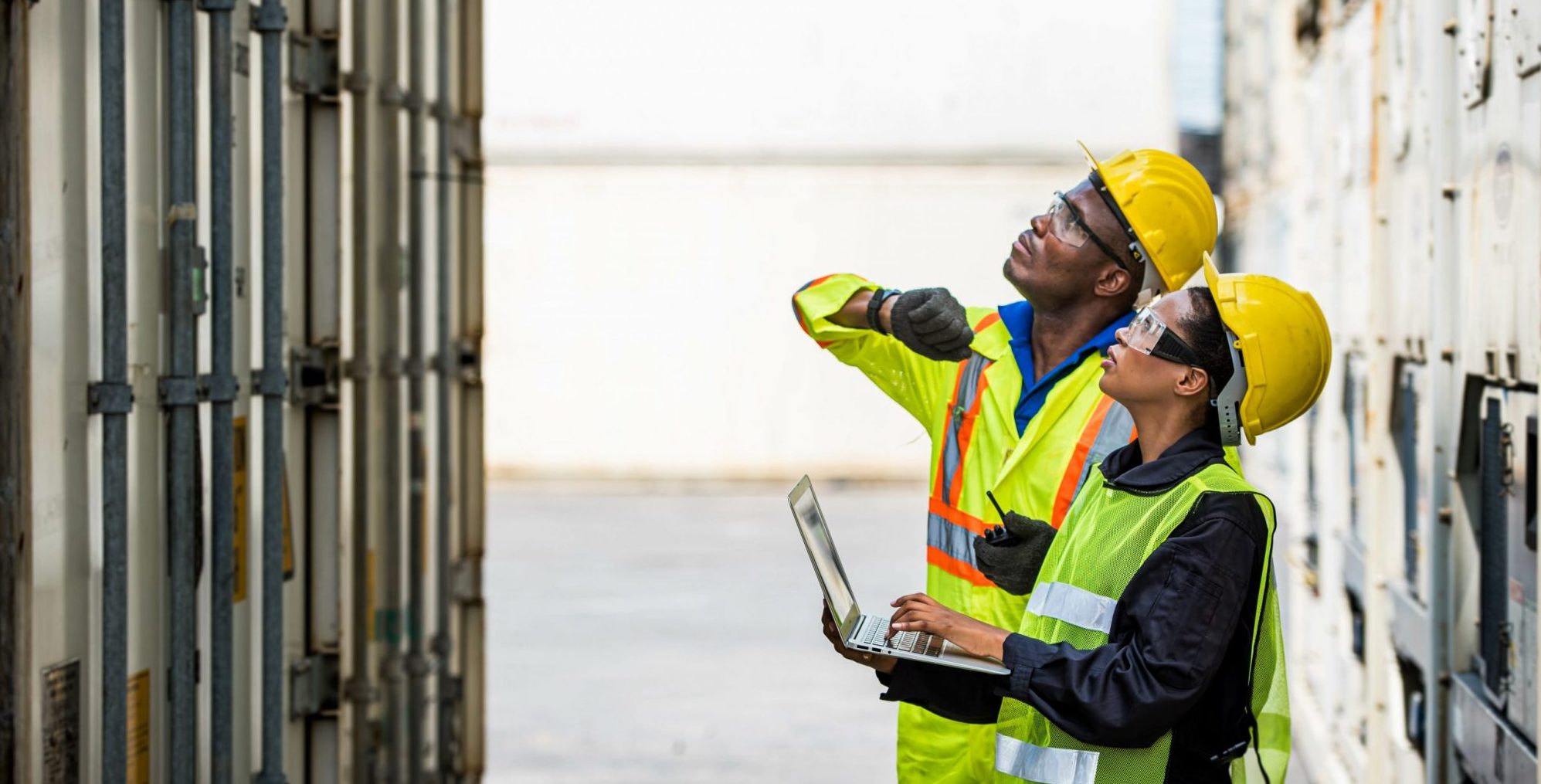 Requirements of our customer
1

Global safety box
Tracking & Monitoring

Real-time tracking of current transport location status, hazard monitoring for chemical and battery containers.

2

Warning system & control
of transport conditions

Monitoring of temperature, humidity and acceleration/shock in the vessel. Real-time alerts in case of deviation from pre-set limits or process interruptions via SMS & email.

3

Predictive Time
of Arrival

Calculation and prediction of arrival time for continental shipments.

4

Theft protection

Control over location, status information in case of container theft.
Solution from INTRANAV
The INTRANAV Global Valuable Shipping solution ensures that the vehicle manufacturer can track over 200 security containers live and as a digital twin via our integrative, independent RTLS platform INTRANAV.IO.
An external temperature sensor can determine values inside the container in real time and increases process reliability by permanently monitoring the lithium-ion batteries. The INTRANAV Real-Time Location System supports container management in minimizing the risk of temperature damage that could occur during transport or storage of the lithium-ion batteries. If the range between -40° and 80°, which is not critical for lithium-ion batteries, is exceeded/fallen below during transport, a notification is generated to warn of temperature exceedances. This notification can be transmitted to the responsible office via SMS or e-mail. In this way, the special safety requirements for the storage of damaged batteries can also be ensured by 24/7 monitoring.

If defective or damaged lithium-ion batteries are transported, INTRANAV.IO can be used as an early warning system. By monitoring the inside of the container, the thermal reaction of a battery can be detected and reported by a notification. By detecting the chemical reaction, further safety measures can be initiated. For example, evacuation of hall areas or leaving highways during transport before escaping hydrofluoric acid. To protect employees can be taken much faster by the early warning system.

In order to anticipate disruptions and react accordingly, we equipped the solution with predictive time of arrival feature so that logistics partners are immediately informed about compliance or delays.

The (security) containers are made of solid stainless steel and represent a correspondingly high value in the five-digit range. Which is why the positioning by our GPS solution not only helps to track and digitize them (Digital Twin), but also serves as theft protection at the same time.
Result
With the INTRANAV RTLS Cloud Solution, the automotive manufacturer ensures maximum process reliability of container shipping within the entire supply chain. With INTRANAV Sensor Data Monitoring via the INTRANAV.IO IoT platform, the company proves in real-time or via INTRALYTICS reports that transport benchmarks such as temperature, humidity, acceleration (vibration) were met or whether deviations occurred. These reports are crucial for insurance claims against supply chain partners; deliveries with breakage or similar are thus immediately detectable and verifiable.
Search times are significantly reduced from now on, and thanks to the RTLS solution, the company also has up to approx. 20% fewer lost containers. The safety of the employees is increased by the monitoring because dangers can be detected immediately and these transporters can be notified.
By linking INTRANAV.IO to supply chain management and ERP, EWM systems, this real-time information triggers further processes, allowing immediate response to fluctuations in material availability or manufacturing capacity.
INTRANAV Benefits with intelligent
supply chain management for security containers.
Digital twin of the load carriers via INTRANAV.IO: End-to-end outdoor live tracking (GPS technology) for maximum process reliability and reduction of search times
INTRANAV SMART sensors monitor: Temperature, Humidity, Acceleration/Shock (IMU), Certified Airplane Mode.
Real-time alerts in case of deviation from predefined limits or process interruptions via SMS & e-mail
Hazard monitoring for chemical and battery containers
Predictive Time of Arrival for continental shipments
Proof of compliance with transport/storage security and transport guidelines
App for damage reports
Theft protection
Employee safety through sensor data monitoring
Various innovative interfaces enable the connection to all common ERP, EWM and CRM systems and databases as well as to Power BI, SQL Server and some others. With data coupling, further processing and use for optimizing logistics and supply chain processes as well as the entire information flow is possible.


INTRANAV offers a highly flexible and cost-effective enterprise solution, ideal for automotive, aerospace or healthcare. Further fields of application are possible, for example, in warehouses, manufacturing, hospitals, medical supply and medical equipment. Our INTRANAV Global Shipping Solution is also interesting for you, contact us to talk about optimization possibilities of your supply chain and logistics workflows already today!