18.02.2021
Saves labor time by reducing search efforts, reliable component selection and preventing material loss
In our client's aircraft maintenance department, various propeller turbines and fan engines with more than 30 variants are maintained and repaired. In the inspection process, the individual flight parts are examined and surveyed. The parts are then collected and transported to the "Repair Department" in special cage trolleys/large containers. During transport, it happens that components are not always unloaded at the correct storage locations. In other cases, there is not enough space and the parts are deposited outside the storage locations. As a result, parts inspectors, with the help of colleagues, have to search for the parts manually and cannot do their actual work. If parts can no longer be found, further costs and expenses are incurred for the procurement of spare parts, and there may also be delays in the assembly of the engine.
Repair orders are then opened in the Repair Department and the appropriate repairs are instructed. The aircraft components are initially stored until the repair window is called. Once repairs and testing have been completed, they are put back into storage until they are ready for assembly.
In aircraft manufacturing, as soon as one part is defective, all other associated components in the component group must be replaced. Here, the aviation company required a solution for digitally marrying parts with the corresponding production order number in order to ensure the unambiguous assignment of parts. This is because an incorrect system assignment can cause incorrect picking, which in turn leads to incorrect installation and time-consuming rework during reassembly, as well as delays in the overall process. The aim of the project is thus to ensure seamless monitoring of the components, including possible subsequent analyses to optimize production control.
For one of the largest global operating aviation group
Our customer is a globally operating aviation group. Services include business areas such as logistics, engineering and catering. This case is about the Technik Center, which is the leading provider of aircraft maintenance, repair, overhaul and modification for civil aircraft and commercial aircraft.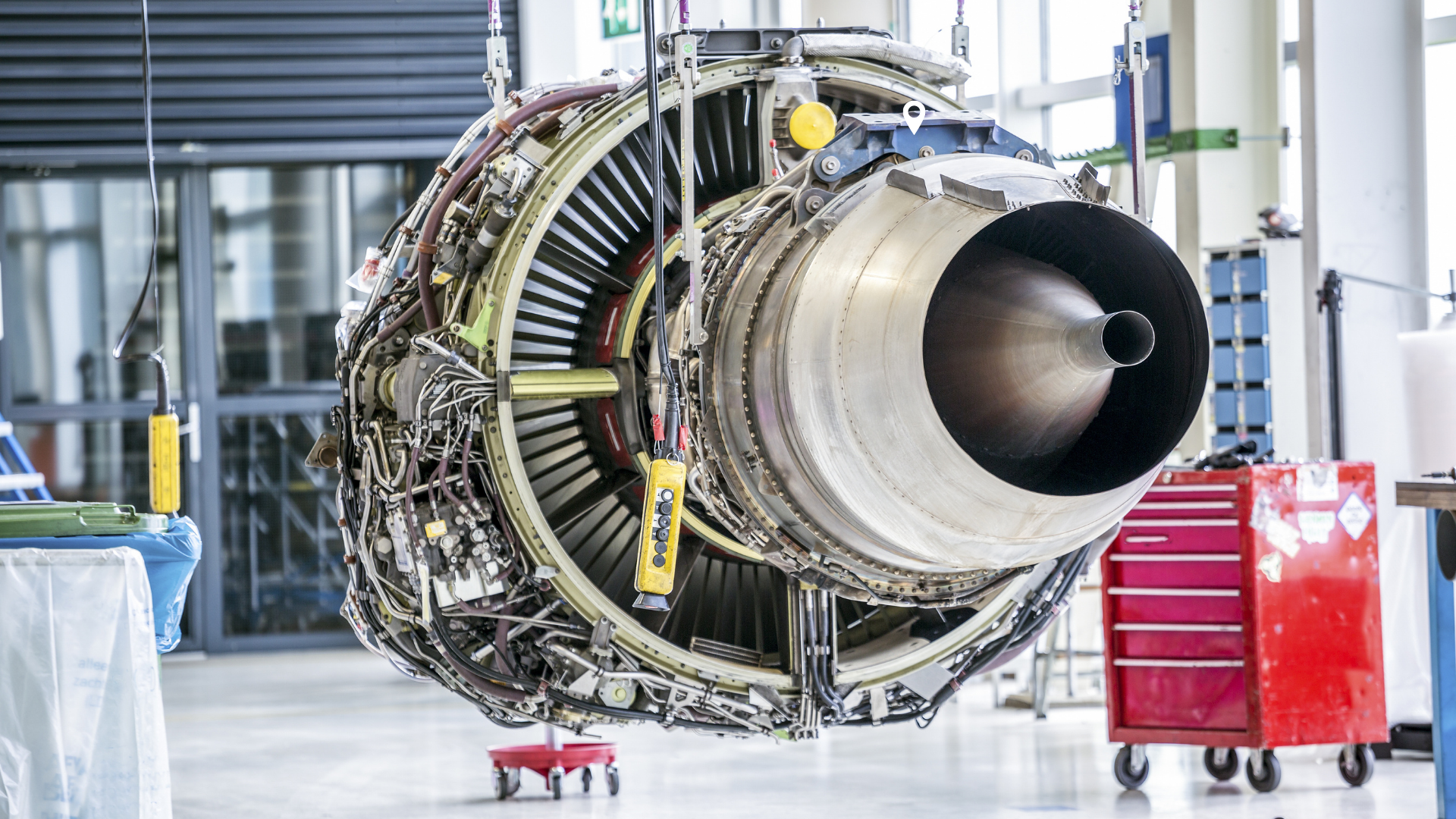 Requirements of our customer
1

Saving of working hours due to reduction of search efforts

Indoor real-time location tracking of components via the Digital Twin platform INTRANAV.IO, each associated with a single turbine.

2

Clear picking of the parts of the corresponding component groups

The individual stored components are clearly assigned and associated with each other with the INTRANAV.RTLS TAGs in INTRANAV.IO as well as SAP. Parts can thus be found and picked unambiguously.

3

Preventing component loss

Thanks to real-time location tracking, the location of the individual components can be tracked at any time via a display on a live map.

4

Location and device-independent access to location information

The real-time location data can be accessed via INTRANAV.IO on any device (tablet, desktop or smartphone).
Solution from INTRANAV
INTRANAV serves with the Real-Time Location Tracking Solution of the aircraft components for our Aviation customer all mentioned requirements, so we implemented the case:
Search and display of assets and components: Using the real-time location enterprise platform INTRANAV.IO, employees can search for individual parts or parts assigned to a job using ID's or ESN's (Engine Serial Numbers) to search for individual parts or parts assigned to a job via the Digital Twin – Live Map or the Asset Manager as a search list. For direct findability, items and assets not included in the search can be hidden or "flagged" so that only the group of parts being searched for are displayed with their associated individual parts. In addition, the map shows the floor level, making floor differentiation immediately apparent. The overall view shows the real-time location of all tracked assets.
Merging of several individual parts to one order in the INTRANAV.IO and SAP system: When coupling the INTRANAV.RTLS TAGs with the individual parts or grid weighers, it is important that a higher-level connection can be established between the parts and weighers to one engine/order. For this purpose, different TAGs are stored in the INTRANAV.IO platform in a "bundle", i.e. under one serial number. The order numbers are associated with the INTRANAV.RTLS TAG, which is attached to the component, in the INTRANAV.IO as well as SAP system. Real-time back-ups ensure the permanent, secured linking of the created component relationships (component affiliation to the component group) and ensure that in the event of a system crash, the data from the link is not lost. Highlighted zones/areas are an important indicator for the presence of a TAG during search queries.

Real-time location tracking of components, retrievable via any device: The component tracking can be tracked and retrieved via INTRANAV.IO on a tablet, smartphone as well as desktop.

Data acquisition for subsequent analyses for process optimization of production control: The real-time data acquired should be stored in a uniform format from the outset so that it can be used in subsequent processes to optimize production control.
Data link to production planning and control systems (PPS): The location information obtained is used in the next step for automatic feedback of process steps to the PPS.
Ergebnis
By using the technology-independent INTRANAV.IO Digital Twin platform and INTRANAV.RTLS, the airline's technical center benefits from seamless real-time location tracking of all aircraft component groups and the respective individual parts. As a result, the company increases the certainty of correct component selection, significantly reduces additional employee effort in the form of component searches, and additional effort due to correction of incorrectly installed parts in the repair process, which also reduces new procurement costs.
Summary of the results achieved by our customer with INTRANAV:
● Real-time location tracking of components significantly reduces and avoids material search efforts, all real-time location positions can be viewed digitized via the INTRANAV.IO Digital Twin platform
● Saving of working hours by reducing search efforts, employees concerned can concentrate on actual tasks
● Continuous real-time tracking prevents component loss by alerting INTRANAV of theft or incorrect zone placement, increasing inventory security
● Preventing delays in the engine overhaul process due to loss or re-procurement
● Preventing time-consuming rework, through correct component picking
● Increase the security of the component material flow and the storage/retrieval recording as well as management
● Avoidance of unnecessary delays in the material assembly process, through correct provision of the entire component group and all associated individual parts
● Display of location information through display indication on preferred end devices (desktop, tablet, smartphone)
● Location and device-independent access to location information
● Paperless logistics, enables clear assignment of order numbers to the component, retrievable via mobile device and simultaneously associated in the SAP system


Future projects:

● Possibility to automate process steps in the production planning and control system, e.g.: Feedback that the component has arrived at station/machine X

● Possibility of material flow analyses for optimization of production control
INTRA

NAV Benefits through a virtual component warehouse with search function.
Digital Twin of components via INTRANAV.IO: Real-time component material flow tracking for maximum process reliability and reduction of search times
Differentiation of floors on the Digital Twin Live Map
"Flagging" for search filtering of components and component groups
Real-time alerts for incorrect material placement from specified zones via SMS & Email
"Bundle" entry and association of individual components and associated component groups in the INTRANAV.IO and SAP system
Replacing scanning activities with automated posting (booking in and out) by geofences in internal transportation
Paperless Logistics – Goods accompanying documents and order numbers can be called up directly via mobile device
Proof of compliance with transport/storage security and transport guidelines
Real-time alerts for theft or delivery to/from restricted zones via SMS & email
Uniform data collection and provision for analysis formats
Various innovative interfaces enable the connection to all common ERP, EWM, and CRM systems and databases as well as to Power BI, SQL Server, and some others. Data coupling enables further processing and use for optimizing logistics and supply chain processes as well as the entire information flow.


INTRANAV offers a highly flexible and cost-effective enterprise solution, ideal for Aviation, Automotive, Production, Intralogistics and Logistics or Supply Chain. Further fields of application are possible for example in warehouses, manufacturing, production line for incoming and outgoing goods tracking or as asset finder / asset database. Our INTRANAV is also interesting for you, contact us to talk about optimization possibilities of your supply chain and logistics workflows already today!