10.05.2021
Virtual Material Replenishment at the assembly line:
tugger train vs. forklift
Lean production depends on lean logistics, in which "just-in-time" and "just-in-sequence" supply is essential. This means that the required materials must be delivered at the right time, in the right quantity, to the correct production cycle, while observing the exact delivery sequence required by production. This is the only way to avoid regular surplus production, delays in the process chain and unnecessary stock on the line.

Flexible and economical: tugger trains are the front-runners
in line feeding
Line feeding today is primarily done by tugger train (about 70%), with the remaining 30% done by forklift, depending on the type of production and warehouse. The route trains (or "milkruns") cause significantly less traffic than the use of multiple forklifts, and they also consume less energy, which reduces operating and service costs. Due to regular deliveries according to a schedule, internal transport processes calm down and stabilize, ensuring a cyclical line supply. As a result, an increase in production can be achieved with the same production area. The replenishment time is thus significantly reduced. Work processes thus become safer, more efficient and faster. The handling time per load carrier is reduced to a minimum. The use of tugger trains is particularly worthwhile in production with high product variance, because this type of production requires many different parts and a high variety of materials. This means that even smaller quantities can be delivered "just-in-time" and "just-in-sequence".
Challenges in material replenishment with tugger trains
In the use of milkruns, unforeseen process deviations can occur, which can negatively affect the entire production flow:

● Tugger trailers can fail or break down.
● Loaded material can fall down
● Driver forgets to unload cartons
● The driver gets delayed and delivery time delays occur
● Workers forget to trigger the replenishment process
● Scanning operations are performed incorrectly
● And more
The
INTRA

NAV integration into SAP enables process-safe and time-efficient route train management

The integration of INTRANAV Real-Time Location Data (RTLS) into SAP Extended Warehouse Management (EWM) enables process-safe and time-efficient transport flow management for route trains:
– 40%

Reduction of idle and throughput times

Through real-time optimization of transport orders and elimination of barcode scanning by AUTO-ID & Recognition systems.

+ 25%

Optimization of equipment and resource utilization (OEE)

By intelligently networking the location information of equipment and transport resources with modern ERP, WMS.

– 15%

Reduction of the error rate and quality assurance

Real-time based transportation and material flow reports and KPI reconciliations optimize overall replenishment.
Key benefits through dynamic route train management
● Automation of system postings – e.g. replacement of manual scanning process steps with virtual zones

● Replenishment control – e.g. an empty box on the production line automatically triggers replenishment

● Production control in the event of supply bottlenecks – e.g. dynamic adjustment of production plans

● Actual/target comparison of throughput times – e.g. calculation of driving distances

● Activity analysis of historical data – e.g. route optimization with heatmaps, trails, flow status reports
True values through the process optimization of material replenishment of route trains
Reduction of error-prone system postings (via AutoID)
Reduced material replenishment times through automated replenishment control
Reduction of supply outages through optimization of schedules and supply bottlenecks
Reduction of idle and throughput times
Complete process transparency across the entire material replenishment allows intervention in case of KPI and process deviations. This ensures increased process reliability through predictive demand determination
The forklift "cab supply" is being used when tugger trains
reach their load limits
Converting replenishment from forklifts to tugger trains involves major investments that are also tied to personnel capacity and costs. With a recent renewal of the forklift fleet, expansion costs for milkruns can quickly break the budget. Compared to route trains, on-demand line supply with forklifts also has advantages. The replenishment process takes place on demand, the so-called "cab supply", the goods are delivered exactly when they are requested by workers, there are no fixed routes or specifications. The supply is therefore very flexible and, due to the delivery of larger containers, more suitable for mass production. The material delivery can be implemented correspondingly faster. In addition, forklifts are primarily used if there is no other integration of transport options in the supply flows, due to the nature and weight of the goods. Driving on sight also allows an alternative route to be selected, enabling traffic jams to be avoided. Integrated collision avoidance systems increase safety on the store floor and on the production line.



Replenishment challenge by the forklift fleet
As with tugger trains, risks can also arise when using forklifts for line supply, which can significantly affect the flow of materials:

● Empty runs due to covering seriously longer distances
● Optimized capacity utilization is hardly possible or plannable since the demand is generated "on-demand" or according to consumption via the ERP system
● Interruption in the material supply (material tear-off) due to demand-oriented control
● Accidents and collisions, e.g. due to unsafe reversing and maneuvering with the forklift tines on the production line
● And more
Optimization potential in replenishment through the digitized forklift fleet
To enable "just-in-time" and "just-in-sequence" deliveries in production environments where forklifts are used exclusively or partially for material replenishment, INTRANAV improves availability on the assembly line with virtualization of the forklift fleet and real-time data-driven material and transport orchestration with the VIRTUAL Warehouse Solution:
+ 10%

Improvement of the availability of the assembly line (up-time)

By reducing incorrect shipments, misdeliveries, process errors, and safety risks, and optimizing JIS and JIT production deliveries to the line with advanced MES execution systems.

+ 20%

Optimization of the workflow utilization

Through real-time optimization of transport orders, resources, intelligent routing and the elimination of barcode scanning through AUTO-ID and recognition systems.

+25 %

Optimization of material handling

Through automated warehouse control using warehouse triggers and process virtualization.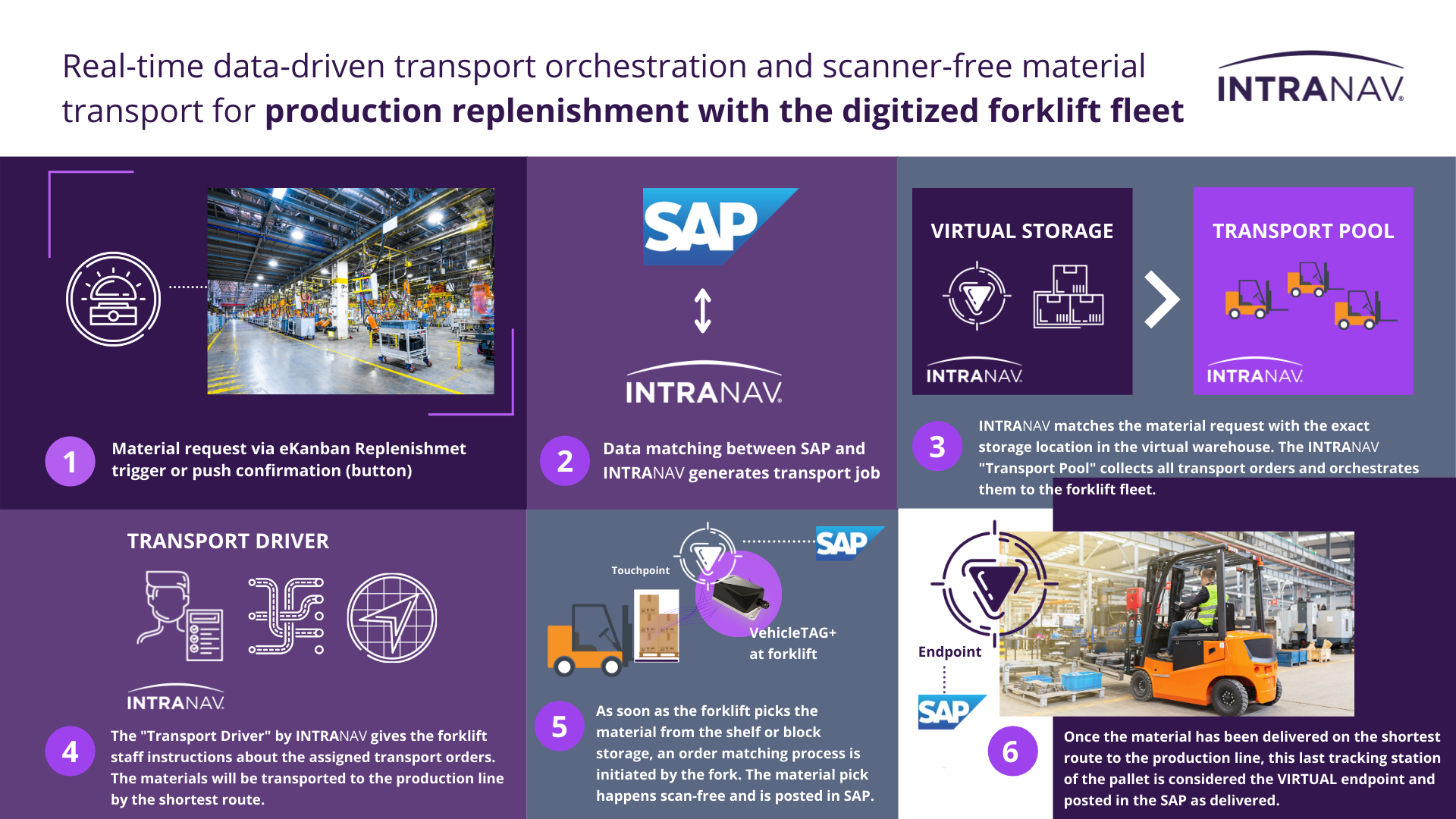 Key benefits through virtual material replenishment
● Scan-free transport of goods (Virtual Pallets)

● End-to-end real-time visibility and digitization of the entire flow of goods and transport

● Automated warehouse control through warehouse triggers and process virtualization

● Route optimization through navigation and route utilization reports

● Virtualization of the actual storage location in the rack warehouse

● Safety management enables collision avoidance

● Automatic order pool processing from central systems (ERP, WMS, MES)

True values through the digitization of your forklift transports
Time savings in the picking process, due to scan-free process with the "Touch & Store" technology
Avoidance of empty runs through order allocation via the "Transport Pool"
Optimization of the entire transport flow and its utilization through digitalization and intelligent orchestration of the forklift fleet
Increased flow of goods order processing through driver navigation
Improved replenishment by detecting bottlenecks, downtimes, transport interruptions
Reduction of collisions or dangerous situations through integrated Collision Avoidance



No matter which transport vehicle you use for your replenishment, INTRANAV offers you the most economical solution to optimize your intralogistics processes with real-time data-driven process solutions. Our cost-effective enterprise solution can be flexibly integrated into the material supply and adapted to other fields of application, such as production line automation; through automatic cycle feedback in SAP systems, line balancing / production leveling, plausibility checks or zone-based control of automatic programmable logic controllers.

Our INTRANAV VIRTUAL Warehouse Solution is also interesting for you, contact us to talk about optimization possibilities of your production and logistics workflows already today!