INTRA

NAV Smart Warehouse Solution
Intelligent and automated transport and goods handling processes for higher productivity in the warehouse
We track industrial assets in motion and ensure that you increase the overall efficiency of your goods and transport flows with INTRANAV. The main goal is to reduce manual handling in intralogistics and replace non-value-added activities with quality-assuring, value-added processes. INTRANAV's innovative IIoT platform enables process automation with location/RF technology.
By digitizing your forklift fleet, you optimize the entire flow of transport and goods. Scannerless end-to-end movements from inbound to outbound process, eliminate time-consuming and error-prone manual work processes. Automated transport flow management allows goods movements to be automatically recorded and tracked, Auto-ID solutions with integrated UWB & RFID technology enable fast and process-reliable processing.
Warehouse optimization potential
through
INTRA

NAV
Optimization of material handling

+25% Optimization of material flow utilization (OEE)

Through intelligent networking of location & sensor data from MHE & Material together with modern ERP and WMS management systems.

Efficient use of shop floor resources

-40% reduction in idle and throughput times

Through real-time optimization of transport orders, resources, intelligent routing and the elimination of barcode scanning through AUTO-ID and recognition systems.

Optimizing the workflow utilization

-15% Reduction of inefficiencies and errors in workflows

Through real-time process interlocking, digitized workflows, machine learning-based plausibility checks, predictive analysis and warnings.

Planning on-time delivery and ensuring quality

+10% Improvement of assembly line availability (up-time)

By reducing incorrect transports, misdirected shipments, process errors, and security risks as well as optimizing JIS and JIT production deliveries to the line with modern MES execution systems.
Maximum process optimization already achieved by customers with
INTRA

NAV.

IO

& –

RTLS
INTRA

NAV Smart Warehouse Solution
INTRANAV revolutionizes warehouse and transport handling for the first time with the VIRTUAL Warehouse Solution. The INTRANAV.RTLS VehicleTAG+, which is installed on the vehicle fleet (forklift, AGV, route train), ensures scanner-free and optimized goods transport. This eliminates massive hardware costs for equipment to track pallets, boxes, and containers in real-time.
With the combination of INTRANAV.RTLS hardware and software you control the flow of transport and goods (assets, load carriers, vehicles) in intralogistics as well as in the yard. Warehouse triggers control automatic transport order jobs of the vehicles, INTRANAV.APPs provide an optimal transport order distribution of the fleet by a transport order pool and take into account the forklift availability as well as an optimized routing of the vehicles. Integrated sensors ensure transport safety and collision avoidance. Retrograde reports based on real-time location data now also enable optimization potential of the entire material flow; weak points and waste can be analyzed at a glance. KPI comparisons can reveal bottlenecks, dwell times, throughput time, unnecessary stops, disruptions, delays, process length or the total time required for a complete cycle.

The INTRANAV.APP Virtual Pallets is part of the VIRTUAL Warehouse Solution and supports logistics staff in loading pallets according to type, which means that they can then be entered in the ERP & INTRANAV system as a pallet bundle via bulk reading. Hardware-based device matching eliminates manual identification booking steps such as recording and confirmation (scanning), reduces the error rate of the goods receipt booking process, and saves employees time.

Each delivered carton is equipped with an RFID label for tracking and goods ID recording. In order to be able to load the pallets according to type, an HMI display shows the responsible employee how many cartons need to be packed onto which pallet. In the exchange between ERP and INTRANAV, the number of packages to be loaded onto a pallet is clear in order to obtain a single-sort pallet. Automatic feedback is shown to the employee on the display as soon as the pallet "full status" is reached and the real number of packages matches the system number. By registering the single NVEs / single packages, during the loading of the pallets, INTRANAV counts up until the maximum number of packages per pallet, package type, and sort is reached. Systemically, the numerical count creates the formation of a variety bundle (Virtual Palette). In the ERP, a pallet is thus booked as single-variety, INTRANAV also recognizes the real-time position of the pallet, with which the further material flow can be tracked via INTRANAV.IO and further automatic warehouse triggers, such as transport order orders for goods storage for forklifts, can be issued with geofences.

If the transport vehicle is equipped with the INTRANAV.RTLS VehicleTAG+ (UWB) (digitized forklift fleet), the last storage location (endpoint) of the goods/pallet is systemically recorded in ERP/EWM and INTRANAV.IO. Touchpoint matching with the endpoint eliminates the need to tag individual pallets or totes, giving you significant savings in RTLS hardware.

The INTRANAV.APP Transport Pool is an innovative transport management software module based on real-time location data for a fast collection and allocation of all transport jobs to the vehicle fleet. All transport jobs are collected from the SAP system and distributed to manned vehicles or Automated Guided Vehicles. The current location status of the respective vehicle is taken into account for the most efficient routes and the order quantity already allocated to the respective vehicle. The transport pool can be used for any number of loading/unloading points and transport sections in the warehouse and yard.

The INTRANAV.APP Virtual Storage visualizes the entire warehouse inventory based on the last storage location (store point) as a digital twin.

The INTRANAV.APP Transport Driver is the interactive cockpit of the forklift driver. Here, the driver is shown all important information about his assigned transport jobs. Which job is currently being executed, how many transport jobs are still open, and which pallet is currently on the fork, including associated information such as number of packages, unmixed pallet, or fire.
The integrated direction sensor also detects the vehicle direction, enabling fast and safe navigation to the destination. Collision Management increases safety and avoids dangerous situations by means of warning messages, or prevents them from occurring in the first place through proactive directional indication.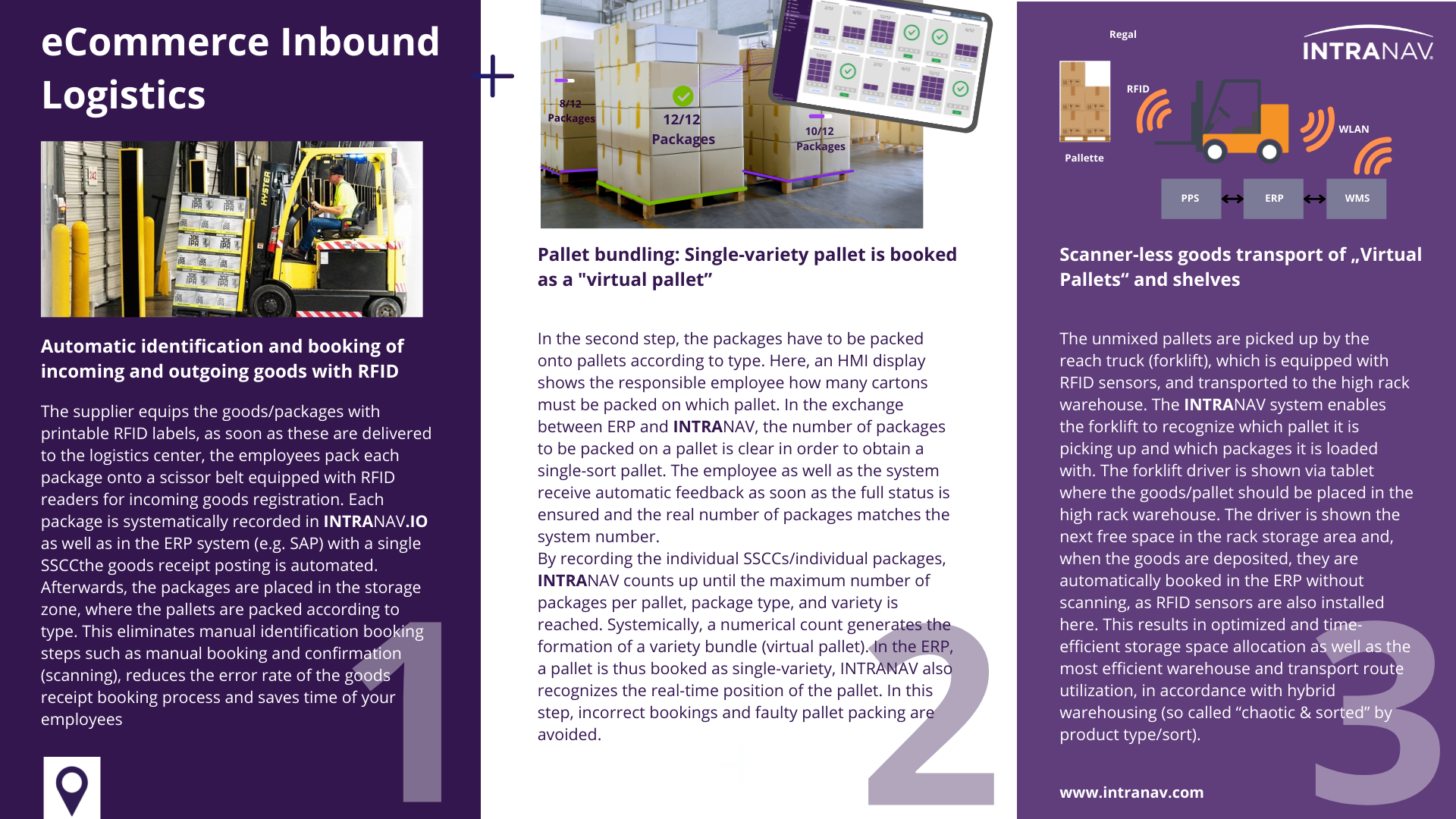 Digitizing your transports with the intelligent Forklift
Orientation: Recognition of vehicle direction for process safety
UWB: RTLS Optimization for process areas and safety zones
GPS-Precise: Nathless process tracking in indoor and outdoor areas
RFID: Scanner-less goods transport (incl. Virtual Pallets)
Fork Sensor: Detection of loading status and fork height
Open API: Readout and use of vehicle data for process automation
INTRANAV.IO: Automatic order processing from the central system (ERP, WMS, MES) and virtual orchestration
The VehicleTAG+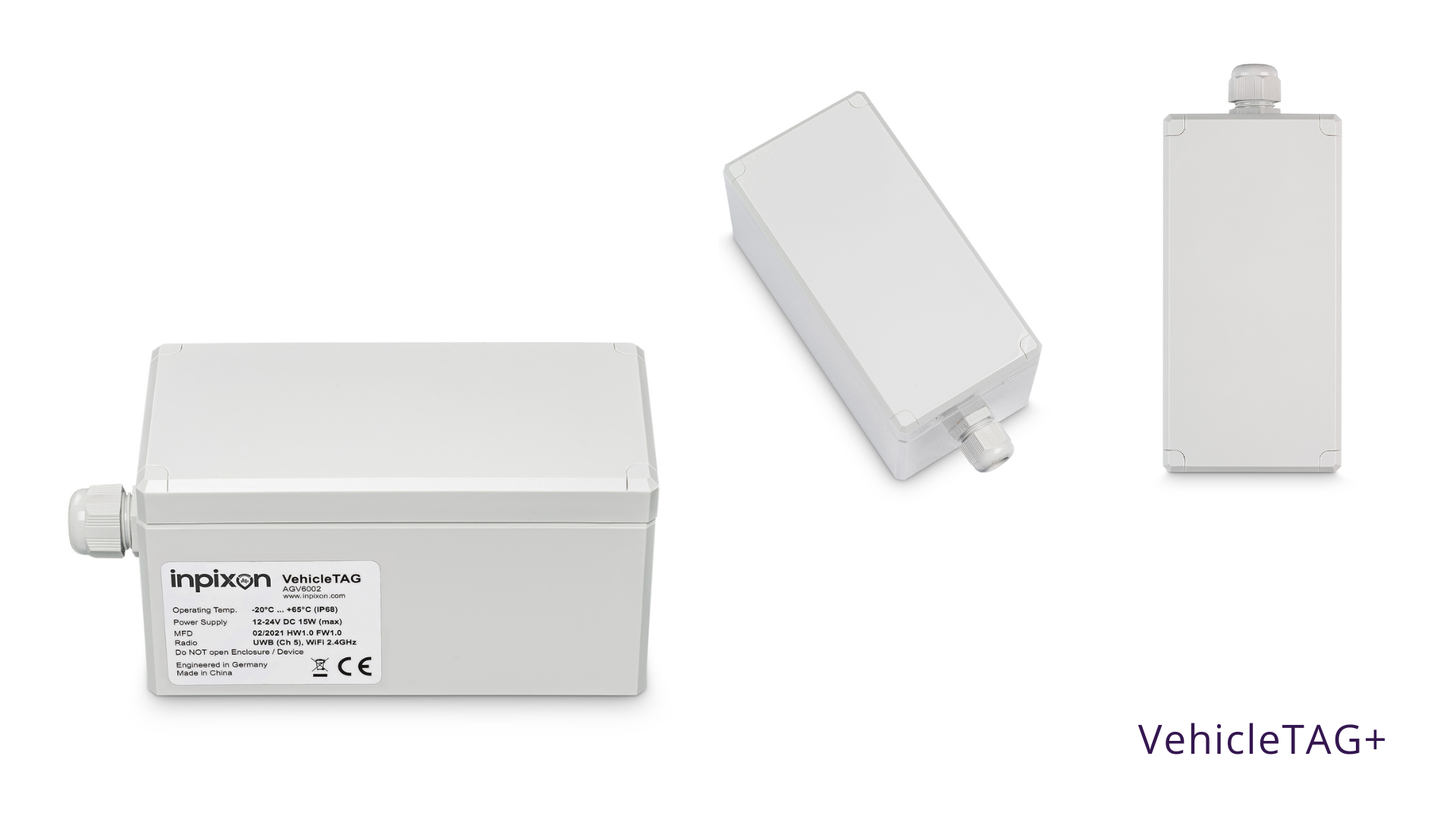 [ Precise transport vehicle location for indoor and outdoor tracking based on
UWB + RFID + GPS + LTE + WIFI technology ]

The new INTRANAV.RTLS VehicleTAG+ is dedicated to optimize efficiency (OEE), as well as to increase quality and flexibility in production & warehouse intralogistics.The VehicleTAG+ gets easily mounted on material transport vehicles such as forklifts and automated guided vehicles (AGV). With its precise and industrial proven real-time location Ultra-Wideband (UWB) sensor technology and Auto-Ident Technology based on RFID, the VehicleTAG+ enables the real-time Digital-Twin of your fleet in order to automate, optimize and simplify your material handling processes. Reduce manual barcode scanning and material identification to zero. Manage your mixed fleets and start to introduce a standardized layer for generating true values and benefits by using INTRANAVs prebuilt SMART Warehouse and SMART Production Solutions.
NEXT LEVEL production & warehouse intralogistics
with VehicleTAG+ as a digitization building block
Transport optimization through digitalization of the forklift fleet
Route optimization through navigation and route utilization reports
Digital yard management; transport flow management through precise indoor and outdoor positioning
Cost reduction through AutoIDent with integrated UWB & RFID RTLS technology
Safety management enables collision avoidance and social distance management
INTRANAV.IO: Automatic order processing from the central system (ERP, WMS, MES)
NEXT LEVEL IoT RTLS Technology
Precise tracking of industrial trucks, forklifts and autonomous vehicles, suitable for indoor and outdoor use
VehicleTAG+ is based on a multimodal technology layer with UWB, D-GPS RTK, Wifi and LTE
Fast deployment through use of standardized technologies
Sensor Hub for multiple RFID readers, height and weight sensors
Fork sensor: Detect and record loading status and fork height
Alignment: Detect vehicle direction for process reliability
UWB location: RTLS optimization for process areas and safety zones
Precise RFID scanners: Scanner-less goods transport (including "virtual pallets")
Open API: Readout and use of vehicle data for process automation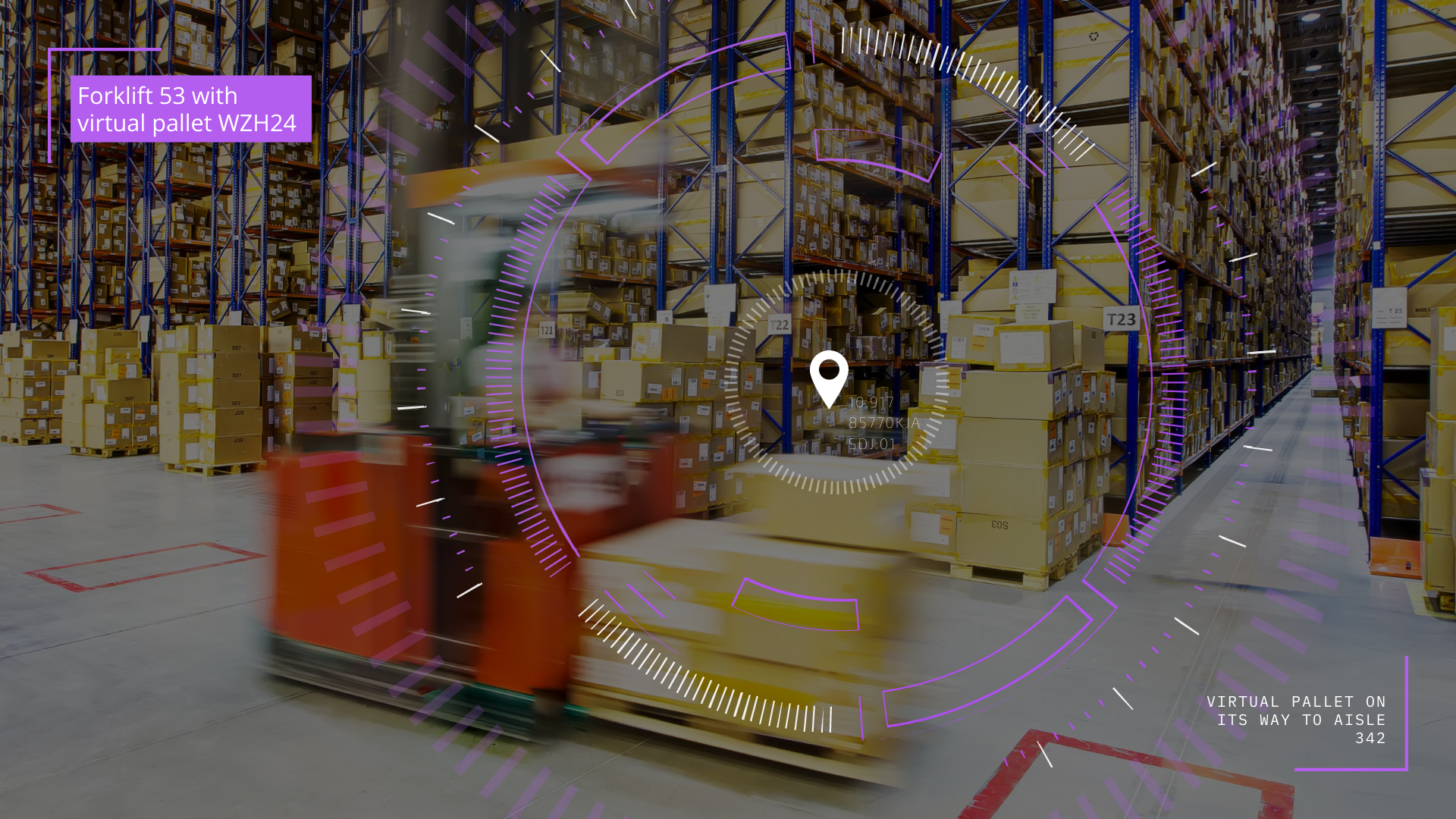 True values of using the

INTRA

NAV Smart Warehouse Solution

➜ End-to-end real-time visibility and digitization of the entire flow of goods and transport (assets, load carriers, vehicles) for intralogistics and the yard

➜ Automated warehouse control through warehouse trigger and process virtualization

➜ Transport optimization through digitization of the forklift fleet

➜ Scannerless goods transport

➜ Cost savings through Auto-Ident and integrated UWB & RFID technology

➜ Transport flow management through precise indoor / outdoor positioning

➜ Increase in goods flow order processing through driver navigation

➜ Route optimization through navigation and route utilization reports

➜ Virtualization of the actual storage location in the rack warehouse

➜ Safety management enables collision avoidance

➜ Automatic order pool processing from central systems (ERP, WMS, MES)

➜ A central system and process dashboard as RTLS control station

➜ Industrial interfaces and API for implementing RTLS data into your applications

➜ SAP-based instruction display for loading unmixed pallets and simultaneously automatic verification of unmixed pallet loading

➜ Goods bulk recording and booking in the SAP system with RFID

➜ Integrated multi-stack location engine with numerous setting options for filters and data preprocessing

Contact us!
You want to know how you can make your processes more efficient with real-time tracking?
Our team will be happy to advise you with comprehensive know-how out of the RTLS world!