INTRA

NAV Intelligent AGV Management

SMART Warehouse Solutions
AGV Management for an efficient transport and material flow
The INTRANAV AGV Management enables you to collect all transport orders as an order pool and to optimize all movements, as well as to ensure an automated exchange of information and status by linking other store floor participants (assets, vehicles and persons). In this way, different priorities can be assigned and the AGVs can be automatically assigned to open orders depending on availability and position. The assigned areas and the given KPIs, local conditions, and resource characteristics are taken into account.

Automated transport order calculations (such as priorities, routes, technical AGV suitability) reduce search times, avoid empty runs and make optimum use of your resources. Based on the current workload, performance indicators (KPIs) are compared and planned scaling effects are initiated. Thus you achieve a unique optimization of all significant KPIs. Benefit from dynamic job allocation, resource control, real-time monitoring and KPI optimization, combined in a holistic IoT RTLS platform.
Assistance Guiding and Control for
Automated Guided Vehicles (AGVs)
Together with our transport control system partners, we have developed solutions for adaptive routing. AGVs are able to find a new transport route independently in the event of traffic jams or high route utilization, using real-time location and routing algorithms. The AGV is then offered an optimal alternative route, which is based on the safest and shortest route and a route with low traffic volume in order to avoid queues and route congestion.

The high flexibility of the dynamic procedure is achieved by the exchange of constant real-time location and control information.

The aim is to ensure efficient and even transport route utilization, whereby unused secondary routes are also included in the route planning to ensure smooth and safe transport and material flow.

Changes are often made in large warehouse spaces, so the reference information on the AGVs' SLAM card must be constantly updated. However, the area and paths are so large that the laser scanners of AGVs, which are equipped with a limited range, can no longer detect any contours, so that the vehicle drives "blind".

Blind driving and collisions can be avoided with Real-Time Location Tracking and the coupling to the INTRANAV.IO platform. INTRANAV.RTLS (UWB) TAGs provide the real-time location information required by the AGVs as support information for "re-referencing", i.e. the AGV knows at all times where, for example, oncoming vehicles are located. This means that blind runs can be avoided, or even avoided in the first place.

Please read our Digitization Success Story: Sixth sense for AGVs "Mission Control in the Warehouse"!

Whether for automatic maneuvering on constantly changing logistics areas or on confusing store floor areas, or for detecting relocatable machines – the AGV requires real-time information on the location of all warehouse participants and assets for reliable and time-efficient order processing.

By digitally linking real-time location tracking, the INTRANAV.IO RTLS platform and the AGVs, INTRANAV enables the necessary exchange of information, for example to "communicate" with load carriers or to carry out pick-ups dynamically and automatically after the process is complete. (For example, in the production of production pieces).

With the INTRANAV IoT Suite, the AGV receives the exact position of the load carriers to be picked up, either as updated parking space information or as a geo-coordinate suitable for the AGV coordinate system. The transport order is continuously updated with the current parking space information, or if it changes, this information is passed on to the AGV management software.

Obstacles such as people, forklifts or transport vehicles often lead to unwanted stops or malfunctions in rack aisles, transport aisles. This is where Assistance Guiding for AGVs is used to avoid traffic jams. INTRANAV distributes to the AGVs the current real-time location information of the road users at any time, allowing the AGVs to look "around the corner" and initiate action in advance.

Route routes can also be optimized so that congestion situations can be avoided in advance. With this additional location information, the AGV can avoid the situation.

With end-to-end real-time location tracking of your AGV fleet (as well as all other assets, vehicles and load carriers), INTRALYTICS provides you with real-time analyses of transport and material flows that were previously obtained manually via retrospective perspectives.

With the Material Flow Report you can analyze the process and material flows within your plant in real time or over a period of time defined by you. Identify weak points within your store floor, react in time to deviations (of your predefined KPI's) to improve your AGV routes and processes immediately or retrospectively. Receive fully automated notifications via SMS or email in case of deviations from your predefined orders.

Learn more about INTRALYTICS Real-Time Reports:

+ Resource Management

+ Real-time planning of transport vehicle capacities

+ Route optimization

+ route utilization

+ Driving route analysis

+ Zone utilization

+ Material flow analysis and much more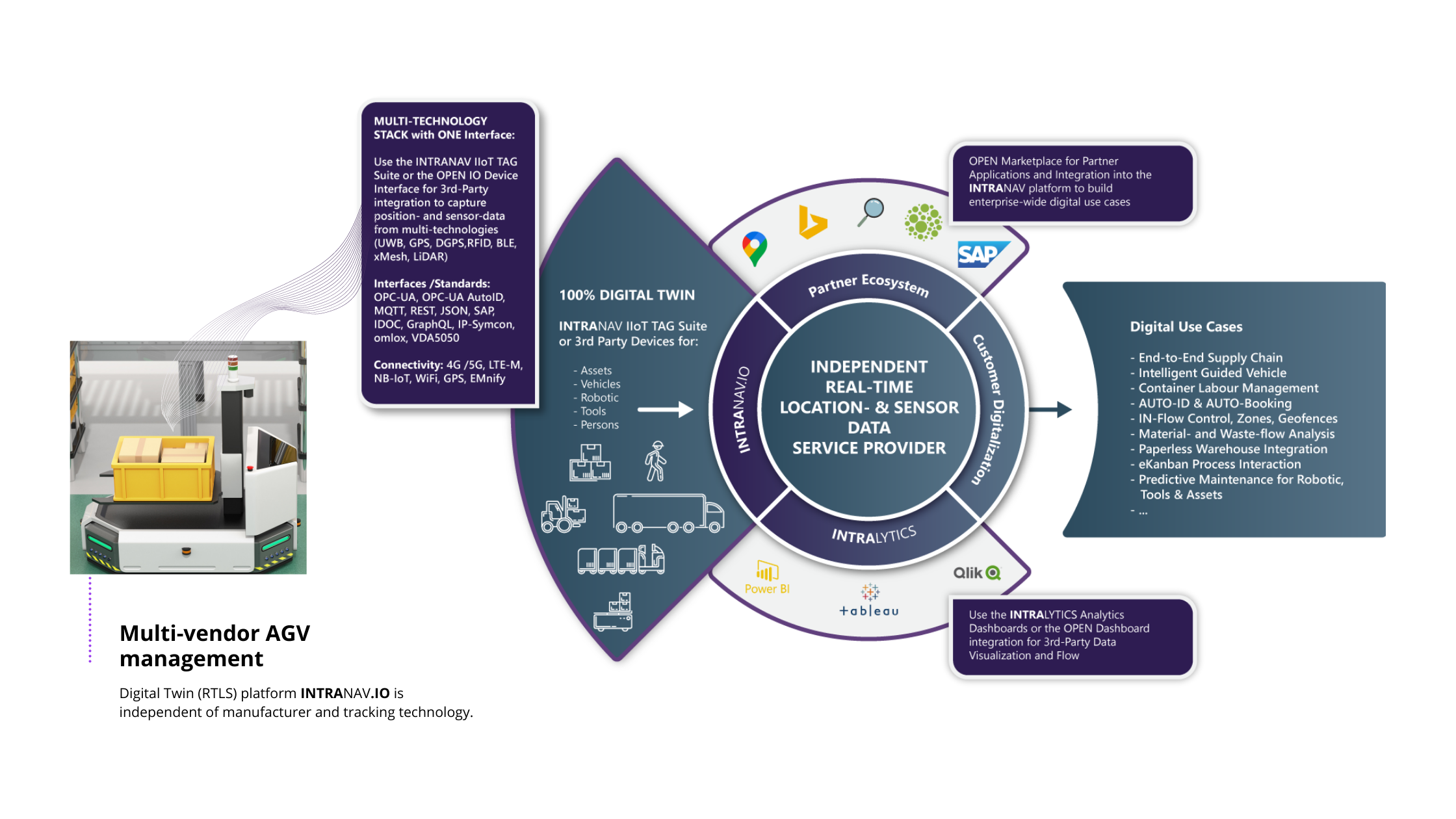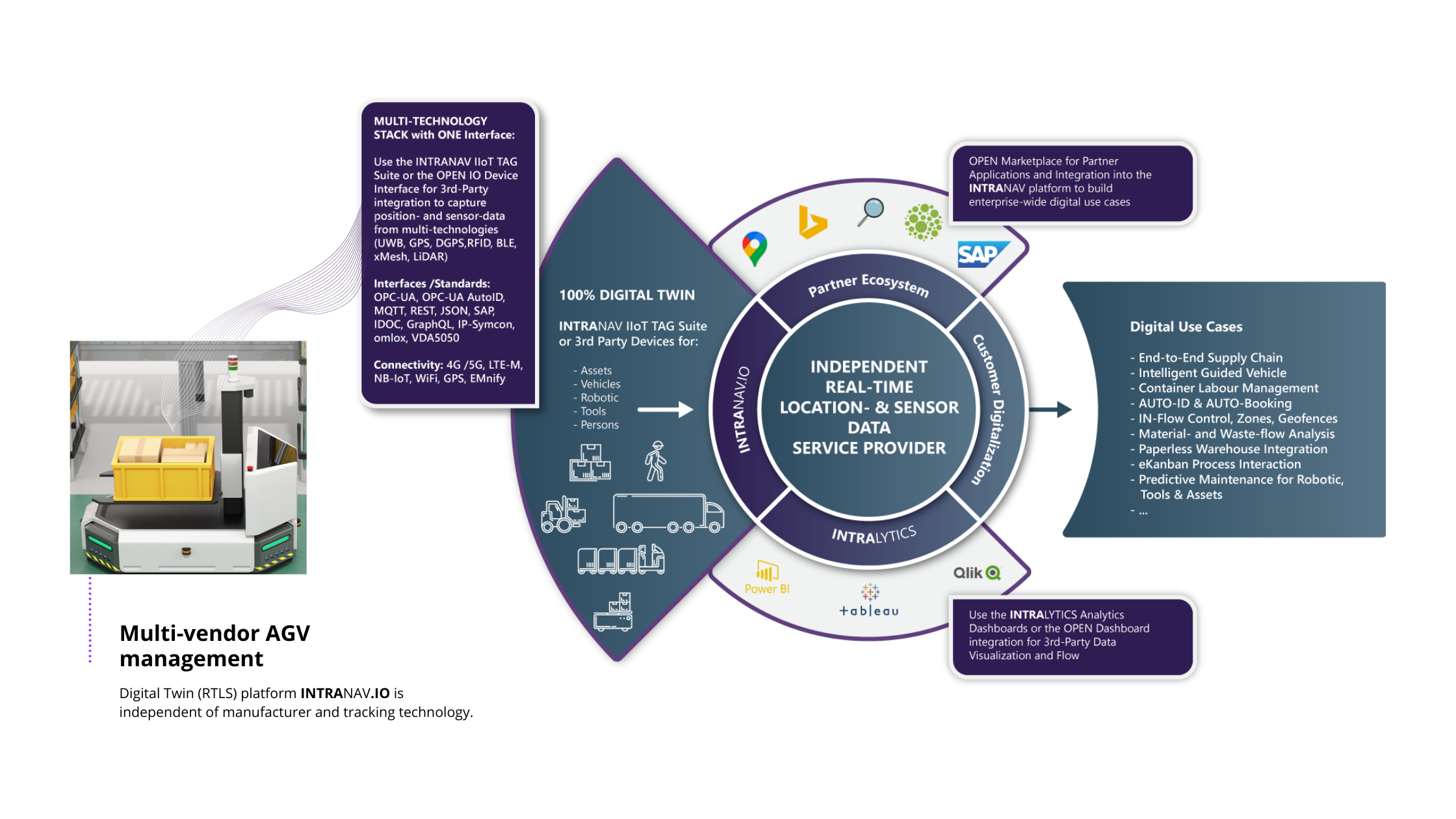 INTRA

NAV Real-Time Tracking &
Sensor Data Monitoring Features
Automated Guided Vehicle (AGV) Fleet Management
3D tracking with
up to ± 10 cm accuracy

Assistance Guiding

Real-time alerts

Hazard monitoring

AUTO-ID

Freely definable
virtual zones

Adaptive dashboards with
comprehensive analytics

Location specific
Information

Connection to
protection devices
INTRA

NAV AGV Management Benefits
Dynamically control resources
Automatic posting for storage & retrieval
Reduce search times
Increase capacity utilization
Avoid empty runs
System-based optimization of KPIs
Automate processes for Industry 4.0 +
React faster to changes
Material flow optimization and traceability
Increase throughput
It's that simple!
Activate the

INTRA

NAV
Plug & Play Solution

INTRANAV.RTLS VehicleTAG (Tracker) an AGV befestigen

Real-time tracking & sensor data monitoring of AGVs via the INTRANAV.IO platform

Scale INTRANAV Digital Twin Suite as required per AGV
You want to know how you can make your processes more efficient with real-time tracking?
Our team will be happy to advise you with comprehensive know-how from the RTLS world!