2021-10-20 09:00:00
INTRA

NAV at the RFID & Wireless IoT tomorrow 2021

From 20 to 21 October 2021 at the RMCC in Wiesbaden.

Visit INTRANAV at the Wirepas partner booth at Europe's largest event & wireless IoT technologies!
Make an appointment with us!
INTRA

NAV presents the newest
location-based automation solutions
for logistics and manufacturing processes

Get to know how you can digitize your processes and optimize your resource utilization with the location-based automation and digital twin platform INTRANAV.

Benefit from:

Reduction of manual, manual work steps
Optimization of material flow utilization and planning
Reduction of search times, as well as idle and throughput times
Intelligent inventory control for the leveling of production cycles

Look forward to innovative RTLS solutions from INTRANAV:

Scannerless goods transport through the digitization of the forklift fleet in the warehouse and yard: Presentation of the INTRANAV.RTLS VehicleTAG+ (RFID, UWB)
Real-time process tracking along the assembly line as well as automatic cycle feedback into the ERP
Intelligent control of logistical flows of goods and transport vehicles for efficient and transparent plant logistics
Paperless Factory: Virtual production monitoring and control with RTLS and E-Ink Displays
Asset, container & vehicle management through the Wirepas Massive wireless network managed via the INTRANAV Digital Twin platform
Scannerless booking of logistic processes (AutoID) & demonstration of virtual zones (geofencing)
Optimization of resource utilization and process times through analysis of the transport and material flow
We are looking forward to your visit!
Key Note
"Process optimization in eCommerce warehouses: efficient storage & retrieval with INTRANAV RTLS"
20.10.2021
2:30 – 2:50 pm
Speaker: Dipl-Ing. Ersan Günes, CTO und Co-Founder, IntraNav GmbH
Categorie: Industrial IoT and Maintenance
1.Optimization of internal transport orders
2. Seamless indoor & outdoor positioning
3. Intelligent networking and Auto-ID
4. Data exchange with SAP thanks to hybrid technology
5. Ultra-Wideband (UWB), RFID, SAP, MQTT, RTLS
Technologies: Ultra-Wideband (UWB), RFID, SAP, MQTT, RTLS
button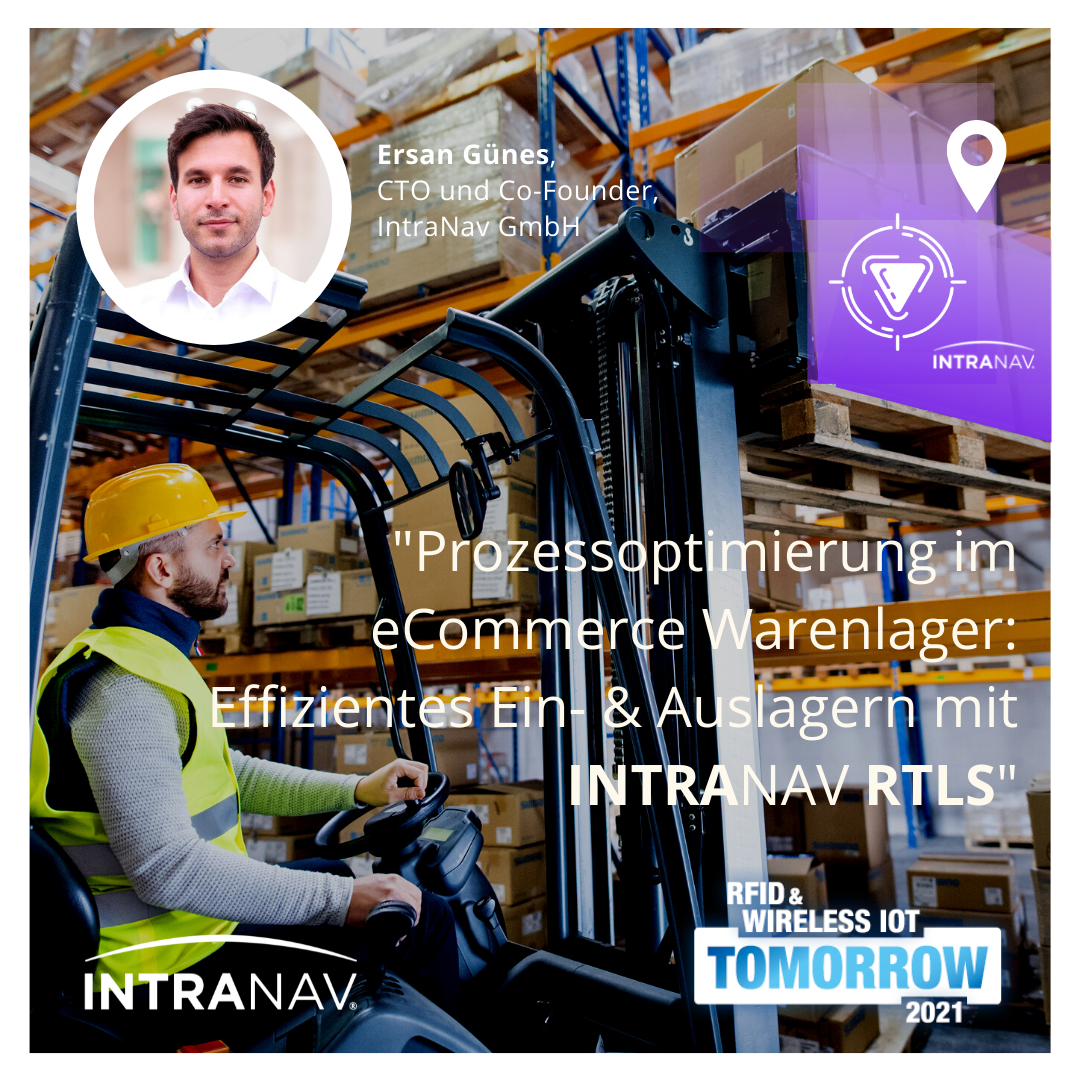 How to find us
RheinMain CongressCenter (RMCC)

Friedrich-Ebert-Allee 1, 65185 Wiesbaden

At the Wirepas partner booth!