29.04.2022
How to Use Material Flow & Automated Processes
to Optimize Production

In Industry 4.0, IIoT is helping organizations truly see what's going on in all stages of production and logistics in your operations. When errors or delays are occuring in the production process, it can be hard to tell what's causing issues and what can be done to solve them efficiently – which is where the optimization of the material flow process comes in. In this post, we'll go over what material flow is and how to best optimize it.
What is Material Flow?
Material flow is simply the flow of materials in your facility's processes – from the moment raw materials enter the facility, to assembly, packaging, quality control, and finally shipment. When errors or delays occur, like items being wrongly packaged or taking twice as long as they were scheduled for, it can be quite costly to repeat these actions and keep process errors unsolved. It's therefore in the best interest of organizations to get informed of material flow errors in real-time and optimize this process immediately, for greater efficiency.

Challenges That Occur in the Production Process
Without real-time transparency over the material flow using RTLS IIoT (Industrial Internet of Things), it can be difficult to have control over operations in complex logistic or production environments. For example, if you needed information on how many items or assets are passing through a specific assembly line or intralogistics supply route, without RTLS IIoT it would have to be done manually with someone counting the throughput of each item (time + quantity) in every process step. For information on how much time a certain task takes, someone would have to stop the time of every asset movement at the assembly line or warehouse handling step, which takes a lot of time and can't be done efficiently without automation using a monitoring system.
There can also be external factors affecting material flow, with some of the biggest impacts on manufacturing and production being consumerism and globalization. With the increasing use of digital tools and social media, consumers are demanding more e-commerce services, making trends change at a rapid pace. This can make it quite difficult to keep up the flexibility to react to these changes, especially with production processes that don't utilize RTLS IIoT. Globalization also affects material flow, as global supply chains and outsourcing can cause serious delays, as seen throughout the pandemic. This is why having efficient end-to-end material flow visibility can give organizations a meaningful competitive advantage.


How to Optimize Material Flow with IIoT featured digital twin

Investing in RTLS IIoT is the key to optimizing processes with the real-time visibility that material flow offers. Innovations such as INTRANAV, an Inpixon company's material flow solution help address challenges in production, by automating the process using ERP data interfaces, sensors, and Real-Time Location Systems (RTLS).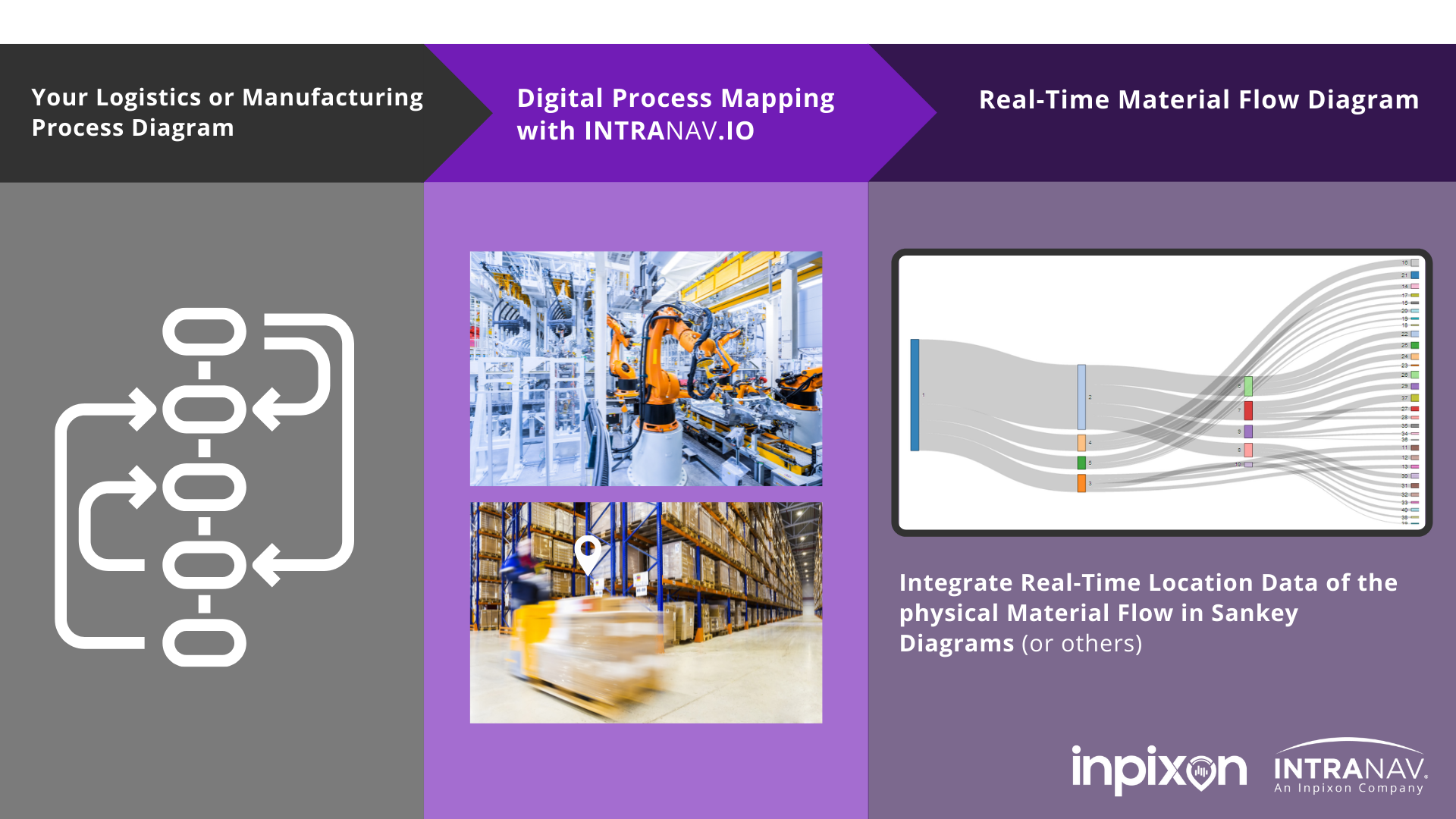 When all required process-relevant assets of your facilities are equipped with RTLS sensors or virtually linked to the data-endpoint, they can capture data on everything being tracked such as identification info about the asset, location information in real-time, temperature, shock, and more. With all assets monitored, assembly lines, forklifts, and other aspects of the facility being tracked, they can all then get a virtual representation of themselves, called a digital twin. That way, an organization is able to see how their entire facility is operating digitally and get end-2-end information about their production processes all on a single dashboard.

INTRANAV.IO & INTRALYTICS Live Demo of the RTLS IoT Platform

With a material flow solution, organizations can gain visibility of all parts of the production process from asset ID, the time it enters or exits a process, and total cycle time, all available on a dashboard and in near real-time. With this, you can immediately see exactly where and when an issue is happening – easily flagged in red. So, if a cycle time is longer than scheduled for, it gives organizations the power to find the source of the problem and make decisions to fix them right away.

Pro Tip: When tracking the location and movement of assets using sensors, there are various location technologies that can be used to track and transmit location information. Many organizations may have issues with interference when it comes to radiofrequency technologies, or they might receive inaccurate locations, which can result in inaccurate data, affecting your ability to make decisions. To make the most out of your investment, make sure to choose a location technology like Ultra-Wideband (UWB) that is known for precise asset tracking, reliability, and protection against interference.

The Benefits of Optimizing Material Flow with IIoT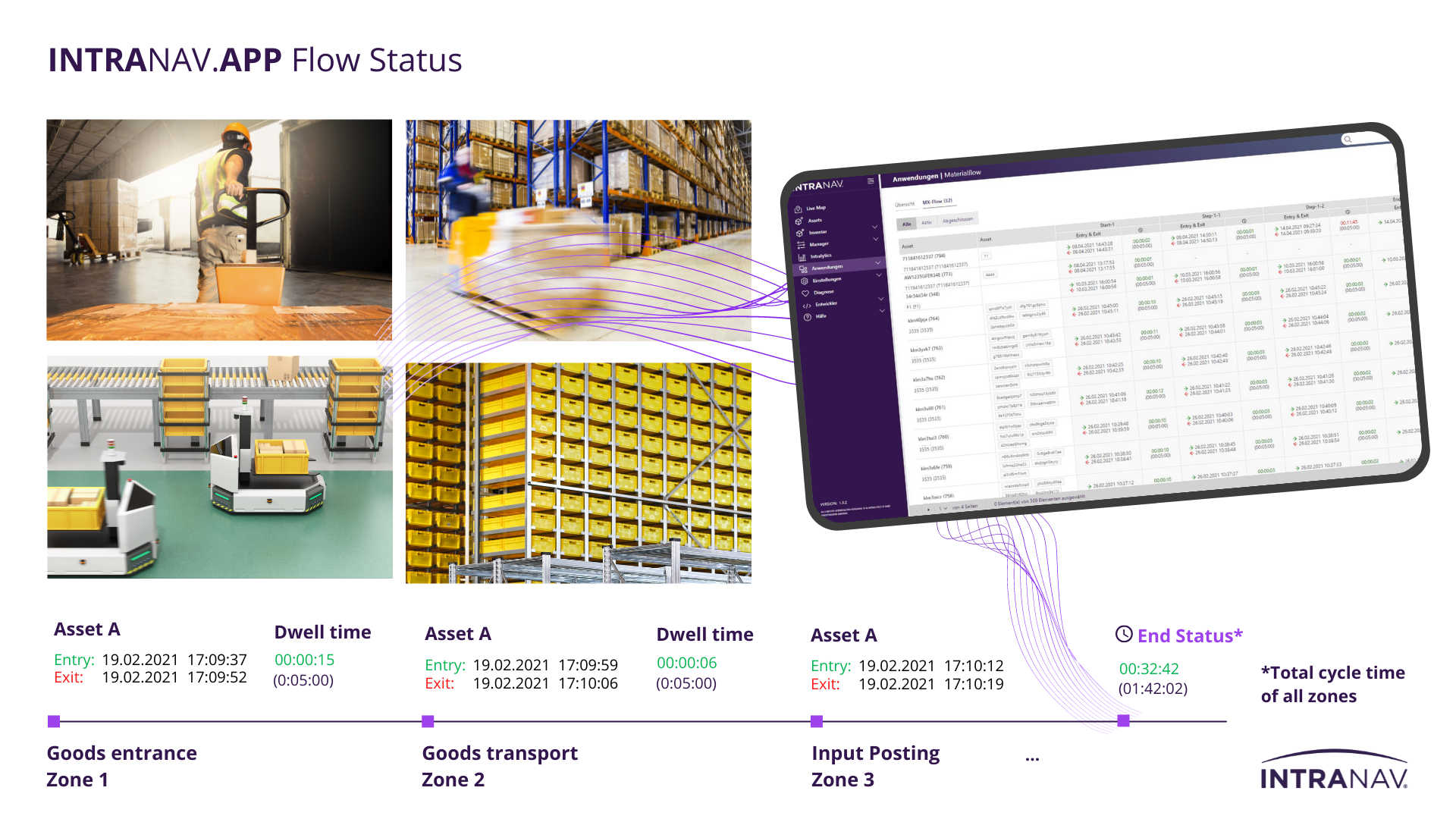 ● Improve Visibility: See every single process in your facility and gain a holistic view over operations. With innovations like the digital twin and AR/VR, you can see what's going in your warehouse or factory anytime, anywhere.


● Predictive Maintenance: With automation, the more data you collect allows you to accurately predict errors before they occur, preventing downtime and allowing businesses to have a proactive approach.


● Cost and Waste Reduction: Having an entire view of operations allows for the prevention of errors and longer cycle times, saving money. It also gives you information on how resources are being used (such as energy or water), so they can be used more efficiently, helping the bottom line.

Making the Most Out of Your Data
An issue that many organizations face is collecting large amounts of data, but not being able to contextualize it. Without the ability to understand data, it's hard to get the actionable insights needed to make informed decisions. That's where solutions like INTRANAV's (an Inpixon company) INTRALYTICS come in, to give context to all the data being stored in your data lake or large databases. There are various steps to getting to the point where you can take action based on the information you're collecting – here are 4 key steps, outlined below:
● Start by collecting data and giving it context: This includes determining if data being collected is an asset ID, cycle time, location information, etc. When tracking information with INTRANAV, multiple dimensions are tracked and analyzed- so not only when an asset is moving and where, but relevant sensor information. For example, if equipment is overheating, you can take action and not overwork a certain machine.

● Give rules to your data: This means adding planning times and cycle limits, so you know when a certain process has exceeded its scheduled running time, or if fewer objects were manufactured than required. In many cases an alarm can be set off pointing out errors, so you know exactly where and when an issue is happening.

● Take action on the information being provided: When data is being collected on your operations thanks to IIoT, it facilitates a review process where you're able to take immediate action as soon as an error is pointed out, because information is provided in real-time.

● Introduce machine learning, AI systems and BI tools to automate processes, recognize errors before they occur and make improvements: With the data being collected, a facility or lean manager will be able to see trends within your facility. So maybe at a certain time of day, production is always slower than usual or a certain employee is always on shift where extra errors are occurring, which results in them needing better training. Or perhaps a certain route for forklifts causes delays, resulting in a more optimized route needing to be created. The entire system can also be connected to Enterprise Resource Planning (ERP) and Warehouse Management Systems (WMS) to streamline all processes and prevent siloed data.

Enhanced Material Flow for Better Decision Making
By tracking the material flow of operations with automation and IIoT, you're creating a feedback loop that allows for decision making that boosts productivity and ROI. Interested in exploring new possibilities with a material flow and analytics solution? Contact us today.


Learn More about Material Flow Optimization in our Customer Success Story
Author
Ersan Guenes, SVP Product IIoT
Ersan Guenes is the Senior Vice President (SVP) of Product for IIOT (Industrial Internet of Things) at INTRANAV, an Inpixon company.
Learn more about Inpixon